Sports Education as a Career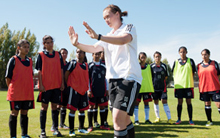 Today, students can freely choose sports as a career because there are ample job opportunities in the sports industry especially in athletics and there are continuing worker earnings. Candidates must understand the complexities of the sports industry and have insider tips for entering in sports field. Sports Management at international level offers several training programs, specially designed for particular sports job or advance candidate's sports career. Sports industry is also highly competitive therefore sports business skills, sports team experience, and networking are all vital factors when choosing this career. Working conditions depends on what sport player plays. There are numerous professional teams as well as self-employed professional athletics. The major professional sports are baseball, hockey, soccer, basketball, tennis, golfing, boxers, skaters, bowlers and track athletes. Whichever sport candidates choose to practice, hard work, keenness and travel is necessary to compete and get success.
Education and Training: Candidates who desirous to select sports as a career have to begin the training at a very early age. It is important to know that player can not be a professional athlete in one night. Player needs to develop ability through little leagues, high school teams, and in the back yard.
Courses & Institutes

Prakash Padukone Badminton Academy - An academy which offer training in badminton sports & other related information on history of badminton, origin of the game, national & international events and latest news on badminton. http://prakashpadukoneacademy.com/index.html
Lakshmibai National College of Physical Education Kariavattam.P.O, Thiruvananthapuram-695581 Kerala State, India. Telephone- 91-0471- 2418712 Tele fax- 91-0471- 2418769 Gram-PHYSICAL Email-lncpe@vsnl.com - offer P. G. diploma in sports coaching, sports journalism, yoga & alternate therapies and sport management.
National Institute of Watersports Ministry of Tourism, Government of India Sundial Apartment, A.S. Road, Altinho, Panjim, Goa 403 001 Tel/Fax (0832) 2436400 - Tel 2436550, E-mail: niwsgoa@sancharnet.in offer training in water sports including sailing, wind surfing, water skiing, scuba diving, river rafting and also providing consultancy services.
Premier India Football Academy 20 Evergreen Estate Dr E Moses Road, Mahalaxmi Mumbai, Maharsathra, IND Phone: 91 22 30422263 Fax: 91 22 30422262 Email www.pifacademy.com - A football academy engaged in providing training programs to football players.
Bangalore Chess Academy, E-mail: vedant@bangalorechess.com Phone : 9880297796. Coaching Locations Nehru Smarak Vidya Kendra, Opp. Cafe Coffee day, 30th Cross, 2nd Main 7th Block, Jayanagar, Bangalore. A professional chess training academy providing basic and advanced chess coaching for young players.
Khare`s Football & Rugby Academy provide football and rugby training to players by experienced coaches and the academy runs its own internal league and cup competitions amongst its playing members throughout the year. http://www.kfandra.com/
Himalayan Tennis Academy, FE Park, FE Block, Sector III, Salt Lake City, Kolkata, WB - 700091. E Mail: jaidip@himalayantennis.com/sharmin@himalayantennis.com/omar@himalayantennis.com . Phone : +91-33-23593300. http://www.himalayantennis.com It provides tennis coaching for players to train them to be world class tennis players and offers scholarship scheme for talented players.
RESA - Institute of Karate & Judo, Regent Estate ( Layelka ), Jadavpur, Sulekha, Kolkata, WB - 700092 Email : resakarate@karateatresa.8m.com Phone : +91-33-4136070 http://www.karateatresa.8m.com Institute providing training of judo & karate for both male & female students.
Netaji Subhas National Institute of Sports, Old Moti Bagh , Patiala, PN - 147001 Email : mail@nsnis.org. Phone : +91-175-2215289 Fax : +91-175-2212070 https://www.nsnis.org It offers sports academic courses like M.Sc.(sports coaching), post graduate diploma in sports medicine, diploma in sports coaching, ioc solidarity & sports massage course and ground management course.
Ace Tennis Academy, Mithila Complex, Opp. Savita Enclave, Judges Bunglow Cross Roads, Ahmedabad, GJ - 380015 Phone : +91-79-26873296. Fax : +91-79-26870449 http://www.acetennisacademy.com
Jain Academy For Sporting Excellence, Jakkasandra Post, Kanakapura Taluk, Rural District Bangalore, KK - 562112 . Email : info@jase.ac.in Phone : +91-80-7577005/7577046. Fax : +91-80-7577008 https://www.jase.ac.in
Neo International Sports Academy Pvt. Ltd, Suite 906, Samarth Vaibhav, Lokhandwala, Andheri (West), Mumbai, MH - 400053. Email: info@nisa.in Phone : +91-22-67681430/26311430 . Fax : +91-22-67681430 http://www.nisa.in
Peninsula Tennis Academy, C 405 Defence Colony, New Delhi, DH - 110024 Email : pta01@airtelbroadband.in Phone : +91-11-24335705/41550949 https://www.peninsulatennisacademy.com
Sarojini Cricket & Fitness Academy, Welfare Centre, Azamabad, VST, Beside RTC Kalyanamandapam RTC X Road, Baghlingampally, Hyderabad, AP - 500048. Phone : +91-9848791060 http://www.sarojinicricketacademy.com
SPT Sports Academy, 10, Sports House, 1st Main, 1st Block, Koramangla, Bangalore, KK - 560034 Email : info@sptindia.com/spt@sptindia.com Phone : +91-80-41475441/5442 Fax : +91-80-25526296 https://www.sptindia.com/academy.htm
Tata Football Academy, Inner Circle Road, Bistupur, Jamshedpur, JD - 831001 Email : tfa_jsr@sify.com Phone : +91-657-2221736/2431141/2142137 Fax : +91-657-2221736/2431141/2142137 http://www.tatafootballacademy.com
Career in Sport Management