Career In Sport Management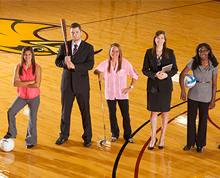 Sports is a huge industry and careers in sport management provide array of options for candidates having a sports management degree.
Sports management experts can be found in business or sports medicine, which usually falls under the guidance of the physical education or health sciences department, and while these two areas of specialty may overlay in some cases, their focuses are different.
Sports management specialists supervise the business and promotional concerns of athletic organizations or athletes. Depending on the rank, job duties are decided that include negotiating contracts and monitoring the finances of teams and athletes. Sports management specialists may also create marketing programs, manage ticket sales or engage in public relations activities.
Sports management degrees offer students with vital knowledge and skills cantered on finance, management, marketing and law pertaining to the organizations in the sports industry. The project in sports management degree programs usually prepare students for careers with amateur, academic and professional sports organizations. These students are able to exploit numerous sport related opportunities after completing graduation from a sports management program.
In sport management, candidates have many choices to shape their career who have zeal and proficient in many skills. However, there is one common characteristic of individuals that chase sports management careers that is candidates must have continuous passion for sports. This passion for sports and a career in sports management often arises out of an individual's amateur athletic career.
Educational Qualification
Candidates who choose careers in sports management must acquire different levels of education and experience. There are some entry-level positions available for graduates with bachelor degrees.
But candidates need to obtain Master of Business Administration (MBA) or a master's degree in a relevant area of study to make bright career. Students interested in entering the field should take courses in business law, marketing, finance, public relations and accounting.
The opportunities in sports management include coaching/managing teams to event management to sports venue management to recreation management. Competitive candidates for some of these positions will need backgrounds or education in business and finance, law and marketing. A sports management degree from an ascribed program can provide this background and is geared precisely towards those that are interested in chasing sports management careers.
Main skills
There are numerous skills that sport management candidates must possess to blossom their career.
1. Communication skills : Candidates who pursue career in a sport management experts should have a strong business basis and outstanding communication skills. Sports experts need to communicate their enthusiasm and get their ideas across effectively.
2. Business penetration : Whether sports expert are managing payroll or sizing up potential business partnerships, they always have an eye on the bottom line. They also possess skill of good salespeople and have a firm grasp of negotiating strategies and public relations.
3. Street smarts : Practicality sports candidates need more than theoretical learning to make it in this game.
4. Desire for the game : Candidates can be successful in sport management when they have passion, true love of sports, fitness and recreation.
5. Entrepreneurism : In progressive sport management field, innovation and ability to look for new opportunity are crucial. The best sports managers are always looking for ways to improve their game and set new personal bests.
6. Collaboration skills : Sports is about more than getting the win. From growing community partnerships to teaching kids a new game, good sports executives understand that their success depends on a foundation of trust.
7. Customer focus : Lastly, sports candidates must focus persistently on delivering the best possible customer experience.
Sport management involves combination of skills related to planning, organizing, directing, controlling, budgeting, leading, and evaluating a sports event or activity. Sports management mainly involves managing a sporting institution or team. This career in sports supports to plan, oversee and organize all types of sporting events on national and global levels. Sports management can include any function that keeps a sports team operational and lucrative, such as the general care and maintenance of sportspersons and teams, marketing and event planning.
Remuneration for experts who opt career in sport management
There is attractive pay scale for professionals having sports management degree. Careers in this field can pay very well. But it depends upon which aspect of the field they decide to enter. An entry level sports management salary may be low-to-average but there is fabulous possibility for advancement. The salaries paid to candidates in the sports management field can vary greatly. Agents of professional athletes who are generally paid percentages based on a player's remuneration and endorsements can generate huge money.
Salaries will decrease considerably if sports agents are involved with promoting events or are involved with amateur athletics. Many of the people at high pay scale achieved their position and salary by leveraging their own careers in amateur athletics. College athletes, in particular, are exposed to scouts, agents and coaches and are able to use these connections to advance their career.
On lower side of sports management, pay can be hourly and the job search can be competitive. For some candidates, choosing career and involving in sport management is a dream and therefore degree in this particular field can be supportive to make money and shape career in to new heights.
Job opportunities in sport management
The career options for sports management is broad. In India as well as in abroad, there are several institutions or settings where sport management professionals can work. Students who have completed degree in sports management may get suitable job in following areas:
1. Academia : In academia, candidates who have completed PhD may get job and there is growing demand for researchers and professors in sport management.
2. Major or minor league teams : Candidates who hold a master's degree in sports medicine may join sports teams looking for a trainer, nutritionist, podiatrist, sports psychologist or orthopaedic professional.
3. Sports facilities : Candidates with any qualification can work in facilities management. They can earn an Associate in Applied Science (AAS) degree, a bachelor's or master's degree, or certificate, and find employment. If they want to be a supervisory or management position, a master's degree in sports management is compulsory.
4. Talent agencies : If candidates desirous to become a sports agent and represent star athletes, they must complete MBA in order to acquire business and management fundamentals, and top it off with a certificate in athlete management and scouting. This certificate can generally be obtained online or is also available from sports management institutions such as Sports Management Worldwide.
5. Public relations firms : PR firms manages the public personality of a team or athlete and their job is to guarantee that the team or individual's image is positive. To work as public relation officer in sport management, candidates must hold a bachelor's degree in communications or journalism and a master's degree is added advantage to enhance career.
6. Sports broadcasting : In the arena of sports, there are plentiful jobs and candidates can work in broadcasting field behind the camera, on the air or utilizing the Internet, sports TV, radio, production and journalism jobs. To become a sports reporter, camera operator, sports caster or video editor, candidates must hold associate's degree in broadcasting, journalism or television production.
Other intriguing jobs in sports management
1. Sports Marketing Specialist : Candidates can also choose career as marketing experts in sport. In this area, their job duties are in charge of coordinating activities at sporting events and charity events. Sports marketing specialists assist an organization to increase ticket sales or raise awareness of a cause. They utilize marketing practices such as group ticket sales or prize give-aways, often working with sponsors to promote their products at sporting events. Much of their time is spent planning these marketing strategies or organizing campaigners.
2. Sports Information Director : A sports information director is responsible for a public relations liaison between athletic teams and the media. They create press releases and organize press conferences for the sportspersons and coaches, managing public relations for the team. They are also responsible for generating and updating the information listed on an organization's website or in their publications, working to ensure that the organization is represented in a positive manner.
3. Sports Agent : The main task of sports agents is to represent athletes, with their most valuable skills coming into play when helping their clients negotiate contracts or negotiate profitable product endorsement deals. Successful sports agents are self-confident and must be persistent, continually networking to explore for their clients. Because their work is tremendously competitive and requires managerial, financial and legal expertise, many agents get MBA degrees or graduate from law school.
4. Sports Medicine Professional : Sports medicine incorporates the physical and psychological issues related to sports and wellness. Candidates entering this comparatively new field will study athletic performance, coaching, sports management business basics and sports medicine. Sports medicine specialists may seem only marginally connected to the business of sports management but these specialists can be viewed as the holistic members of the team. They apply their knowledge of anatomy, physiology, nutrition and kinesiology to sports and often understand regulatory and legal issues that are related with recreational and professional sports.
Area of employment with the degree of sport management
1. Amateur Athletics:
Sports Management
Athletic Administration
Coaching
Recruiting
Student-Athlete Affairs
Compliance
Sport Information
Operations

Facilities Management
Equipment Management
Ticketing and Sales
Public Relations
Marketing
Sponsorship Sales
Fundraising/Development
Hospitality Management
Special Events
Sport Governance
2. Facilities and Event Management:
Facility Management
Facility/Field Maintenance
Field Preparation and Conversion
Ticket Sales and Seating Management
Marketing and Advertising
Event Planning and Management
Food Services and Concessions
Design and Development
Professional Teams and Leagues
3. Management:
Player Personnel
Business Operations
Stadium Operations
4. Sport Merchandising:
Product Development
Product Distribution
Sales and Marketing
Brand/Product Representation
Store Management
Internet Sales
5. Leisure and Fitness:
Programming
Management and Administration
Facilities/Equipment Management
Operations
Travel Planning
Event Planning
Instruction
Sales and Marketing
6. Sport Media:
Journalism
Broadcasting
Photojournalism
Advertising Sales