Career as a Zookeeper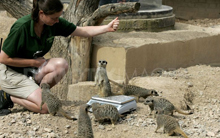 Zookeepers are responsible for caring wild animals in zoos and animal parks. Many people have attraction toward animals, but they can not look after them. Generally, zookeepers take care of some of the largest and smallest creatures in custody. Their job is to feed the animals, clean their living spaces, and work to keep them healthy. To choose zookeeper as a career, candidate must know about animals, conservation and the natural world. Zookeepers watch the animals to see if they are sick or hurt.
Keepers need to watch and listen carefully to notice any changes in behavior. Other job of zookeepers is to prepare balanced diets for the animals in their care. Many animals, especially the more exotic breeds, eat only certain foods such as koalas eat only the leaves of eucalyptus trees. Zoo keepers have to work on weekends and holidays because they have to supply food daily. The responsibilities of zookeepers also include watering, bathing, and exercising the animals, and cleaning, disinfecting, and repairing their cages or tanks.
Zookeepers spend so much time with the animals therefore they can provide zoo managers with valuable information on animal behavior, interactions, health concerns, environmental factors, and conservation efforts. Keepers must have thorough information about animals so they can reply questions from zoo visitors. Duty of zoo keepers is to write detailed report about each animal and inform a veterinarian if there is a problem. Some keepers give the animals objects to play with and explore. Many animals like playing with logs, sandboxes, and even water sprinklers. Keepers often hide food for the animals to find. Such type of activities help animals stays active. Sometimes, keepers train the animals to make caring for them easier. Many knowledgeable zoo keepers teach people about animals. It is viewed that zoo keeping can be a dirty job. Keepers have to clean exhibit areas. Many keepers work outside in rain, heat. They sometimes carry heavy containers of food. Working in Zoo can also be risky. Wild animals can bite, kick, or spread disease. Keepers almost never pet or play with the animals. Zoo keepers should be well trained before they go for job. Many keepers work in veterinary offices, in pet stores, or on farms. In these areas, they clean animal cages and feed, watch, and care for animals.
Candidates who want to choose zoo keeper career can start work as a volunteers in their early teens. Some zoos offer one week summer camps to train those who would like to be zookeepers. Volunteering and experience with animals is a necessary quality to get job at a zoo. To choose this career, students have to work hard in science classes and speech courses. As a zookeeper, they will need to have a good background in animal science, but they may also need to give presentations to visitors to the zoo, so good communication skills is required.
Educational qualification: Zoo keepers usually needs an associate's degree in animal training management; bachelor's degree in biology or zoology. They often study biology, animal science, or some other science. Keepers also have good understanding of math so that they can measure food properly. Keepers need good writing and speaking skills, too, so that they can take notes and talk to the public. Candidates who are trained in animal science, zoology, conservation biology, wildlife management, or animal behavior are preferred. Caretakers for marine mammals such as seals may need a degree in animal science, biology, marine biology, zoology, psychology, or a related field, plus strong swimming skills and SCUBA certification.
Training Institutes
International Institutes
1) Animal Behavior Institute, Inc. 2625 McDowell Road, Durham, NC 27705. Ph: 1-866-755-0448. E mail: support@animaledu.com, billing@animaledu.com
2) America's Teaching Zoo at Moorpark College, Exotic Animal Management and Training Program (EATM), Moorpark College, 7075 Campus Road, Moorpark, CA 93021 (805) 378-1441 EATM@vcccd.net https://www.moorparkcollege.edu/zoo/
3) Davidson County Community College, A.A.S. Zoo & Aquarium Science, P.O. Box 1287. Lexington, NC 27293-1287 (336) 249-8186. E Mail: mesteven@davidsonccc.edu https://www.davidsonccc.edu/academics/as-zoo.htm
4) Harcum College, A.S. in Animal Center Management, 750 Montgomery Avenue Bryn Mawr, PA 19010 (610) 525-4100. E Mail: mfriday@harcum.edu
5) Jefferson Community College, Watertown, New York, A.A.S. Degree in Animal management, 1220 Coffeen St. Watertown, NY 13601. E mail: mirwin@sunyjefferson.edu http://www.zookeeping.com , http://www.sunyjefferson.edu/amg
6) Niagara County Community College, A.A.S. in Animal Management 3111 Saunders Settlement Rd. Sanborn, NY 14132, (716)-614-6222 E mail: acobaugh@niagaracc.suny.edu http://www.niagaracc.suny.edu/lsd/animal.html
7) Pensacola Junior College, Zoo Animal Technology, A.S. Degree, Zoo Animal Technology Program, Department of Biological Sciences, Pensacola Junior College 1000 College Avenue, Pensacola, FL 32504-8998. E mail: jkaplan@pjc.edu http://itech.pjc.edu/jkaplan/zooschool/
8) Pikes Peak Community College, A.A.S. in Zookeeping Technology, 5675 S. Academy Blvd. Colorado Springs, CO 80906 USA (800) 456-6847 | (719) 576-7711. E mail: zooliaisonppcc@gmail.com http://www.ppcc.cccoes.edu/ http://www.ppcc.edu/CatalogSchedule/Courses/Courses.cfm?Course=ZOO
9) Santa Fe Community College Teaching Zoo, A.S. in Zoo Technology, 3000 N.W. 83rd Street, Gainesville, FL 32606, E mail: linda.asbell@sfcc.edu http://inst.santafe.cc.fl.us/~zoo/index.htm
Indian university
1) Jiwaji University, Gwalior Madhya Pradesh BSc. in Biology
2) Department of Zoology Siksha-Bhavana (Institute of Science) Visva-Bharati, Santiniketan 731235, West Bengal, India. Ph: +91 3463 61268, +91 3463 261176; +91 3463 261751 (6 line) ext.388, Fax Number: +91 03463 261268Contact E-mail addresses : vcjoy12@rediffmail.com santi_p@rediffmail.com
Zookeepers do not get exciting, high-paying jobs. They choose this field because they have great feelings for animals. Nature of work requires physical strength, tolerance with the animals, and they must have ability to make detailed observations and keep precise records. Incarcerated animals need full time attention therefore the hours can be long and exhausting. An enthusiasm is required to stay at a zoo through the night nursing a sick animal. Some people do not tolerate animal odors and the smell of cleaning fluids. Most people who enter the profession love animals and receive great satisfaction from helping and working with them. In some places caretakers wear uniforms. Employers may provide uniforms or an allowance for their purchase and cleaning. Zookeepers also teach the public through presentations, writing literature and answering the questions of visitors. Some zookeepers with more advanced education are also involved in teaching, animal research and conservation.
Candidates who look for a Job in zoo must contact local zoo or aquarium's Human Resources department for job openings. A good zoo demands a team of professionals with different backgrounds. There are number of people who work at zoos have jobs that do not involve any work with animals. But if candidate make up their mind to join as an animal-related career at a zoo or aquarium must know that keepers and animal curators are in limited demand. They must also understand that many zoos recruit new talent from within the community. It is an expert's opinion that candidate must contact his nearest zoo for its hiring policies. Zookeepers may get job at all sizes of zoos, aquariums, and wildlife refuges throughout the country. They work alongside animal curators, veterinarians, and resident zoologists.
Future Prospects: It is expected that employment opportunity in the field of zoo keeping will grow faster than the average for all occupations through 2016. Many people want zoo jobs, so there is tough competition to find suitable job.