Veterinary Technologist as a Career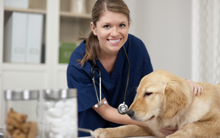 A career as a veterinary technologist is appropriate for those candidates who have affectionate feeling for pets and wish to care all living of creatures. This is a different field and science graduates can choose this job if they are dedicated and intent to welcome challenging jobs. This career is sensitive in the sense that it is all about animals, their medication, research etc.
It is not just to make fun of animals and leave them when they need you. Candidate must have feeling to do outstanding work in enhancing the status of animals. The job of veterinary technicians has great significance in the veterinary field because they perform various clinical and technical tasks in vet clinics, research labs, shelters, and zoos. Their assistance facilitates veterinarians to devote much time in detecting and treating pets. The candidate who prefers a career as a veterinary technician is on the right track to build strong future.
Job requirement
To be a Veterinary technologist, students have to complete a two or four year's veterinary technology program from reputed college. Many entry-level technicians complete a two years associate degree from a standard junior veterinary technology program where they attend classes and get practical clinical experience with live animals. The students who have high percentage in high school math, biology, and science courses are suitable to take admission in veterinary college. Students must have interest in this field otherwise their career graph will be in downward trend.
Students, who acquire practical skills during postsecondary science classes in a clinical setting is highly beneficial in college level training. Candidate should develop interpersonal interaction with pet owner, have good communication skills in order to perform excellent task in this area. Indispensable qualities of veterinary technologists and technicians are close attention to detail, organization, and a team player approach to get best results. To develop good Veterinary technologists, a veterinarian generally oversees newly employed technicians during training and on usual tasks. Technicians are given clinical training and practical experience with laboratory equipment. Knowledgeable veterinary technologists execute multifaceted tasks under the supervision of general veterinarian and then upgraded to supervisory roles.
Nature of job
Veterinary technologists help out during medical dealings, carry out tests and execute diagnostic assessments. Veterinary technologist's job in private practice typically involves clinical work with instruction from the veterinarian. Routine work is to conduct tests and assist diagnose and look after sickness and injuries of animals. In research laboratory setting, Veterinary technologists have a responsibility to care and feed animals, as well as control their behavior. Technologists employed in clinics support the veterinarian in diagnosing and treating animals.
They also may assist for conducting laboratory tests, taking blood, preparing tissue samples for testing, and performing urinalysis and blood counts with the use of medical equipment such as test tubes and laboratory machinery. Other tasks of technicians include developing x-ray images1, taking medical histories and care for animals under veterinary care. Experienced technicians also counsel pet owners about healthy practices and may coach newly employed technicians at their clinic. Animal practitioners appoint technicians to provide care for escort animals such as cats, dogs, frogs, birds, cattle, pigs, sheep, and fishes. Overall technician's job is to assist veterinarian whether it is private clinic or pet hospital.
Veterinary Tech Schools
Indian colleges
1)College Of Veterinary & Animal Sciences G.B. Pant University of Agriculture and Technology Pantnagar - 263145, Uttarakhand, India.
2) Nagpur Veterinary college, Seminary Hills, High Land drive, Nagpur-06.

International college
Albama - Jefferson State Community College, Veterinary Technology Distance Learning Program, 2601 Carson Road, Birmingham, AL 35215-3098 205-856-8519.
Arizona - Long Technical College, Veterinary Technology Program, 13450 N. Black Canyon Hwy., Suite 104, Phoenix, AZ 85029, 602-548-1955.

California State Polytechnic University, College of Agriculture Animal Health Technology Program, 3801 W. Temple Ave. Pomona, CA 91768 909-869-2136.
Los Angeles Pierce College, Veterinary Technology Program, 6201 Winnetka Ave. Woodland Hills, CA 91371 818-347-0551.
Veterinary technologists are usually working in research centers where they give medications orally, record genealogical information, weigh animals, and document pain and stress levels of research animals. They may also sterilize equipment and care for animals following operations. Veterinary technologists who are engaged at research centers are supervised by doctors, lab technicians, and veterinarians. They are also responsible for vaccination of animals and useless animals may need to be euthanized.
Definitive aim of most technicians is to serving animals but they may get chance to work in other fields such as livestock management, the military wildlife medicine, pharmaceutical sales and biomedical research. Plentiful job vacancies are available for Veterinary technologists in wildlife facilities, animal control facilities, human societies, diagnostic laboratories, biomedical facilities, food safety inspection facilities, and drug manufacturing companies. Animal hospitals, kennels, and humane societies always look for certified technicians to replace untrained assistants. It is essential to hold best degree before jumping to employment because it will pay more in later stage and person may switch over to better job.