Career as a Speech Therapist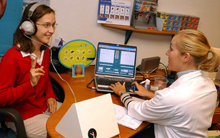 Candidates who choose speech therapist as a career must be qualified to help people who have difficulty in communication verbally. Mainly speech therapists deal with such patients who under go trauma, young children, adults, or person having trouble with speech disorder. A speech therapist is an expert by doing training courses to diagnose and treat number of speech, voice, and language disorders.
People, who stumble or do not have fluency and rhythm, inappropriate pitch, or harsh voice and speech quality problems, visit speech therapist for treatment. Sometimes speech problems are caused by anxiety and other psychological imbalances. Speech disorders may also result from hearing loss, stroke, cerebral palsy, mental disability, or brain injury. The most common and noticeable speech disorder is stuttering.
Other kinds of speech impairments are slurring of speech, vocal dysphonia. The job of speech therapist is to prepare an effective program of speech exercises to lessen the disability and if needed, must take the help of a psychologist or psychiatrist. Speech therapists keep cautious records on the assessment and improvement of patients. Sometimes therapists have to develop and implement personal treatment programs based on the information of physicians, psychiatric social workers, and psychologists.
Speech disorders are generally associated with neurological, psychological, and physical conditions, speech. Candidate must choose this profession carefully. They have to work as a member of a team which may include other healthcare specialists such as a neurologist and psychiatrist. Candidates must be absorbent, have good communication skill, able to convince patient and polite. Speech therapists provide counseling and support to individuals and families on speech disorders and teach them to handle with the stress associated with these problems. Therapists also counsel families on treatment techniques which can be used at home and train them to modify behavior that hinders communication. Speech therapy is a thorough process, but it can be satisfying when patient show improvements. These therapists must have to develop skill to treat patient. They have to focus on minute details and understand problems carefully. Only then, these therapists can be successful and gain reputation in society. In general, speech therapists must be able to identify the emotional strains and stresses that causes speech problems both from the patient's and family member's viewpoint. Speech therapist's job is highly responsible like other health care professionals. They must spend time to recognize and carefully diagnose problems. Therapists must also check the progress of patients, remove certain programs, and introduce others that are more efficient.
Educational qualification
Become a speech therapist, candidate must require a master's degree in Speech Pathology. They also need some work experience under supervised clinicians. They must have to develop skill during training period to implement treatment programs with the aid of other doctors and professionals. Candidates must have to learn to counsel and support clients for recovery or improvement. A speech therapy have to complete various assignment during degree program that are neurologically Based Speech Disorders, public School Programming in Speech, language Pathology, child Language Disorders, adult Language Disorders, clinical speech and Language, stuttering: Theories and Modification, dysphasia.
Speech-therapists must be able to effectively converse diagnostic test results, diagnoses, and planned treatment that are easily understood by their patients and their families. They must be able to approach problems impartially and be caring. Patient with speech problems show slow recovery therefore good speech therapist must have patience, compassion and good listening skills. For career advancement, speech therapists expand clinical experience and do professional education. Many therapists develop capability with certain groups, such as preschoolers and adolescents, or disorders, such as aphasia and learning disabilities. Some may get board identification in a specialty area, such as child language, fluency, or feeding and swallowing. Experienced clinicians may become mentors or supervisors of other therapists or be promoted to administrative positions.
Institutions offering speech therapy courses India

Ali Yavar Jung National Institute for the Hearing Handicapped, Bandra, Mumbai.
All India Institute of Speech and Hearing, located on the campus of Mysore University.
Postgraduate Institute of Medical Education and Research Sector 12, Chandigarh 160012
All India Institute of Medical Sciences (AIIMS), New Delhi
J.M Institute of Speech & Hearing, Inderpuri, Keshrinagar, Patna Institute of Speech & Hearing , Hannur Road, Bangalore
International

Alabama Speech Therapist School,
-Alabama A&M University
-Auburn University
Arizona Speech Therapist School
-Arizona School of Health Sciences
-Arizona State University
-Northern Arizona University
Arkansas Speech Therapist School
-Arkansas State University
-Harding University
-Ouachita Baptist University
Colorado Speech Therapist School
-Metro State College of Denver (Dept. of Speech Communication)
-University of Colorado
-University of Northern Colorado
Connecticut Speech School
-Southern Connecticut University
-University of Connecticut
District of Columbia Speech Therapist School
-Gallaudet University
-The George Washington University
-Howard University
Florida Speech Therapist School -Florida Atlantic University (Department of Exceptional Stident Education)
-Florida State University
-Nova Southeastern University
-University of Central Florida
Georgia Speech Therapist School
Georgia State University
State University of West Georgia
Illinois Speech Therapist School
-Augustana College
-Eastern Illinois University
-Elmhurst College (Dept of Communication Arts)
-Governors State University
Indiana Speech Therapist School
-Ball State University
-Butler University
-Indiana State University
Becoming a speech therapist, candidates can help the society through finding out root cause. Many youngsters who want to contribute something for civilization will be more interested in speech therapist career. As for as employment is concerned, speech therapists get job in educational services, preschools and elementary and secondary schools. Others can join hospitals; offices of other health practitioners, including speech-language pathologists; nursing care facilities; home health care services; individual and family services; outpatient care centers; and child day care centers. Some speech-therapists are self-employed in private practice. They provide services in schools, offices of physicians, hospitals, or nursing care facilities, or work as consultants to industry on contractual basis. Scope of employment for speech therapists in India is mounting with growing awareness among the Indian people about the physically challenged people. People today pay more attention to speech defects and want to visit experts as early as possible. This vision increases demand of speech therapists in India at the present times. These professionals are appointed as practitioners in hospitals, teachers in institutions. They get job in social welfare departments of governmental as well as non governmental organizations.