Career of Social Worker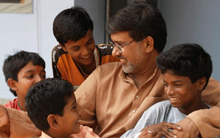 Social workers deal with clients who have social problems and help them to adjust in the environment. Career as social worker is for those candidates who are dedicated to serve human beings and make efforts to enhance the life of people in society. Social workers assist persons with their relationships and resolve private and family problems. Social workers may help out people having critical diseases, or severe communal problems.
Candidates who are desirous to choose a career as a social worker must be dynamic, hard working and have a habit to work in odd hours. Social workers think about about people, who want enhance their life, who want to ease suffering, who want their work to make a difference. Social work is an occupation committed to serving people function the best they can in their surroundings. Professionals involve in social work provide direct services or therapy honestly to clients. Major responsibilities of social worker are to bring change to advance social conditions. Social workers not only help clients by providing soothing atmosphere or counseling them to improve lifestyle but also advice clients to what necessary steps they can take to avoid disturbing situation. The social workers provide therapy to help client handle the instant stress.
The field of social requires knowledge, code of ethics, practice standards, credentials, state licensing, and a nationwide system of accredited education programs. These furnish the specialized social worker to help others with the knowledge, skill, and ethics required to provide that help. Social workers work in public agencies, private businesses, hospitals, clinics, schools, nursing homes, private practices, police departments, courts, and countless other interesting workplaces. Social workers provide their services to individuals, families, and communities. They can be appointed as a managers, supervisors, and administrators. Social workers perform variety of task and attached to many community groups. They serve at all levels of government. They are educators. They are therapists and researchers. More and more, they are also chosen political leaders and legislators.
Educational Requirements:
To become a social worker, candidate must have a degree in social work from a college or university program accredited by the Council on Social Work Education. They can complete the undergraduate degree is the Bachelor of Social Work (BSW), the Master of Social Work (MSW) and the Doctorate in Social Work (DSW) or PhD. An MSW is must to provide therapy to client. They can choose different subjects such as psychology, sociology, and related areas for study to get an entry level job in social work. Those candidates who are interested in teaching profession or do research must have a doctorate degree in social work (DSW).
Institutes for MSW:
Indian Institute of Social Welfare and Business Management, Calcutta University
Palli Sangthan Vibhag (Rural Reconstructions College), Vishwa Bharati University, Shantiniketan 731235
Institute of Social Sciences, Agra
Kashi Vidyapith, Varanasi 221002
Jamia Millia Islamia, Jamia Nagar, New Delhi 110025 Rajasthan
Tirpude College of Social Work, Pratap Nagar, Rajasthan University Rajasthan Vidyapeeth, Udaipur 313001
Kurukshetra University, Guru Nanak Khalsa College, Yamuna Nagar, Department of Social work, Kurukshetra 132119
Gujarat Vidyapeeth, Ashram Road, Ahmedabad 380014
M.S. University of Baroda, Vadodara 390002
Devi Ahilya Vishwavidyalaya (M.A), 169, Ravindra Nath Tagore Marg, Indore 452001
Vikram University, Kothi Road, Ujjain 456010
Ahmed Nagar College, Poona University, Ahmednagar
Adhyapak Shikshan Mandali Arts & Commerce College, Taloda
College of Social Work, Nirmala Niketan (Bombay University), Mumbai
College of Social Work, Vasant Vihar, Jawahar Colony, Aurangabad (Aurangabad University)
Chhatrapati Shahu Central Institute of Business of Business Education and Research, Kolhapur
Karve Institute of Social Science, Poona University, Pune
Tata Institute of Social Sciences, P.O.8313, Sion-Trombay Road, Deonar, Mumbai 400088
Amravati University, near Tapowan, Amravati 440602
University of Bombay, M.G. Road, Fort, Mumbai 400032
University of Poona, Ganeshkind, Pune 411007
Marathawada University, Aurangabad 431004
Nagpur University, near Maharaja Bagh, M.G marg, Nagpur 440001
Central College, Bangalore University, Bangalore
Mysore University, Mysore
School of Social Work, Mangalore, (Mangalore University)
Karnataka University, Pavat Nagar, Dharwad 580003
Mangalore University, University Campus, Mangalagangothri 574119
Bangalore University, Jnana Bharati, Bangalore 560056
Gulbarga University, Jnana Ganga, Gulbarga 585106
Christ College,Hosur Road, Bangalore -29,India.Phone Number: 25536280.
Andhra University, Waltair 530003
Sri Krishnadevaraya University, Sri Venkateshwarapuram, Anantpur 515003
Sri Padmavati Mahila Vishavidyalayam, Tirupati 517502
Loyola College of Social Sciences, Trivandrum (Kerala University)
Rajgiri College of Social Sciences, Kalamassery, Gandhiji University
University of Kerala, P.O. University, Thiruvananthapuram 695034
Madras School of Social Work, Egmore, Chennai
Bharathidasan Palkalai Perun, Tiruchirapalli 620024
Madurai Kamraj University Palkalai Nagar, Madurai 625021

Career of social worker is highly responsible job. There are numerous job openings at entry level. Mainly Social workers get employment in health care and social assistance industries, as well as in state and local government agencies. Bulks of social worker jobs are available in cities and suburbs. Candidates who want to choose as social workers must have some traits such as emotional maturity, objectivity, and sensitivity to people and their problems, and the ability to handle responsibility, work independently, and maintain good working relationships with clients and coworkers. Social workers who get work experience and have an advanced degree are promoted to a position as supervisor, program manager, assistant director, or executive director of a social service agency or department. Jobs of social workers are predictable to enhance faster than the average for all occupations through 2014.

Child, Family, And School Social Workers offer social services and support to recover the social and psychological imbalance of children and their families. Some social workers look after senior citizens. Many work in employee assistant programs which aim to help workers manage with occupational problems or personal problems that can influence their jobs. The task of Medical and Public Health Social Workers is to provide psychosocial support to those people who have chronic, acute, or terminal illnesses. They counsel patients, families, and caregivers. Mental Health and Substance Abuse Social Workers help people to relive their mental illness or substance abuse problems, such as abuse of alcohol, tobacco, or other drugs.

Social worker offer many services to such client such as Services they provide include individual and group therapy, outreach, crisis intervention, social rehabilitation, and training in skills of everyday living. Other task of social Work is to develop programs to highlight such issues as child abuse, homelessness, substance abuse, poverty, and violence. This career must be chosen very carefully because it is group activity and candidates must have to take responsibility to execute their work.