News Anchor as a Profession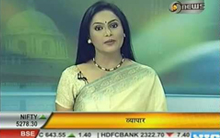 A news anchor is generally a television persona who presents latest information of the world for a news program and at times must manage commentary for live presentation. Earlier, these anchors mainly performed their jobs in the United States and Canada. But now this type of job has great demand all over world. Many news anchors are also occupied in writing or editing the news for their program. The profession of news anchor is not as simple as it looks. To become a news anchor, candidate has to develop many superior qualities which in long run enhance his career.
Candidate desirous in choosing this career must complete graduation in journalism. He must take courses that have to do with mass communications, journalism, film, of course English, and speech. Other useful courses that can help in career development are political science, biology, chemistry, and some math (statistical analysis). After graduation, candidate can work as a freelance writer, someone who writes his own articles and sells them to interested news agencies. If news anchor has an experience of 10-15 yrs, he/she might be appointed as a field reporter for a news network.
Candidate can proceed in this profession first as a freelance writer, then a field reporter, and then a news anchor. Basic job of a news presenter is to presents a news show on television, radio or the Internet.
Indian Institute
Sri Aurobindo Institute of Mass Communication (A Unit of Sri Aurobindo Society , Pondicherry) Sri Aurobindo Society, New Mehrauli Road, Adchini, New Delhi - 110 017 Phone: 91-011-26561986/ 2652 9022 (Extn: 33, 35) Fax: 91-011- 2656 5470 Email: info@saimc.com
Indian Institute of Journalism & New Media ,316, 5th A Cross, HRBR Layout, 3rd Block, Kalyananagar Post, Bangalore 560 043. India.
Sri Centre for Media Studies, No. 19, 39 A Cross, 11th Main Road, IV 'T' Block, Jayanagar, Bangalore - 560041. INDIA. E-Mail: sscms@sscms.org. Telephone: +91 - 80 - 2245 7572, +91 - 80 - 2245 7573.
Indian Academy of Mass Communication, No. 4 MTII Road, Padi, Chennai 600050.
Institute of Journalism, Press Club, Behind Secretariat, Press Club Road, Thiruvananthapuram 695001.
International Institutes:
High School Journalism Institute, Indiana University, Ernie Pyle Hall 200 940 East 7th Street Bloomington IN 47405-7108 (812) 855-0895 Fax: (812) 855-1311.
Missouri School of Journalism, Administrative Offices, 120 Neff Hall Columbia, MO 65211-1200.
Manship School of Mass Communication, Louisiana State University, Baton Rouge, LA 70803, Phone: 225-578-2336. Fax: 225-578-2125, Email: masscomm@lsu.edu
The University of Kansas, Kansas Journalism Institute-200, Stauffer-Flint Hall
Lawrence, KS 66045-2350, 785-864-0605, FAX: 785-864-5945.
Mayborn Graduate Institue of Journalism, P.O. BOX 311460
Address: 225 AVE B General Acadenic Building #207, Denton, Texas.
University of Minnesota, Institute for New Media Studies, School of Journalism and Mass Communication, College of Liberal Arts, 313 Murphy Hall, 206 Church Street SE Minneapolis, MN 55455-0418.
Journalism Department, University of Mississippi, 120 Lester Hall, University, MS 38677, 662-915-7146.
To become a News anchor, candidate must update his knowledge about what is going on in our world. News anchors must monitor global social, political, and cultural movements. They are always in search of the next big trend or history-making event. The main function of Newscasters is to spend their time in examining, interpreting, and broadcasting news. Their job is to commence stories and videotaped segments or live transmissions from on-the-scene reporters. Although most anchors are assigned either to a day or an evening shift but office hours may differ tremendously, especially if there is a late-breaking news development. Due to the demands of the 24-hour news series, anchors must have to be ready to visit any where with out advance preparation. News anchors must have capability to maintain their calm and think wisely because life in the newsroom unfolds at a frantic and enraged speed. There are always new stories arising and anchor has to broadcast, the pressure to meet deadlines is strong.
For News anchor job, too much stamina is required. Sharp memory is also a helpful characteristic because he has to deal with the huge volume of news. Imagination must be supreme, especially in extemporaneous speaking circumstances. Besides these qualities, anchors need to be able to acclimatize quickly and effortlessly to new situations. Anchors must work constantly to provide precise facts and unbiased news because public rely on their words. Finally, in front of camera, they need to have an expressive speaking voice and a pleasant appearance to persuade public. Career in Television news is a competitive field and a graduation alone will not uplift their status. When employer looking to appoint, they want an individual who has rich reporting experience. So candidate must gain experience or do advanced courses for career growth. It is necessary that aspirant of news anchors seek out internships in broadcasting and/or work at the broadcasting stations of their universities. At entry-level positions, they can work as the desk-assistant. Although the job at this position may be challenging, these positions involve a lot of groan work. Good command in language and effective speaking power will make you successful news anchor.