Physiotherapy as a Career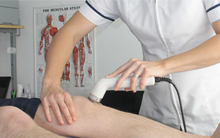 The duty of physiotherapists is to assist and treat people who have physical problems caused by illness, accident or ageing. They provide therapy to different age level. Physiotherapy is a branch of healthcare and very rewarding profession. Physiotherapists recognize and maximize movement potential through health promotion, preventive healthcare, treatment and rehabilitation. Physiotherapists used various skills to treat patients such as manual therapy, therapeutic exercise and the application of electro-physical modalities. Candidate must have dedication to choose career of physiotherapy
The occupation of a physiotherapist, which is preventive, healing and rehabilitative, is challenging but profitable. In medical courses, they have been given training to perform a history and physical examination, conduct assessments to establish a diagnosis process, select appropriate physical therapy interventions to treat the dysfunction, and monitor the effectiveness of treatment. To treat patient, physiotherapists use a variety of therapeutic intervention techniques. These are Manual Therapy, TENS (Transcutaneous electrical nerve stimulation used to control pain), Ultrasound Technique, Electrical Muscle Stimulation, Manipulation, Acupuncture etc. The job of a physiotherapist is physically very strenuous as it involves physically lifting and supporting patients.
Educational Qualification: Students who are interested to become physiotherapists must have science background. If they want to set up their own clinic and involve in private practice or be employed as a professional in a hospital or clinic, they should complete B.Sc. degree or a diploma in physiotherapy. There are many Courses in Physiotherapy-
B.Sc. Physiotherapy, Bachelor of Physiotherapy (BPT), Master of Physiotherapy (MPT)
B.Sc.(Hons.) Physical Therapy, MSc in Physical and Occupational Therapy, MPT in Sports Physiotherapy, Master of Physiotherapy in Hand conditions, Master of Physiotherapy in Neurology, Master of Physiotherapy in Orthopaedics
Career opportunities: Physiotherapists can work in different areas and enhance their income. These fields are: Outpatients, intensive care, women health, care of the elderly, stroke patients, orthopaedics, mental illness, learning difficulties, occupational health, terminally ill paediatrics. Below, there is a list of various Physiotherapy colleges and Physiotherapy courses in India. Candidates who want to choose this career may have a choice of college.

Physiotherapy Colleges Recognized By IAP
Government colleges
School of Physiotherapy, Orthopedic Center, KEM Hospital, Parel, Mumbai 400 012.
School of Physiotherapy, BYL Nair hospital ,Byculla, Mumbai 400 008.
Physical Therapy Teaching & Treatment Center,LTMG Hospital, Sion, Mumbai 400 022.
School of Physiotherapy, SSG Hospital ,Vaddodara, 390 001.
School of Physiotherapy, paraplegia Hospital, New Civil Hospital, Asarva, Ahmedabad - 16.
Physiotherapy School & Center, Govt Medical College 7 Hospital, Nagpur 440 003.
School of Physiotherapy, Institute of Orthopedically Handicapped, Bon Hoogly, B II road,Calcutta 700 090.
Physiotherapy School, National Institute of Training & Research , P O Olatpur, Cuttack, Orissa 754.
School of Physiotherapy, Post Graduate Institute of Medical Education & Research, Government of West Bengal, Calcutta.
School of Physiotherapy, Institute of Physically Handicapped, 4 Vishnu Digamber Marg,New Delhi.
College of Physiotherapy, Post Graduate Institute of Medical Research, Chandigarh.
Department of Physiotherapy, Guru Nanak Dev University, Amritsar.
Bihar College of Physiotherapy,Patna Medical College Campus, Viklang Bhavan Hospital, Kankarbagh, Patna 20.
Department of physiotherapy, Bangalore Medical College, Bangalore.
Govt. College of Physiotherapy, Perai Mellagu Parai, Tiruchirapalli, Tamil Nadu.
School of Physiotherapy Government General Hospital, Chennai.
School of Physiotherapy, CMC, IDA Scudder, Vellore.
Private colleges :

Anand Urban Society Trust's College of Physiotherapy , Urban Chamber, Urban Bank Road,Anand, 388 001. Gujarat. 2001-2003-07.
College of Physiotherapy, Chaitanya Medical Foundation, C/o A.T.I.S.S , Sector 27 A, Nigdi,Pune 411 044. 96-98, 2000-05-2010.
Dr. D.Y.Patil College of Physiotherapy,Sector 7, Nerul, Navi Mumbai 400706. 2002-04-09
Pravara College of Physiotherapy, PO Loni BK, Ahmednagar 413 736. 1998-00-04-07.
Sancheti College of Physiotherapy, 16 Shivaji Nagar, Pune 411 005. 1998-00 -05.
Ravi Nair College of Physiotherapy, Wardha, 2001-03-08.
VPSM ,s College of Physiotherapy, Digdoh Hills, Hinghna Road, Nagpur, 440 019. 2001-03-08.
Sarvajanik College of Physiotherapy, Lokahat mullah hospital, Ramnagar,Surat 2004-06
Shree Swaminarayan College of Physiotherapy, N.H. No 8 &6 Kadodara Char Rasta Taluka Palsana, Surat Dist, 394327. 2002-2004-09
SBB College of Physiotherapy, Sheth V.S. General Hospital Campus, Ellisbridge,Ahmedabad 380016. 2003-05-2010.
Surat Muncipal Corporation College of Physiotherapy, permission to start.
Godhra College of Physiotherapy, 19 Bhagvad Nagar Society,Dahod road, Godhara Dist, permission granted subject to GO
K.M.Patel Institute of Physiotherapy, Shree Krishna Hospital, Gokul Nagar, Karamsad 388325 2003-05-2010.
Dr. D.Y.Patil College of Physiotherapy, Dr.D.Y.Patil Medical College Campus Sant Tukaram Nagar, Pimpri, Pune 411018. 2004-05-2010.
M A Rangoonwala College of Physiotherapy, 2390, KB Hidayatullah Road, Azam Campus, Pune 411001. 2004-06
SKK Seth College of Physiotherapy, Prakash Society Main Road, Opp Nirmala Convent School, Rajkot 7. 2005-07.
Dr.D.Y.Patil College of Physiotherapy,Dr.D.Y.Patil Medical Campus, Kasaba Bavada, Kohlapur 416004. 2006-2008
Physiotherapy College , Surat. Permission to start.
Burdwan Institute of Medical Sciences & Life Sciences, Burdwan.
Vidyasagar Institute Of Health, Rangamati, Midnapore, Paschim Midnipur,721102. pending
Adesh College of Physiotherapy, Adesh Inst. Medical Sciences, Kotkapura Road, Muktsar, 152026. 2004-06
Adhunik Institute of Education and Research,6th Mile Stone Delhi Meerut Road, Ghaziabad 201003. 2005-07
All Saints College of Physiotherapy, Ludhiana, 2004-06
Amar Jyothi College of Physiotherapy, Karkardooma, Vikas marg, Delhi 110092. 2002-04-09.
Apollo College of Physiotherapy, Opp Polytechinc College, GE Road, Durg, CG- 2006-2008
Ayushman College of Physiotherapy, C Sector, Shahpura, Bhopal 462015. 2006-2008
Career College of Physiotherapy, Opp Dushehara Naiden, Govindupura, Bhel, Bhopal, 462023.2003-05-2010.
Chitransh Ad College of Physiotherapy, E/7/2, Chitragupta Nagar, Arora Colony, Bhopal 462016. pending
College Of Allied Education& Health Sciences, Gangotri Colony, Roorkee Rd, Meerut. UP 2002-04-09
Doon (PG) College Of Physiotherapy, 28 Charata Road, behind Bindal Petrol Pump, Dehradun 248001. 2004-06-2010.
Dolphin Institute of Biomedical & Natural Sciences, 28 Chakrata road, VPO Manduwala, Dehradun 248001.2006-2008
Extol Faculty of Medical & Life Sciences, Extol Campus, Lily Cinema Square, Bhopal, 2004-06.
Gaur Brahman Ayurdevic and Physiotherapy College, Brahmanwas Dist, Rohtak, Haryana 124001 2005-06
Institute of Medical Sciences,21-22, GF, BHRC, Parisar, Scheme No 54, Indore 10. 2000-02-07.
Indian Institute of Health Sciences, Health Institute Road, Beur, Patna 800002. 2003-04.
Institute of Applied Medicine &Research, 8th Milestone,Delhi Meerut Rd, Ghaziabad, 201206. 2003-2005-09.
Institute of Rehabilitation Medicine & Research, FC-31, Sheikh Sarai II, Press Enclave Rd, New Delhi 2003-2005.
Lyllapur Khalsa College of Physiotherapy. Jalandhar, 144001 2002- 04-09.
MGM Medical College, Dept of PT. Pending.
MM Insitute of Physiotherapy and Rehabilitation,55 Model town, Ambala, Haryana 2002-2004-09
Physiotherapy College of Raipur, HIG road, GE road, Tatiband, Raipur CG 2002-03 2006-2008
Rajiv Gandhi College of Physiotherapy, E-8 Trilanga Colony, Shahpura, Bhopal, 462039. 2003-05-2010.
R G Trivedi College of Physiotherapy, 1/1, Akbarpur, Kolar road, Bhopal 462042. 2003-2004
SBS Institute of Biomedical Sciences and research, Balawala Dehradun 248161. 2000-02-07.
Sai (PG) Institute of Biomedical Health Sciences, 26/26A, Rajpur Road, Dehradun 248001. 2006-2008.
Sai College Of Medical Sciences & Technology,Bhinduri, Opp Chaubepuri Police Station , Chaubepuri, Kanpur 209203. 2006-2008.
Santosh College of Physiotherapy, No1, Santosh Nagar, Pratap Vihar,Ghaziadabad. 2002-04-09.
Subharti College of Physiotherapy, Nh 58, Subharti Puram, Meerut Byepass, Road, Meerut, Uttar Pradesh, 2003-2005.
Trident College of Education & Health Sciences, 399/1, Mangal Pande Nagar, Meerut 5.2006-2008
Dept of Physiotherapy, Harsandass Medical College, Kazipura, 26th K.M.Stone. Delhi -Hapur-Bypass -NH-24, GAZIABAD. U.P. 2006-2008
Alva's College of Physiotherapy, Alvas Health Center Complex, Moodbidri,574 227. 98-00-05-2010.
Acharya College of Physiotherapy, No 51, Opp CIL Layout, RT Nagar, Bangalore 560032. 01-2003-08.
City College of Physiotherapy, pound Garden, Kadri, Mangalore. 99-01-06.
Department of Physiotherapy, Manipal College Of Allied Health Science, KMC, Manipal,576119. 96-98-00-2005-2010.
College of Physiotherapy, University Medical College, Mangalore. 99-01-06.
Department of Physiotherapy, MS Ramiah Medical College, Gokula Extension, Bangalore 560054. 98-00-05-2010.
Florence College of Physiotherapy,No 507, ID Main, III Block, Kalayana Nagar, HRBR Ring Road, Bangalore 560 043. 2002-04-09.
Garden City College of Physiotherapy, 16 km, Old Madras Road, Virgonagar, PO, Bangalore 560049. 00-02-07.
Gautham College of Physiotherapy, 1456,II Stage Ext., Shankar Mutt Road, Mahalakshmi Layout,Bangalore 560086. 02-04-2008.
HMS College of Physiotherapy, Shettihalli road, Tumkur 572 102. 01-03.
Hosmat College of Physiotherapy, 44, Richmond Road, Bangalore 560044 2004-06
Institute of Health Sciences, (MV Shetty College ) Vidyanagar, Kulur, Mangalore 575013.94-96-98-02-06.
Karnataka College of Physiotherapy, Near Daivajna Kalyana Mantapa, Ashoknagar P.OMangalore 575003. 2002-2004-2005-2008.
Krupanidhi College of Physiotherapy, No 5 Sarjapur road, Koramangala, Bangalore 5532620. 2001-03-07.
KLE Institute of Physiotherapy, JNMC Campus, ,Belgaum 590 010. 98-00-05-2010.
KTG College of Physiotherapy,Hegganahalli Cross, Sunkadakatte, Vishwaneedam Post,Via Magadi Road., Bangalore 560091. 2002-2004, 2006-2010.
Laxmi Memorial College of Physiotherapy, A J Towers,Balmatta, Mangalore 575001. 1994-1996-1998-2005-2006-2010.
Navodaya College of Physiotherapy, PB No 26, Saath Kacheri road, Raichur, 584101 2000-02-07.
Nitte College of Physiotherapy, KS hedge Medical College, Deralakatte, Mangalore 574159. 1999-01-04-09.
Oxford College of Physiotherapy, Phase I, JP Nagar, Bangalore 560078. 2008.
Padmashri Institute of Physiotherapy,Nagarbhavi Circle, Jnana Bharti main road, Bangalore 560074. 2000-02-07.
K.Pandyarajah Ballal College of Physiotherapy, Subash nagar, Ullal, Mangalore 574159. 1999-01-06.
SDM College of Physiotherapy, Sattur, Dharwad, 580009. 1999-01-06-2010.
Srinivasa College of Physiotherapy, GHS Road, Mangalore 575001. 1999-01-05-2010.
Shreedevi College of Physiotherapy, Maina Tower, Ballal Bagh, Mangalore 575003. 1998-99-02-07.
Sreedevi College of Physiotherapy, NR Extension, Lingapur, Tumkur 572106. 2001-03-06.
Vikas College of Physiotherapy, Urwa, Chimbli, Mangalore 575006. 1997-99-01-04-2009.
Yenepoya Physiotherapy College, Nityanand Ngar, Deralakatte, Mangalore 575018. 2004-0678. Infant Jesus College of Physiotherapy, No 6, 9th Cross, II Stage, Vijaynagar, Bangalore 560040. 02-04-09.
Kempegowda Institute of Physiotherapy, Krishnarajendra Road, VV puram, Bangalore 2000-02-07.
Adhiparakshati College of Physiotherapy, Melmaruvathur, Chennai 603 319. 1998-2K-05
AMS College of Physiotherapy,Nizara Bonanza, 813 Anna Salai, Chennai 600 002. 2002-2004-09<
B.S.College of Physiotherapy, VGP Babunagar, Medavakkum, Chennai. 1998 - 2K-05.
Cherran's College of Physiotherapy, 278-A, Siruvani Main Road, Telugupalayam pirivu, Coimbatore 641 039, 1999 - 01- 04-07.
J.K. College of Physiotherapy, SF No 90, Kamaraj road, Comibatore 641 015. 1996-98-2K.