Music training in Elementary and Secondary Schools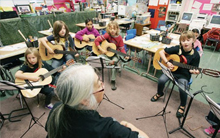 The music education in early stage of life is highly imperative for developing brainpower. In our education system, many essential classes such as physical education and music teaching are not included in curriculum and put in the category of optional subject for which grades are given.
This is very discouraging step. Many researches have shown that the music classes for children are backbone for understanding concepts and developing various skills. Music education in preschool period assists in developing children's brains. This enables the child to learn ability to grasp mathematical concepts and Science Skills in later stages. Through music lessons, child can augment reasoning skills which is important to understand science principles and thoughts. Music classes train the student to concentrate on his work and also boost memory and recall skills. It can be said that music is the nerve for learning and understanding information, thoughts, in all areas of education.
Music is also beneficial to learn social behavior and teach children to work in teams to craft music. Music training allows children to learn many social manners and to cooperate with others in social situation and maintain unity so that no one can take advantage of them. Music entertains children. Kids need relaxation in school period. To ease students, music is the best option. It also helps in increasing the IQ level of children. Many disorders such as speech difficulties and learning disabilities can be treated with music teaching. According to Michael Greene, Recording Academy President and CEO at the 42nd Annual Grammy Awards, February 2000, "Music is a magical gift we must nourish and cultivate in our children, especially now as scientific evidence proves that an education in the arts makes better math and science students, enhances spatial intelligence in newborns, and let's not forget that the arts are a compelling solution to teen violence, certainly not the cause of it".
Research reports demonstrate that instrumental music teaching plays a vital role in achieving high grades in school subjects, expanding strong social network, developing intelligence. If music teaching is not included in school teaching program, children will not get an opportunity to develop the necessary skills for their future. Sometimes music training is not given to children due to lack of qualified faculty in this area. There is always a requirement of largest number of permanent music teaching job in public and private schools. The music teacher trains the student of preschools, kindergartens, elementary schools for activities such as singing, listening, playing instruments, moving and dancing, composing, and experimenting with music patterns.
Talented children will be able to participate in many school program and they can enhance their music talent at an early stage if they are groomed under professional music teacher. Music teachers in middle and senior high schools coach students for choral and instrumental organizations, small ensembles, and musical theater productions. In the secondary school, students are trained in music courses such as music, theory, music history, literature, and the related arts. Elementary teachers instruct the best to students and develop good singers and musicians. Research done in this area indicates that elementary music learning is vital in developing the brain. The music notation taught in classes and regular practices extend thinking skills, language skills and the child's self esteem. These skills are required for students to build strong future. Students can be easily selected in competitive examination or clear training session if they have mastery over these skills.
It is apparent that the elementary music education taught to young children can contribute a lot in the growth of preschool children. Every school must appoint professionally trained teacher who can teach set of courses effectively and execute proper training session with great keenness. It has been observed that some music teachers are not well versed or specialist in providing good music training to develop various skills that's why many parents are reluctant to allow their children to opt music courses in school education. Many times school authority appoint same teacher for teaching all subject and also train students with elementary music concepts. This is injustice for students because everyone can not teach in depth music education. Only the specialist can provide best training. It is highly important to focus on this subject and hire trained staff for music classes to nurture children at this sensitive stage.
To become a music teacher:
Career as a music teacher is extremely satisfying because candidates get an opportunity to share their natural talent to groom young children. It requires great interest and eagerness about music to become a superior music teacher. Teaching profession demands dedication and tolerance. Music teachers must have basic intrinsic qualities such as effective communication skills, efficient organization and good management. They must transmit to people and have deep understanding and patience. A Music teacher must know all about subject and have positive feeling to communicate information to her/ his students. Teachers in this profession require being adaptable in all facets of melody and having capability to give confidence to their pupils and to realize their true talent and efficiency.
Candidates interested to build their career as a music teacher may develop their performing skills in voice, piano or other instruments using various practical activities and ensembles. With specialization, they can impart better music education and create great musicians, singers. Good listening quality and analysis skills are must for this job.
If a candidate sings few songs and thinks that he can do better in music profession, it is his false impression about himself. One must be very careful while choosing music career because if candidate will not perform better in future, his career will be spoiled and may not get chance to recover. People must remember that music is not singing songs in parties, groups or listening to a few CDs. To be a music teacher, one must understand the language of music and transmit to others. Today music is taught in combination with physical education such as dancing. Music can be beneficial in many ways. It teaches the students how to cooperate in social situation. Many research studies show that quiet music can have a soothing effect on the listener. Music teaching brings behavior modifications. Teachers must be trained to create such changes through enhancing professional skills. With these skills, teachers can be upgraded.
Qualification-
There is a many ways by which candidates can take training for music teaching to become a professional. They can complete B.Ed (Hons) from reputed university. After getting this qualification, students can work as a music teacher in either Secondary school teachers or as music professionals within primary schools. In all music teachers' training program, students can learn theory as well as practical experience of music education with the study of professional subjects linked to the teaching of music such as psychology, philosophy and sociology. There are other special courses which offer wide ranging and varied approaches to music making in the varied processes, forms and methods of innovation. Some offer aspects of music such as music therapy, jazz, world music, electro-acoustic music and the integrated arts.
Candidates who want to join institutions of higher education usually must have to be specialized in one or two areas, such as music theory, music history and literature, music education, musicology, performance, electronic music, composition, conducting, or music therapy. A college music instructor must complete at least a master's degree in music. Many institutions appoint candidate who possess doctorate degree.
Institutions offer training in music -
Ali Akbar College of Music - San Rafel, California based Hindusthani music college

Bharatha Sangeetham - Music and dance schools, news etc

DJ Loch - DJ training center in Chandigarh

Darpana - Teaches classical, folk and contemporary dance, theatre, music and puppetry

Indian Classical Music Centre - Singapore based music school

IndianMusicAbroad - Training in classical music

Indira Kala Sangit University - Offers courses in music, dance, painting etc

Mantra Music - Woodside, NY based music school

Master of Music - Offers lessons in instrumental & vocal music

Noopura - Classical dance and music training centre

Pandit Jasraj School of Music Foundation - Atlanta, GA based music school

RIMPA - Ravi Shankar Institute for Music and Performing Arts

Sangeetshri - Music school in Scottsdale, Arizona

Saraswati Sangeet Mahavidyalaya - Classical Music Institute in Delhi

Shanmukhananda Sangeeta Vidyalaya - Offers diploma courses in Carnatic & Hindustani vocal & instrumentsl music

Sound of India - Online music lessons and reference material

SwarGram - Online Vocal music classes

Vijaya College of Music - Bangalore

Vyas Sangeet Vidya Mandir - Offers lessons in Hindustani classical music & Tabla

A degree in music is useful in doing further study or work as performers, music scholars, church musicians music business executives and other professionals. In doing music teaching courses, candidates must understand that it is not just an attribute but music teaching skill is developed through effort.
To close, it is a better choice to select music teacher as a profession but candidates must be specialist to educate elementary music education to the school. Insightful understanding, great efforts and inherent talent can boost music teaching career.