Medical Administrative Assistant is Good Option for Graduates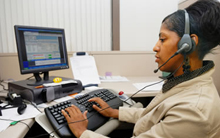 Science graduates are often confused in selecting their career. A career as a medical Administrative assistant is good choice for those who get satisfaction of serving with a healthcare team. The jobs for workers in this field are continuously mounting due to the population growth. Health workers are needed to tackle health problem in hospital setting through their efficient work. In this profession graduates gets chance to work in physicians' offices, clinics, dental offices, public health departments, prisons, medical billing and insurance companies and laboratories. Training in Medical office management and administrative assistant prepare individual to mastery over skills necessary to manage the daily operations of a medical facility.
A medical office is a disciplined clean and efficient office environment where team of doctors present to take care of sick patients. But doctors do not have much time to run a medical office smoothly, retain medical records, or make schedule for multiple patients with their urgent requirements. These problems are handled by medical Administrative assistant. So the role of trained medical secretary is recognized in small as well as large medical organizations. These specialists execute a manifold tasks essential to operate a medical office. In big medical organizations, the medical administrative specialist also concentrates on the non-patient work such as receptionists or schedulers who work at the receptionist desk and schedule appointments. The medical administrative specialist perform a greater variety of duties in small office which include transcribing reports, composing and processing correspondence, accounting for payments and posting charges, completing insurance forms, coordinating patient care, scheduling patient appointments, recording and delivering messages, maintaining financial records, maintaining patient files, making calls for physicians, arranging hospital admissions, and arranging physicians' meetings/conferences. Medical administrative assistants engage in more administrative work and it is required that they should have mastery over computer skills, excellent communication and organizational skills, and interpersonal skills continues to make their career bright.
To become the Medical Administrative assistant, candidate must complete administrative courses which are designed to develop basic office and computer skills, and extra credits of particular medical office courses. The student can take training in communications, word processing and other advanced software, anatomy and physiology, medical terminology, medical office procedures, and medical transcription. The position of administrative medical assistant requires adaptability. The nature of job is to plan appointments carefully for efficient use of every working minute. They must regularly check the mail, sorted, and reply. The key task is to maintain patient records. They must daily prepare patients' charts and notes must later be inserted to record the progress of the patient. The administrative medical assistant is also responsible for collecting fees, billing patients, and maintaining records on accounts receivable.
Careers
The career option of medical administrative assistant is fast increasing in healthcare field in the physicians' offices, health clinics, outpatient facilities, medical laboratories, hospitals, health insurance companies, medical supplies and equipment businesses, and pharmaceutical companies. This a administrative job which doctors can not manage with their prime job of treating patient so they require some specialist who keep all records of patient and execute official formalities for patients. The basic Job responsibilities and skills of medical administrative assistant include: transcribing medical documents or reports, accounting for payments and posting charges, coordinating patient care , recording and relaying messages, processing insurance claims, maintaining patient files, scheduling patient appointment, arranging hospital admissions, maintaining various financial records, scheduling surgeries, making calls for physicians and other healthcare, professionals arranging physicians' meetings and conferences, using automated record system to access enter, and edit patient information and composing and processing correspondence. As a Medical Office Assistant, they must have knowledge of managing the medical office, schedule appointments and renew patient records. They must be trained in different fields like law, ethics, and Medicine. They should have thorough knowledge of administrative Procedures and Practices, medical Terminology and Pharmacology and word Processing.
There are numerous International training institute for Medical Administrative Assistant courses. Some are mentioned below-

Globe University Minnesota School of Business, Medical Administrative Assistant Diploma and Degree Programs.

The career Institute of American International College, Braintree, Massachusetts.

South Texas Vocational Technical Institutes, Brownsville, Texas.

The administrative medical assistant is very important post for the proper execution of the medical office. Though it is a clerical level job but candidate can upgrade to high level official job in later stages such as in charge of office which will generate good income. It also depends on the capability and communication skills of candidate. It has been noticed administrative medical assistant who have competence and perform excellent job can be pleased with promotion to the office manager which is high ranking job that also involves employing, training, performance and salary evaluation, control, and firing of other employees who do not perform well. The administrative medical assistant is basically a representative of physician who tracks all record of business and execute official duty. In other word, medical Assistants has a responsibility to do both managerial and medical tasks to maintain doctor's offices, hospitals, clinics and other healthcare amenities for positive results. Due to critical job responsibility, the there is a high demand of administrative medical assistants and is predictable to be growing profession in at international level in coming years. Candidates who are science graduate may have option to choose this rewarding career and with hard work and dedication, they can get high socio economic status. Graduates who do not get success in tough competitive exams may try this job. It can change their life and they will not suffer from job frustration.