CLAT Exam
More than 40,000 students expected to Write the Common Law Admission Test (CLAT) on May 14, the ratio is quite skewed, as there are only around 2,000 seats in all 18 National Law Schools put together. Ofcourse, several private law colleges aso use CLAT scores to give admission for their five-year B.A.LLB., Programme....More
Law as a Profession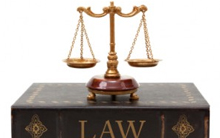 The term lawyer signifies the professional who deals with legal activities. The lawyer is qualified and licensed person to practice law with in country. He may practice as an attorney, counsel or solicitor. The responsibilities of the lawyer differ considerably across legal authorities. Lawyers perform highly supportive duty in our social framework and work as a consultant to give legal advice to people who are victimized by crook or have some problems related to law.
They guide their clients about their legal rights and obligations and recommend exacting courses of action in trade and private matters. In advocate role, they are representative of one of the parties in criminal and civil courts and present evidence and argue to support their client. In all cases, the lawyers are associated with laws and judicial decisions and apply the law to the precise state of affairs faced by their clients. This brief introduction of lawyer gives an overview of job which helps in deciding whether candidate may proceed for further research in this profession or not.
As with doctors and engineers, profession of law is very demanding in present situation because crime rate is increasing rapidly and even well established and educated people need professional advice to settle legal matters. The other significant reason for the importance of lawyer is that many experts do not have much time to study details about simple legal courses so they immediately hire lawyer to tackle the problem.
In this way they get professional legal protection and their work do not suffer. Today we are observing great economic and social changes in our country due to business with many international companies and government is modifying regulatory function. These activities create flood of lawyer's job in our country. To choose lawyer job is good decision by candidates. Law profession is not only economically profitable, but it is an exploratory and awe-inspiring career decision.
To become a successful lawyer, candidates must have possess some personal characteristics that are: good intellectual ability, the ability to assimilate and analyze facts quickly, excellent communication and presentation skills, self-assurance, and physical and mental stamina to handle with the long hours of work and work related strain.
Generally 4-year college degree, 3 years of law school, and passing a written bar examination is the basic requirement to practice as a lawyer. These qualifications may differ from state to state. There is a great competition for admission to most reputed law schools, so thorough preparation is also needed before appearing in competitive examination. Candidates who hold graduate degree may apply for law after reviewing all facts about legal studies and assessing themselves whether they are fit for this profession or not (qualities are already discussed above). To complete course successfully, candidate must meet successful lawyer, discuss about profession, its study pattern and legal culture. It will help him to choose this career better.
Law courses in India:
B.A. L.L.B: This is a 5-year course and the students can pursue this course after passing Class 12.
L.L.B.: This is a 3-year course, open for graduates.
L.L.M.: This is a postgraduate course in Law. The duration of the course is 2year. Students can pursue this course after completing B.A. L.L.B. or L.L.B
There are various specialized branches of Law. These include: Civil Law, Criminal Law, Corporate Law, Taxation Law, Labour Law, International Law, Family Law, Constitutional Law, Administration Law, Patent Law etc.
College:

NLSIU (National Law School of India University)
National Law School of India , Nagarbhavi, Bangalore - 560 072. Telephone: +91 80 2321 3160, 2316 0532/533/535. Fax: +91 80 23160534.
Email: registrar@nls.ac.in
URL: http://www.nls.ac.in/
Gujarat National Law University (GNLU)
Gujarat National Law University E-4, GIDC Electronics Estate, Sector-26 Gandhinagar- 382 028. Gujarat, India. Tel: 079-232 43296; 079-232 43308 .Fax: 079-232 43317.
Email: gnlu@rediffmail.com
Website: www.gnlu.ac.in
NALSAR, University of Law, Hyderabad City
Office: 3-4-761, Barkatpura, Hyderabad - 500 027.Andhra Pradesh, India. Phone: (+ 91) 040 - 27567955 Fax: (+ 91) 040 - 27567310.
National Law Institute University, Bhopal Bhadbhada Road, Barkheri Kalan, Bhopal - 462 002.
Telephone - 0755-2696965; 5234635 Fax- 0755-2696965
E-Mail - nliu@sancharnet.in
URL: http://www.nliu.com

The WB National University of Juridical Sciences, NUJS Bhavan 12 LB Block, Sector III, Salt Lake City, Kolkata, West Bengal - 700 098 India
Phones: +91- 33 - 2335 7379; Fax: +91- 33 - 2335 7422.
E-mail: nujs@cal3.vsnl.net.in
Website: www.nujs.edu
Working culture:
When candidate becomes lawyer, he needs soothing environment to concentrate on his job to get huge success. Lawyers usually work in offices, law libraries, and courtrooms. To discuss legal matters, they fix an appointment and meet clients home, office or places of business and when needed in hospitals or prisons. They may be on tour to attend meetings, collect evidence and appear before courts, legislative bodies, and other establishment. During this period, they may suffer from great pressure when a case is being tried. They must keep on updating the latest laws and judicial decisions to prepare a case for court. Lawyers who get regular salary generally have planned work schedules. Private lawyers may set their schedule according to their convenience which is based on business requirement. To get success in case they take up, they conduct research, conferring with clients, or preparing briefs during non office hours.
The nature of a lawyer's job also depends upon his area of specialty and position. Majorities of lawyers are engage private practice, focusing on criminal or civil law. This area is lucrative. In criminal law, lawyers stand for persons who have been alleged with crimes and argue their cases in courts of law. Lawyers who deal with civil law support clients with court case, wills, trusts, contracts, mortgages, titles, and leases. Some lawyers tackle only public-interest cases such as civil or criminal focusing on challenging causes and choosing cases that might have an impact on the way law is functional. Many times only one client (big businessman) employs to handle legal issues in his company. These issues are categorized as patents, government regulations, and contracts with other companies, property interests, or collective bargaining agreements with unions. Mostly attorneys work at the various positions of government. The other role of government lawyers is to create programs, draft and construe laws and legislation, establish enforcement procedures and argue civil and criminal cases on behalf of the government. Lawyers utilize effectual way to execute more efficiently. The resource material to prepare cases for all lawyers is law library where most supplement conventional printed sources with computer sources, such as the Internet and legal databases are available. In today's hi tech environment, different soft wares are used to search legal literature automatically and to make out legal texts pertinent to a precise case. Use of computers is very common for lawyers to classify and index material today where litigation is concerned with many supporting documents. Lawyer's job is mostly mobile and they approach their clients in a timely fashion to use electronic filing, web and videoconferencing and voice-recognition technology to share information more successfully. Such a technical environment elevates the level of lawyers and they are considered as significant advocate of our culture and nation.
This career must not be taken as lightly. The practice of law is a job of high responsibility. Graduates who are planning their careers in law must have to work with people and with their performance; they can gain the respect and confidence of their clients, associates, and the public. At the beginning stage of career, most of the lawyers work on salaried positions. They work with professional and well established lawyer as associates; learn how to handle complicated cases. Some legal representatives utilize their legal training in administrative or managerial positions in various departments of large firms. Competition for job is too much as many graduates with outstanding academic records from standard law colleges apply for various positions. Employment opportunities may increase in near future as many people seek advice to solve their legal issues with the help of professionals. Graduates may concentrate on this job to move towards excellent future.


Common Law Admission Test (CLAT)
Test Pattern
The Common Law Admission Test (CLAT) for admission into five-year B.A. LLB., programmewill be held on May 14, 2017.The students who will qualify the CLAT exam willbe admitted to any of the 18 National Law Schools as per their ranking and preferences.
Mark your Preference
Even though there is no cutoff percentage for admissions to the National Law Schools and are based on merit-cum-preference scheme, one have to be careful while giving ranking preferences of law schools at the time of submitting the online application form. These preferences cannot be changed later.The two premier law institutions in the country are National Law School of India University, Bengaluru (NLSIU), and NALSAR Law University, Hyderabad. They take only 60 students per batch and both put together has only 120 seats. This means to get a seat in either of these institutions, you must emerge in the top 1 per cent of the merit list.
CLAT Test Pattern
One should go through the previous years' CLAT question papers and familiarize with the subjects and topics in each section. Here is a check list of the topics that are generally being asked in CLAT exam.
English: Questions are asked based on English comprehension, grammar, vocabulary, sentence ordering, etc.
Arithmetic: Questions are based on basic arithmetic topics such as averages, percentages, ratio and proportion, time and work, time and distance, etc.
General knowledge: While 50 per cent of the questions in this segment are based on current affairs, the rest are asked from static general knowledge, which comprises history, geography, science, books and authors, and so on.
Logical reasoning: Reasoning-based questions revolve around analogy, number series, direction sense test, puzzles and critical reasoning.
Legal aptitude: This segment is intended to test the candidate's aptitude for studying law. Hence, questions take the form of principles – facts – conclusion. Based on the given principle, the most suitable conclusion must be arrived at after using the facts of the given case. This section also tests the general legal awareness of students.
Nature of Competition: With 40,000 students expected to write the CLAT exam and there are only 2,000 seats available in all 18 National Law Schools put together , the competition for qualifying CLAT is not an easy task.
Mock Test: Taking Mock exams highlight one's strengths and weaknesses and helps a great deal in the preparation of the exam. In a real time test, students are expected to crack 200 questions in about 120 minutes. So it is a test of speed, accuracy, mental alertness and taking mock test alone can sort this out.