Employment trend in Interior Designing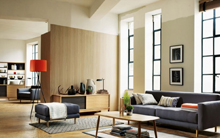 Students who enjoy decorating their houses and have deep interest in modifying their interior for better look, they should opt interior design as a career. Interior designing field demands highly creative instinct. The best suited interior designers possess inventive, imaginative, and artistic talent. These qualities assist to have a good sense of style, space, colors, and furniture. An interior designer may design the insides of houses, restaurants, office buildings, and even bathrooms. An interior designers must be disciplined and organized and knows the business tactics.
To choose interior designer as a career, candidate must have good communication skills because he has to deal with many clients. One must learn more about interior decoration style and practical skill before deciding career. The candidate must watch some informative TV programs. These programs will give general idea about interior decoration so that candidate may get acquaintance and know few important facts about this course and gain some experience also. These programs teach the candidate whether interior design course is suitable for him or not. Candidate learns from theses programs that how the interior designer takes the responsibility of decorating the whole house.
He decides everything from the colors of paint on the walls to the furniture and accessories. In many shows the interior designer gets decoration thoughts from the home owner's taste. To make business successful, interior decoration must fulfill the requirement of owner. Interior design is a job with vast range of progress. An individual can start his career as a junior designer or assistant and become a senior designer, project manager, or partner in a firm. It can be started at any time in the life. It is assumed that the requirement of interior design will be more in near future because many people like to change their house, office to please them and to attract customers. Today, most of the people are very busy in their profession. They do not have much time to think over design and decorate their house but at the same time they prefer to live in beautiful house. All these factors stress the importance of interior designer.
To join an interior designer course, some fundamental concepts of interior design are essential. At least candidate must have sense of creativity and knowledge of color, design etc. If he picks up these basic facts of design, it will be easy for him to do course of interior design and he can develop himself as a successful professional in this field. Many schools are available in every state to provide a formal education as well as professional course. Some are diploma courses that are simple in providing the knowledge and the skills to become junior designer. It depends on candidate whether he/she wants to complete professional course at a reputed institute or just learn elementary level knowledge to run hobby courses. To learn about interior design, person can also works with a good firm or a well known designer. Though there are no basic qualifications for doing an interior designing course but the candidate must complete an art or design-based higher education course. There are degrees in interior design. Students can also choose practical subjects in art and design, fine art, three dimensional design and architecture. When a person is employed with this basic qualification, he/she can enhance special skills and progress in his career by doing advanced training courses. It is very important for a person to complete appropriate short courses at college level. He can also do postgraduate degrees and diplomas in specialized areas of interior design and interrelated subjects to gain professional knowledge. It is highly recommended to join professional bodies
There are many alternatives for interior designers to utilize their talents and generate huge income. Besides joining to any firm, designer can work as a freelancer when he becomes more experienced and capable to perform activities independently. He can set up his own well equipped office and conduct business. But at earlier stage, he should gain experience by working with either professionals that provide substantial exposure and provide freedom to exhibit inner capabilities. Junior designers must not work as a freelancer because they have less experience and after certain time they may not be able to earn more money. There are diverse fields in the design profession. Designer can be a residential interior designer working for home owners. The majority of interior designers focus on a special type of design such as residential kitchens or bedrooms. Considering the client's tastes, requirements and funds in mind, interior designers plan drawings and specifications for non-load bearing interior construction, fixtures, lights, and finishes. Today, designers have expertise in computer operations and use it as a tool to plan layouts, which can easily be modified according to client's ideas. Interior designers also plan lighting and architectural details such as built-in bookshelves, or cabinets-coordinate colors and choose furniture, floor coverings, and window treatments. Interior designers must design space which is according to Federal, State, and local laws, including building codes. Interior designer can also practice as a commercial interior designer. In this field, they could work on offices, restaurants, banks, malls, hotels and hospitals.
To do well as self-governing designer, candidate will have to learn planning and time-management skills, labor management, client handling, costing analyses and how to execute designs. He must develop business skills. To mastery over business skill, he can go for a management course too, but it is not always needed. These skills can be learned while he works for someone. Interior designer must expand his network. He has to investigate every aspect of trade. Once he is recognizable with different styles, concepts in flooring, wall coverings, soft furnishings, accessories and art, he must discover the dealers who will really distribute the goods. Team work is always useful in this profession. Designer must develop strong team of talented workers like carpenters, floor layers, electricians etc. This association will boost the business and increase the market value of designer. With group of worker, designer can better deal with clients. Designer must take precautions while dealing with clients. When he meets to clients, must listen to clients carefully and understand what the client exactly wants. It may no be wise to show talent but it is more important to give value to the client and assure them that the work will be in accordance to their requirement. Designer must find out client's needs and analyze lifestyle. Prepare a draft which represents client's likes and dislikes. There are other tactics to understand clients and delight them which is taught in interior designing course.
Institutes for Interior Designing courses:
Indian institutes-

Arch Institute of fashion and Design / Arch Gemology & Jewellery Institute Plot No.9, Malviya nagar Institutional area , Malviya Nagar , Jaipur, Rajasthan.
Anima Institute of Fashion, 1, Shambhu Nath Pandit street, Culcutta-700020.
Apeejay Institute of Design, 54, Tughlakabad, Institutional Area, Mehrauli Badarpur Road, New Delhi 110 062.
CREATIONS - The School of Design and Technology, Pune 826, Shukrawar Peth, Gadikhana Chowk, Pune.
Exteriors Interiors P Limited 2nd floor, Dhondusa Complex, 9 Residency Rd, Bangalore.
JJ School of Arts, Dr. D. N. Road,Fort Mumbai-400 001.
National Institute of Fashion Design, NIFD Campus, 2-B, Madhya Marg, Sector 27, Chandigarh - 160 019.
School of Interior Design, Centre for Environmental Planning Technology (CEPT), Kasturbhai Lalbhai Campus, University Rd, Navrangpura, Ahmedabad - 380009.
International institutes-

American Society for Interior Designers (ASID), 608, Massachusetts Avenue NE, Washington, DC 2002-6006.
Art and Design Admissions Registry, Penn House, 9 Broad Street, Herford HR4 9AP.
Foundation for Interior Design Education and Research, 60 Monroe Centre, NW., Grand Rapids, MI 49503.
National Society for Education in Art and Design (NSEAD), The Gatehouse, Corsham Court, Corsham Wilts, SN13 OES
It has been observed that few designers are working for consultation purpose only. Whenever there is requirement of interior designing, they can visit site and discuss the work with client, prepare outline, provide valuable advice which suits to clients and give new ideas for purchasing and suggest possible sources to obtain the items. They can put together design boards, outline furniture purchases, and choose fabrics and colors. Client may get many benefits to consult designer. He can make better decision to buy quality items through designer. This clearly indicates that in existing economy, demand of interior designer is augmented. Many design firms are looking for high level designer but due to scarcity of talented and experienced designer, they can not meet the requirement of clients. It is quite obvious that interior designers can only survive when they fully satisfy clients. Even though they know the procedure and have skill but if client is not satisfied, their efforts will be futile and getting further orders become difficult for them. It is important that designers must acquire particular skills such as artistic and technical skills, interpersonal skills and management skills. The role of designer to scrutinize the architectural elements, the proposed function of interior space and creates a design that interprets the needs of clients. There are many challenges in developing interior designer. Instructor must teach how to deal with advances in technologies and utilize this knowledge with social and historical viewpoint. With reference to other career, the interior design course can be beneficial and bright if great efforts are put during training period. To do extremely well in the area of interior design, candidate must have practical expertise, imagination and devotion. Though these qualities are necessary for most of the courses but interior designer career get immense success with the mastery over these skills in training period.