Career as a Front Desk Representative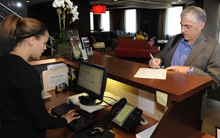 Candidate can become front desk representative who have attractive and dominating personality and eager to provide service beyond guest expectations. These representatives have some important responsibilities. They must welcome guest with a smile at their front desk and check them in and out. Their basic duty is to answer the telephone with a proper greeting, direct guests to meeting areas, guest rooms/suites, dinning areas, as well as any other public areas inside the hotel. They should provide guests on meeting information, directions and areas of interest on local attractions and hotel information.
Skill required for this job: -Candidate must be able to read, write and speak English, work independently, able to be on his feet for long periods of time. He/ She have superb people skills. He can maintain professional demeanor and appearance according to dress code / grooming standard. Candidate must / exceed customer expectations. Candidate should have sound knowledge of computer application. He/ she must be energetic personality, willing to work on weekends, holidays and morning or evening shifts.
Candidate must be under graduate to work in high standard hotels, hospitals and other offices.
There are many certified programs which offer training for front desk representative. In this program candidate learns how to handle several people simultaneously with professionalism. This fast-paced course is specifically designed to answer this and other important questions for those who work as an organization's first-impression representative at the front desk. In addition to learning the elements of effective verbal and visual communication, participants will find out how to expertly satisfy even the most demanding, difficult people without jeopardizing their health or safety.
After completing training, candidate become front desk representative and he must be able to describe the components of a professional image, identify personal habits and behaviors that impede projection of a professional image, understand that their work space is an extension of themselves and should reflect a professional image as well. They explain the connection between a professional image and special customer service.
They learn to manage telephone communication with clarity, accuracy, and courtesy, improve verbal communication with those they meet face to face, interpret visual language of others to determine how best to communicate with them effectively and demonstrate improvement in their listening skills.
They can minimize interruptions caused by customers and coworkers in a tactful yet determined way. They learn to implement strategies for dealing politely and successfully with discourteous, demanding, or dissatisfied customers/clients, explain precautionary steps they should take in emergency situations that might compromise the safety of everyone in the workplace, reduce stress and ward off "burnout" by practicing simple exercises they can do at home as well as at work and develop a personal action plan to improve both their image and their customer service skills.