Footwear designer as a Career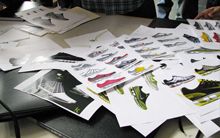 Footwear designer profession is lucrative, demanding but competitive. Candidate can have a choice to show his creative talent in the field of high fashion (known as 'haute couture'), designer ready-to-wear and high-street fashion. He can have the opportunity to specialize in one area such as in women's, children's or sports footwear.
Work is completely dependent on specialization. To produce high quality product, candidate can use his ideas by doing research or be given a brief to follow by the head of the design department. If company is recognized for a particular style of shoe, candidate may alter existing designs. Work on a design will be finished when it has been approved by the head of design. Footwear has acquired great importance that represents fashion, personal taste as well as sense of comfort.
Designing and making of shoes are not a simple task. Footwear industries are in search of professional craftsmen trained with suitable technical know-how. Due to high demand in this sector, many students follow these footwear design & technology courses today. Various institutes offer footwear design & technology courses in India.
Candidate can choose these courses according to his needs and qualifications. Some of these courses are Management program in Footwear Technology, Masters Program in Footwear Design, Higher Diploma course in Footwear Technology, Diploma course in Footwear Designing as well as short term courses in Footwear, leather garments or Leather Goods.
Qualifications and experience :
Become a footwear designer, candidate must be trained in footwear training institute. These institutes provide degree which train students in both design and technical skills. It gives the practical knowledge needed to work in the industry. Footwear industry is very competitive.
Candidate must have to develop extraordinary skills and unique work experience for getting a job. Most graduates enter the industry as design assistants before progressing to become designers. On-the-job learning is a crucial part of developing skills. Once candidate join as a footwear designer, he would develop existing skills and learn many new ones. He can also complete short courses dealing with specific technical aspects of footwear design.
Institutes:
Footwear Design & Development Institute, A - 10 / A, Sector 24, Noida- 201 301 Gautam Budh Nagar, Uttar Pradesh Tel: +91-120-2412456, 2412534, 2412557 Email:fddi@vsnl.com Website: www.fddiindia.com
Central Leather Research Institute, (CLRI) (Adyar, Chennai-600020 Tel No: 91-44-24910897, 91-44-24910846 E-mail : clrim@vsnl.com Website: https://www.clri.org/): The CLRI is one of the research laboratories of the Council off Scientific and Industrial Research (CSIR) involved in research in leather technology. In order to provide qualified manpower for leather industry it h as instituted five training programmes at the certificate, diploma, and postgraduate diploma levels.
Central Footwear Training Institute (65/1, GST Road, Guindy, Chennai-600032
Indian Institute of Leather Products (102 Mangalapuram, SIDCO Industrial Estate, Behind NEPC, Ambattur, Chennai-600098
AVI School of Fashion and Shoe Technology, S.C.O 493-94, Iind Floor, Sector 35-C, Chandigarh Phone No: 602997, 601651
Central Footwear Training Institute, C-41-42, Site-'C', Industrial Area, Sikandra Agra-282007 Phone: 91-562-2642005. e-mail: info@cftiagra.org.in
MSME Technology Development Centre, (Central Footwear Training Institute), 65/1, GST Road, uindy, Chennai 600032 Phone: 044-22501529, Email: cfti@vsnl.net Website: www.cftichennai.in
College of Leather Technology, E.M. Byepass, Salt Lake, Sec-II , Kolkata- 700091
Government Tanning Institute, Opposite Ambedkar Bhawan, Near Guru Ravidass Chowk, Nakodar Road, Jalandhar, Punjab Phone No: 0181-2253389, 0181-2472242 Email: info@gtijal.org
As a shoe designer, candidate can choose to design various items using a variety of raw materials, such as leather, fabric, plastic, wood and their combinations. These items include evening shoes, working shoes, athletic shoes, outdoor shoes, male's dress shoes, women's pump shoes, children's shoes, teenagers' sneakers, sandals, beach footwear, cowboy boots, winter boots, leather shoes, plastic thongs, slippers, dance shoes, orthopedic shoes.
Footwear Designer can create new designs for fashion footwear from his imagination. He can develop innovative, market-leading products, invent high performance footwear and accessories, maintain fashion-forward trends to establish profitability, use drawings to make detailed, precise, and creative 3-dimensional prototypes, use fashion models to make presentations of specific designs and product lines to senior management, sales representatives, retailers, trend reporters, and the press.
Candidate must have passion to succeed and somewhat creative in this career. Of course, as a designer he needs to continuously enhance his skills and network with like-minded people, which can be really fun. At present, there are ample employment opportunities in the field of footwear technology, footwear manufacturing, trading, retail, wholesale, and import or export industry both in India and abroad. As a fresher, Students may join as management trainees, designers, stylists, product developers, quality controllers, footwear technologists, merchandisers, marketing executives, production supervisors, business development executives, planning executives etc. Candidates who are highly creative can set up a business with a small investment.