Career in Fashion Technology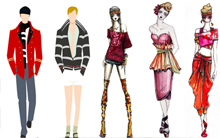 An individual's comfortable level of clothing is mainly referred as Fashion which is a state of mind. The term Fashion commonly associated with clothing. Fashion technology has a wide scope for choosing a career. The fashion industry has become so specialized that it includes studies in design, management, design production, quality control, fabric design, printing, fashion merchandising, textile science, and colour mixing and marketing.
Fashion is a thing which we should deal everyday. One thing which always exists is change. Fashion trends changes according to season. It is a challenging field which offers demanding careers. In Our country there is a rapid growth in fashion industry. As a fashion designer one should have creativity with managerial skills to withstand in this industry.
To get a rewarding career in Indian fashion, one can enroll in one of the many top fashion designing schools in India. They will find jobs as costume designer, fashion consultant, technical designer, graphic designer, production pattern maker, fashion coordinator, apparel production manager and fabric quality control manager. Those who interested in fashion designing can also become entrepreneurs and form their own companies. Several Export houses, garment stores, textile mills, leather companies, fashion show organizers recruit professionals interested in fashion designing.
The Candidate should decide his/her field of interest where they want to expertise. The courses are available in areas such as Jewelry Design, modeling, garment designing, leather design, Textile Technology, Textile Design and Footwear design.
Eligibility
Under Graduate Program
Minimum eligibility for the Undergraduate course in this field is 10+2. In the prominent institutes, admission is strictly on merit- through written test. The Under Graduate Programs offered are
*Fashion Technology
*Fashion Communication
*Fashion and textile design
*Fashion and Apparel Design
*Fashion and Lifestyle Accessories Design

Postgraduate Programs
The duration of all postgraduate programs is 2 years.50% marks in under graduate program.

Following postgraduate programs are offered
*Fashion Technology
*Fashion Management
*Master of Fashion Technology (Design Space)

Most training institutes have the latest technologies including laboratories, workshops, design and research centers, libraries, computers and information about the latest development in the industry.


Colleges offering Fashion Technology course in India:
Academy of Fashion Studies, 37, A Pocket B, Gangotri Enclave, Alaknanda, New Delhi - 110 019
ALT Training College, Kolkondanahalli, Sarjapur Road, Near Bellandur Gate, Bangalore - 560 035
Assumption College, Changanasserry-1, Ph: 04810-2420109, 2402683
BD Somani Institute of Art & Fashion Technology, 625 G.D Somani Marg, Cuffe Parade, Mumbai - 400 005
College of Art & Design (affiliated to University of Madras) No.7, P.V. Koil Street, Aminijikarai, Chennai - 600 029
Hyderabad Institute of Fashion Technology, D3, Huda Complex, Taranka, Secunderabad - 500 017
Institute of Fashion Technology & Hotel Management, KM-2, Kavi Nagar, Ghaziabad
International Academy of Fashion, E-291, Greater Kailash-II, New Delhi-110 048
International Academy of Fashion, Mundampalam, BMC PO, Kochi - 682 021
JD Institute of Fashion Technology (Affiliated to the International Fine Arts College, Miami, USA) D-147, Savitri Path Bapu Nagar, Jaipur
Kumaraguru College of Technology, Coimbatore - 641 006 (Affiliated to Bharathiar University, Coimbatore)
Mangalore Institute of Fashion Technology, 152/A, Opposite BPCL Filling Plant, Industrial Area, Baikampady, Mangalore-575 011
National Institute of Design, Paldi, Ahmedabad-7
National Institute of Fashion Design, 14-B, Camac Street, Calcutta-700 017 (Campuses also at Howrah and Salt Lake)
National Institute of Fashion Technology (in collaboration with NIFT, New Delhi), Dr. Bhhanuben Nanavati College of Architecture Premises, Karvenagar, Pune-411 052
NIFT-TEA Knitwear Fashion Institute, 163, TEKIC, Tea Nagar, Tirupur-641 606, Coimbatore District
Northern India Institute of Fashion Technology, C-115, Industrial Area, Phase VII, Mohali, Punjab
Pearl Academy of Fashion in association with Apple Publishing Technology Centre, A-220, Okhla Industrial Area-I, New Delhi - 110 020
Polytechnic for Women, A3,South Extension Part 1, Ring Road, New Delhi - 110 049
Royal School of Fashion, SC 4, Manipal Centre, 47, Dickknson Road, Bangalore - 560 042