Profession of dietitian is rising at faster rate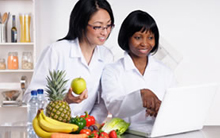 The role of dietitian is very important for physical health of person as well as in the treatment of the patient. Today people are more conscious and seek advice of professional to keep fit and fine. Previously, several dietitians took job just to nurture their family. This job was not considered professional job. But today, there is huge demand of dietitians as health problems are increasing speedily.
Nature of job: Basic job of dietician is to plan food and nutrition programs and direct the preparation and serving of meals. They assist and treat disease by supporting healthy eating practice and counseling diet changes. Dietitians organize food service policies for small and big organizations for example hospitals and schools, clinics, to develop good eating habits through generating awareness and conducting many research programs. Major areas of dietitian's practice are clinical, community, management, and consultant dietetics. Mainly dietitians work in hospitals, nursing homes, and physician's offices and clinics in India. So anyone who is interested to plan his/her career as a dietician can go without hesitation that this job is inferior or low paying.
Qualification:
To opt as a career of dietitian, student is required to complete at least a bachelor's degree in dietetics, foods and nutrition, food service systems management, or a related area. Students can take course of business, mathematics, statistics, computer science, psychology, sociology, and economics and then they can do diploma in foods and nutrition from reputed institutes.
If fresh dietitians have practical knowledge of working with experts (Doctors), they may go forward to assistant, associate, or director of a dietetic department, or run their own dietary centre. Some dietitians focus in areas such as renal or pediatric dietetics. Others choose career as sales representatives for equipment, pharmaceutical, or food manufacturers.
It is a general assessment on the basis of observing the need of dietitians in present scenario that employment of dietitians is anticipated to increase faster than the average for all occupations in coming years. The strong reason is that a population is growing rapidly and it will amplify the demand for meals and nutritional guidance in nursing homes, schools, prisons, community health programs and home healthcare agencies. The elderly people also need effective dietary plan to maintain good health. Expert dietician is required in existing culture. There are many categories of dietitians. Clinical dietitians give nutritional services for patients in institutions such as hospitals and nursing homes. A clinical dietitian evaluate patients' nutritional needs, build up and execute nutrition programs, and assess and report the results and discuss with doctors and other healthcare professionals in order to synchronize medical and nutritional requirements. Community dietitian advice individuals and groups on nutritional practices intended to avoid disease and support good health. They work in public health clinics, home health agencies and health maintenance organizations. Community dietitian evaluates individual needs; develop nutritional care plans and train individuals and their families. Management dietitians supervise major meal planning and preparation in healthcare facilities, company cafeterias, prisons, and schools. Management dietitian employ, coach, and supervise other dietitians and food service workers; implement sanitary and safety regulations and prepare records and reports, budget for and buy food, equipment, and supplies, implement sanitary and safety regulations; and prepare records and reports.
Consultant dietitians work under agreement with healthcare services or do private practice. A consultant dietitian carry out nutrition screenings for their clients and counsel on diet-related worries for example weight loss or cholesterol reduction.
Some of the Training Institutions of dietitians in India are as follows-

All India Institute of Hygeine & Public Health, 110 Chittaranjan Avenue, Kolkata - 700 073, West Bengal URL : www.wbhuhs.org
University Of Mumbai, MG Road, Fort, Mumbai - 400 032, Maharashtra URL : www.mu.ac.in
Avinashilingam Institute for Home Science & Higher Education For Women, Coimbatore - 641 043, Tamil Nadu
Guru Nanak Dev University, Amristar - 143 005, Punjab URL : www.gnduonline.org
National Institute Of Nutrition, jamia Osmania, Hyderabad - 500 007 , Andra Pradesh URL : www.ninindia.org
Osmania University, Hyderabad (University College For Women, Koti) URL : www.osmania.ac.in
SNDT Women's University, Mumbai - 400 020 URL: www.sndt.edu
University of Agricultural Sciences, Dharwad 580 005 URL : www.uasd.net
Although students are not aware with this job and underestimate it. The dietitian job is visualized as reputed job and students can take it as a professional expert. It is a hard truth that due to scarcity of job in other professional field, students face lots of difficulty. Everyone can not be an engineer or doctor. We all must have to look to other fields to shape our career. This is paying much and a secure career.
There are some important factors which student must keep in mind when opting dietitians as a career. The first point is that he must have profound interest in subject such as planning food, nutritive values of food and habit of helping people. If student choose dietitian career as burden thinking that no other options are money oriented, it will not be fruitful. This course demands great attention, dedication. Slight negligence may be dangerous for patients. Diet is very important part of treatment of patients or to keep person healthy. Secondly, student must have systematic approach and develop a habit to give attention to emergency problems. He must have good personality which can be developed through his own efforts. Dominant figure can influence people or patients who seek dietary advice.
He must have science background and have a sharp mind to understand the situation. It is developed through paying attention to minute details and then analyzing the situation. These qualities will assist student to complete the dietician course without any trouble. Student can build bright future if he has strong base. So whenever a person is going to practice as dietitian, he must have enthusiasm, dedication and ability to perform task well. Dietitian job is a great job and provide opportunity to support people who are deprived of health benefit.