Selecting A Career Of Dental Assistant Is A Wise Judgment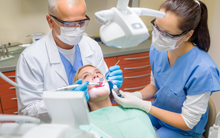 A dental assistant is a valuable post for any dental practice. Dental assistant's duty is to assist the smooth delivery of quality dental health care to patients. His role is a vital in any dental operation. This is major ground for opting Dental assistant job. Competent dental assistant persons have very bright future. Dental assistants help patients in numerous ways. Many Dental Assistants get job satisfaction by comforting the patients in the chair and by helping the dentist provide relief to those with painful dental conditions such as extracting teeth or RCT.
Basically, Dental Assistants are trained personnel who provide chair side assisting, four-handed dentistry, radiology and the use of dental materials in Dental clinic. Other jobs of Dental assistant in clinic or health care centre are management of financial records, complete insurance forms, and schedule patients. In Dental Assistant training centre, candidates are trained to prepare the patient for treatment, take X-ray examinations and obtain dental records. Dental Assistants also work with dentist by supplying proper instruments and materials during a patient examination. Dental Assistant are well trained during training course to sterilize and disinfect instruments and equipment, prepare tray setups for dental procedures, provide postoperative instruction, instruct patients in oral health care, prepare materials for making impressions and restorations, expose radiographs and process dental X-ray film as per the direction of the dentist.
Educational qualification: Dental assistants generally trained and learn their skills on the job. There are numerous dental colleges and schools who provide training on dental-assisting programs in various states of India and abroad. Basic qualification for training course is High school with biology, chemistry, health subjects. Besides basic educational qualification, there are other essential requirements to become Dental assistant. Dental assistants must be trustworthy, have an ability to do job efficiently with others and have good manual dexterity. To work as a licensed Dental assistant, they have to pass a written or practical exam. Candidates who wish to join Dental Assistant training course must be fully dedicated and hard working. This is a very crucial job where personnel have to deal with patient who suffers from ache. Assistant's prime job is to make patient comfortable. Candidate who decides to be a Dental Assistant must have high tolerance power because some time patients become ill-tempered and assistants have to control them by their soft nature. It has been estimated in a survey that entry-level dental experts have high demand in health care centre. Due to high demand, employment of Dental Assistants is anticipated to increase faster as compared to other professions in near future.
After completing the Dental Assistant course, candidates are well qualified to work as a clinical dental assistant with extended duties such as dental specialties, dental laboratory procedures, digital radiology, sterilization techniques, nutritional counseling and preventive procedures. They are trained to converse successfully in oral and written form with patients, peers and dental health team members. These dental Assistants acquire skill in dental front office skills plus patient in-take, scheduling, insurance and financial procedures and general office computer skills including email, spreadsheets, word processing and dental office specialty software applications used for billing and scheduling. They are now proficient to clear the Dental Assistant National Board Exam.
Though dental assistants are trained with common skills but the tasks of a dental assistant in any dental office, hospital, or other dental facility can be exceedingly diverse and focused. In some clinics, they are expected to be technical experts. Other offices hire Dental assistants who have effectual inter personal and communication skills. The job of assistants is based on the requirement of health care centre but Dental assistant must perform three main tasks efficiently. These tasks are: help the dentist in administering the best dental care, help patients and make them relaxed and make sure that the dental practice or facility runs well. They can accomplish these objectives through dedication and doing advanced courses. Many times, Dental assistant work in a combination of office and administration work, lab work, and patient care.
Indian dental college-
Govt. Dental College & Hospital, Afzalganj, Hyderabad - 500012, A.P
Regional Dental College, Guwahati, - 781002 Assam
Patna Dental College & Hospital, Ashok Raj Path, P.O. Bankipur, Patna - 800004 Bihar.
Chatttisgarh Dental College & Research Institute, P.B. No.-25, Sundra, Rajnandgaon, Chhattisgarh - 491441.
Maulana Azad Dental College & Hospital, MAMC Complex, New Delhi - 110002
Goa Dental College & Hospital, P.O. Bambolim, Goa - 403202
Ahmedabad Dental College, Ranchodpura, Santej Village, Gandhinagar, Taluka, Ahmedabad Gujarat. 11) College of Dental Sciences and Research, Manipur, Ahmedabad, Gujarat.
B.R.S. Dental College & Hospital, Kotbilla, Distt. Panchkula - 134118 Haryana.
Bhojia Dental College & Hospital, Chandigarh - Nalagarh Road, Budh, (Baddi) Teh. Nalagarh H.P.
H.P. Govt. Dental College & Hospital, Shimla - 171 001 Himachal Pradesh.
Govt. Dental College, Shreem Bag Karan Nagar, Srinagar - 190008 J & K
A.B. Shetty Memorial Institute of Dental Sciences, Medical Complex, Deralakatte - 574 160 Karnataka.
A.J. Institute of Dental Sciences, N.H.17, Kuntikana, Mangalore - 575004 Karnataka.
Bangalore Institute of Dental Sciences & Hospital, 5/3, Hosur Main Road, Bangalore - 560029 Karnataka.
Govt. College of Dentistry, Indore - 452 001 M.P.
Govt. Dental College, Gandhinagar, Kottayam - 686008 Kerala.
Peoples College of Dental Sciences & Research Centre, Karond-Bhanpur Bypass Road, Bhopal -462070 M.P.
Govt. Dental College & Hospital, 1, P.D'mello Road, Fort, Mumbai-400001 Maharashtra.
Christian Dental College, Post Box No. 109, C.M.C., Ludhiana - 141 008 Punjab.
College of Dentistry, Mahatama Gandhi National Institute of Medical Sciences, RIICO Institutional Area, Sitapura, Jaipur - 302022 Rajasthan.
JKK Natrajah Dental College, Komarapalayam - 6388183 Namakkal Dt. Tamil Nadu.
Faculty of Dental Sciences, U.P. K.G. University of Dental Sciences, Lucknow - 226003 U.P.
Uttaranchal Dental College & Medical Research Institute, Dehradun Uttaranchal.
The North Bengal Dental College, North Bengal Medical College & Hospital, Campus, Sushratangar, Distt. Darjeeling West Bengal.
International Institutes:

Berdan Institute, the institute for health professionals, 201 Willowbrook Blvd 2nd Floor Wayne, NJ 07470 Phone 973-837-1818.
Maric College C4 Columbus Area Career Connection/Ivy Tech State Dental Assisting Program, 230 S. Marr Road , Columbus, IN 47201 Phone: (812) 376-4202
Everest College - Merrillville 707 East 80th Place, Suite 200, Merrillville, IN 46410 Phone; (219) 756-6811 , Fax: (219) 756-6812
Indiana University Northwest 3223 Broadway Street Gary, IN 46409 Phone: (219) 980-6734
Ivy Tech Community College, 3101 S Creasy Lane Box 6299, Lafayette, IN 47903-6299, Phone: (765) 772-9205
Kaplan College - Indianapolis 7302 Woodland Drive Indianapolis, IN 46278 Phone: (317) 299-6001
University of Southern Indiana 8600 University Boulevard Evansville, IN 47712 Phone: 812-465-1155
Well qualified Dental assistant can work in different types of work environments. They can join clinics and work in individual dental practice with only one dentist. This job is a also a kind of social service and personnel get real satisfaction for relieving patients from pain by providing their best services. Candidates who are serious to aid patients must choose this career.