Career as a Data Entry Specialist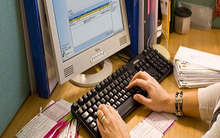 Data entry specialist is good career option for graduates. The demand of these specialists is mounting in present situation. Data entry professionals ensure the smooth handling of information by entering the data into computer, keying in text, operating various office machines and other clerical duties. The data entry operators could be typists, word processors and data entry keyers.
Candidates who are starting their career in data entry can work with keying the headings on form letters, preparing standard forms on computers and addressing envelopes. The skilled and experienced professionals can smoothly handle the highly technical material, combine and rearrange materials from different sources, plan key complicated statistical tables or prepare master copies. There are various types of data entry services including online data entry, image data entry, catalog data entry, database data entry, data entry of surveys, data entry of b-books, data entry of company reports, data entry from yellow pages and data entry of insurance claims etc. It is home based job therefore many girls who are not allowed to go outside can choose this profession and enhance their financial status
Scope In India, BPO industry is significantly growing very fast. These industries need data entry operators which increases the demand of data entry specialists. India is very good for this sector as it is rich in talented human resource. Many companies from various big cities in India such as Hyderabad, Noida, Bangalore, Delhi, Mumbai, Gurgaon, Cochin, Pune and Chandigarh offer excellent job opportunities for the data entry workers and associated workers. Career in data entry includes the related jobs like data management, document management jobs, data processing, data mining, data conversion and document imaging and data digitalization.
Nature of the Work:
In organizations, huge volume of information has to be organized. Data entry and information processing workers assist ensure the smooth and efficient handling of information. These workers help organizations by keying in text, entering data into a computer, operating a variety of office machines, and performing other clerical duties. Word processors, typists, and data entry keyers and information processing workers are recognized by various other titles, including electronic data processors, keypunch technicians, and transcribers. The basic task of word processors is to set up and prepare reports, letters, mailing labels, and other text material. As entry-level workers, word processors may begin by keying headings on form letters, addressing envelopes, or preparing standard forms on computers.
When they get experience, they often are assigned tasks requiring a higher degree of accuracy and independent judgment. Senior word processors may work with highly technical material, plan and key complicated statistical tables, combine and rearrange materials from different sources, or prepare master copies. Word processors often perform other office duties such as answering telephones, filing, and operating copiers or other office machines. Job titles of these workers frequently vary to reflect these duties. For example, administrative clerks combine word processing with filing, sorting mail, answering telephones, and other general office work. The nature of job of data entry keyers is to input lists of items, numbers, or other data into computers or complete forms that appear on a computer screen.
They also may manipulate existing data, edit current information, or proofread new entries into a database for accuracy. Keyers use various types of equipment to enter data. Many use a machine that converts the information they type to magnetic impulses on tapes or disks for entry into a computer system. Others prepare materials for printing or publication by using data entry composing machines. Some keyers operate online terminals or personal computers. Data entry keyers are working with non keyboard forms of data entry, such as scanners and electronically transmitted files. When using the new character recognition systems, data entry keyers often enter only those data which cannot be recognized by machines. In some offices, keyers also operate computer peripheral equipment such as printers and tape readers, act as tape librarians, and perform other clerical duties.
Working conditions of data entry specialists are tiresome. Data entry and information processing workers usually work a standard 40-hour week in clean offices. They have to sitt for long durations and sometimes must contend with high noise levels caused by various office machines. These workers are at risk of repetitive strain injuries such as carpal tunnel syndrome, neck and back injuries, and eyestrain. To help worker and maintain sound physical environment, many offices have adopted regularly scheduled exercise breaks, ergonomically designed keyboards, and workstations that allow workers to stand or sit as they wish.
Training
To become a data entry specialist, high school qualification is sufficient. Many employers normally hire high school graduates who meet their requirements for keyboarding speed. Employers also require applicants who have training or experience in word processing or data entry tasks. Data entry specialists must be good in spelling, punctuation, and grammar as is familiarity with standard office equipment and procedures. Students who have skills in keyboarding and in the use of word processing, spreadsheet, and database management computer software packages through high schools, community colleges, business schools, temporary help agencies, or self-teaching aids such as books, tapes, and Internet tutorials. Many candidates choose a data entry and information processing worker after completing high school or after a period of full-time family responsibilities. This work frequently serves as a way in to higher paying jobs with increased responsibilities. Big companies and government agencies usually have training programs to help administrative employees promote their skills and advance to higher level positions. It is common for data entry specialists to transfer to other administrative jobs, such as secretary, administrative assistant, or statistical clerk, or to be promoted to a supervisory job in a word processing or data entry center.
Companies who offer Data Entry specialists areas under-
Cleave Global E-Services, SM Telesys, Transoffshore in Noida, Data Entry Outsourcing, Data Entry Services India, Unisoft, Prime Technologies in Ahmedabad, Intercom India, Aranis, Stylus Systems Pvt Ltd in Bangalore, Bhawani Infotech Private Limited, International Data Entry Services, Search Engine Optimization Services in New Delhi, Paven Technologies, Deccan Chronicle, Runaware Software Pvt Ltd, Polaris Software Labs, Saaki Search and Devine Software Technologies Pvt Ltd in Hyderabad.
Above companies recruit skilled and qualified fresher and experienced workers in various positions like data processing executives, data entry operators, customer support executives, team leaders, managers, project officers etc. Due to high demand, there is no shortage of jobs of data entry in India. Candidates can select this career as a fresher and earn huse amount of money.
Candidate who holds dance degree must not think that he is professional. Dancing is very complicated, strenuous work, and the hours of practice can be monotonous and fatiguing. Person who has strong desire for dancing, devoted and wants to do some outstanding job must go for this career. Most dancers remain in the field only because they love to dance and would not be happy in any other work. Dancers often work nights and weekends, which is when performances are usually scheduled. They also travel regularly because big dance companies usually take their shows on tour. Professional dancers spend much of their time in classes, auditions, and rehearsals. Most take classes on a regular basis to keep in shape and to discipline their minds and bodies. It is essential to get proper training from the beginning. Dancers must be self-discipline and have to suppress some other desire to maintain their talent. Many professional dancers are members of one of several unions, depending on the type of dancing they do and in what medium they perform.