Court Reporting As A Career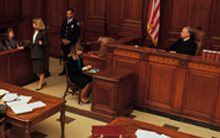 Students desirous in a career of Court Reporting must have great interest in the legal field and develop strong grammar and punctuation skills as well as knowledge of computers operations and video equipment. He/ she must posses the capability to listen watchfully and record proceedings accurately. They will become a responsible officer of court and they must stick to a strict code of ethics.
To be a court reporter, candidate must complete training of court reporting. In training period, candidate must be prepared for the time, educational, and monetary commitments essential to achieve that objective. The nature work of court reporters is quite interesting and often thrilling as they have to handle the different types of court cases, subject matter, and work environments.
Educational qualification
To work as a Court reporter, student is required to complete a two to four year training program at a vocational or technical school or college. There are different types of courses available which vary according to the school such as Machine Shorthand, English, Vocabulary, Introduction to Law and Legal Terminology, Computer-Aided Transcription, and Keyboarding. In some places, experienced court reporters are certified to practice.
Basic job of court reporters is to work in a courtroom. Some court reporters work as freelance reporters or stenographers. They take depositions for attorneys and documenting proceedings of meetings in business offices. In routine work, court reporters record exact reports of speeches, discussions, legal proceedings, meetings and similar situations where it is necessary that a written transcript of statement for correspondence, legal proof, or records. Court reporters maintain a written record of the spoken word in judicial proceedings, as well as in other meetings.
They have to preserve a complete, correct and secure written legal record. Another major responsibility of a court reporter is to help judges and trial lawyers to find and systematize information required in the official record and supporting in the courtroom and in procedural administration. Besides this basic work, court reporters employ their skills to make closed-captioning and realtime translating services available to the deaf and hard-of-hearing. There are two types of court reporting named as steno typing and voice writing. In steno typing, all records of court proceedings are made by using a stenotype machine. The stenotype machine allows a Steno typist to push several keys at one time to note combinations of letters that denote whole phrases, words, or individual sounds. These combinations are then put on computer disks or CD-ROMS. The computer, by using the computer-aided transcription, translates and presents the stenotype symbols as text.
The court reporter has to carefully deal with these procedures to prepare the transcription accurate. We can take an example- court appeals regularly pass on to the court reporter's transcript. When real-time captioning is essential, the stenotype machines are connected to a computer, which immediately displays the typed symbols as text on the screen. This process is often used in courts, classrooms, and official meetings. It is also used for the hearing-impaired for closed-captioned television. Another type of court reporting is voice writing. In this method, the reporter holds a mask with a microphone and a voice silencer, and speaks directly into it. The mask and silencer permit the court reporter to remain unheard, while repeating the statements into the microphone. Everything is documented by the voice writer, including the emotions and gestures of the individuals speaking. Court reporters are also required to generate and keep a computer dictionary of the stenographic symbols or voice recordings that they translate to text.
Court reporting career is very demanding and not narrowed to the courtroom. Court reporters may join attorney's offices taking a record of depositions, meetings, or other gatherings. Many government agencies, state or local level require qualified and experienced court reporter. But the majority of court reporters work in relaxed settings, such as offices of attorneys, courtrooms, legislatures, and conventions. Another place of work for court reporters is at home-based offices as independent contractors. But working in these setting is quite challenging. Sitting for long periods can be tiring, and workers can suffer wrist, back, neck, or eye strain.

International training Institute
National Court Reporting Institute, LLC, Online Court Reporting Training, 6430 FM 1960 West, #209, Houston, Texas 77069, (281) 580-3366, (866) 580-3366.
New York Career Institute, 11 Park Place- 4th Floor, New York, NY 10007.
Court Reporting Institute of Louisiana, 12090 S. Harrells Ferry Road, Suite A Baton Rouge, LA 70816.
Sorene Court Reporting & Training Service, Alicia Gardens, Kenton, Harrow,Middlesex, HA38JD, 020 8907 8249. E Mail:ene@ntlworld.com
Advanced Legal Training Institute, MCLE Seminars & Legal/Legacy Consulting Services for Estate Planning Professionals1635 The Alameda, 2nd Floor, San Jose, California 95126. United States of America. Contact: Mr. Francis Doyle, Esq.Ph: 408-918-5281. Fax: 408-918-9040.
On the whole, Court reporting career is very lucrative and it enhances status in society. Candidate must develop himself as dominating personality, good listening skills are necessary to get immense success. Court reporters must be absorbent, have an ability to listen to the speakers while quickly repeating the spoken word, describing the physical actions in the room, and identifying the speakers. Candidate must have good memory power and able to spell the names of people, places, and events exactly as they are spoken in the meeting or courtroom. In the courtroom, it is crucial that court reporters comprehend legal terms because these terms are used frequently in the proceedings. They should be fully aware of the criminal procedure. There are many ways by which court reporters can boost n their careers. For this they have to regularly update with current knowledge and gain relevant experience. Court reporters may accomplish administrative, management or consulting positions, or may choose teaching line. It is totally up to their talent. They can shape their future through their talent, knowledge and experiences.