Cosmetologist Good Career Options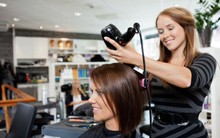 Demand of cosmetologists is growing rapidly as people are beauty conscious in today's world. These professionals work mainly in salons and department stores. Their duties include cut, and style hair, analyze hair to determine its condition, wave or straighten hair, clean, cut, and style wigs, give manicures and shape eyebrows, make appointments, give scalp and facial treatments, provide makeup analysis and apply makeup according to style or customer's preference, keep the work area clean and sanitize all work aids and apply bleach or tint to hair.
They help their clients improve on or get a special look with the right hairstyle and hair coloring, and either a properly trimmed beard or carefully chosen makeup, depending on testosterone and estrogen levels. There are many types of cosmetologists such as Hair stylist, Shampoo technician, Manicurist, Esthetician, Nail technician and electrologist. They use various tools that include combs, rollers, and clippers, shampoos, rinses, and conditioners, curling irons and hair dryers, bleaches and tints, hair pins, clips and brushes, chemical waving solutions, infrared or ultraviolet lamps, lotions, creams, nail polishes, cosmetic preparations for hair and scalp, and Electric needles
To work as a cosmetologist, candidate must have license in the state where he wishes to work in. Many experienced cosmetologists may have expertise in one area such as hair, skin or nails. This profession requires great diplomacy in dealing with customers. Cosmetologists are people-oriented and must be able to motivate the confidence of those they service. With an emphasis on personalized care and services, cosmetologists must understand the individual characteristics of their clients to be able to choose the hairstyles and makeup colors and tones that are uniquely suited to them.
Educational qualification: To become a cosmetologist, candidate must have graduate degree from cosmetologist school and he must be at least 16 years of age. When choosing a school, he must look for one that is in a convenient location and best serves his needs. He must verify that the school is accredited by a professional institute. To do this, he can talk to other specialists who have completed course from chosen institute. As all schools have their own enrolment and tuition requirements, it is important to contact them before enrolling. In school, candidate may also need to show his ability by performing basic cosmetology tasks in a practical examination. Some salons offer apprenticeships, this can be used to complete the credit hours requirement but can not substitute for graduation.
Institutes:

Professional Cosmetology Institute, 309 Kitty Hawk Dr. Ames, IA 50010, Phone General: (515) 232-7250, Admissions: (515) 956-3781, Financial aid: (515) 956-3781. http://www.pciames.com/
Tri-State Cosmetology Institute, 601 N Cotton St Ste 5 El Paso, TX 79902 (915) 533-8274. tristatecosmetology.com
Storm Lake Campus, Faust Institute of Cosmetology, 1290 N. Lake Avenue (map) Storm Lake, IA 50588, Director's Office/Admissions: (712) 732-6571 Appointments/Reception Desk: (712) 732-6570
Career development: Many senior cosmetologists focus in one area, once these professionals are established; they can set up their own salon or work on a freelance basis. They can also join large salon as a salon manager. As many cosmetologists are paid on a commission basis, it is difficult to leave the salon environment where they have a good client base built, use of facilities and a good location to attract a good trade.
To be successful, cosmetologists must keep on top of the latest styles and trends in hair fashion and beauty techniques. If they knew hot hairstyle, they will be liked by customer and make huge profit. Some cosmetologists work as personal consultants to celebrities and VIPs. There are many opportunities for cosmetologists to utilize their professional knowledge teaching at a cosmetology or vocational school.