Company Secretary as a Career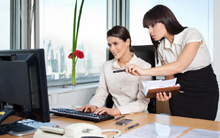 The post of a Company Secretary is highly important for a company's smooth management. Company secretary performs a wide variety of functions. He/she acts as a central link between the Company, the Board of Directors, shareholders and governmental and regulatory agencies. Besides this job, he/she manage finance, accounts, legal, personnel and administrative functions.
The Institute of Company Secretaries of India is formed under the Company Secretaries Act, 1980, to develop and regulate the profession of Company Secretaries in India. Company Secretary Course is comprised of three parts: Foundation, Intermediate and Final Candidates who are interest in this career must be 10+2 or an equivalent examination to join the Foundation course for Company Secretary. Candidates who are graduates or post-graduates in commerce are permissible to pass over the foundation course and enrolled directly for the intermediate examination.
Institutes that offer Company Secretary Courses:
The Institute of Company Secretaries of India, ICSI House, 22, Institutional Area, Lodi Road, New Delhi 110003. Phone-(011) 51504444, 24617321-24, 24644431-32 Fax-(011)24626727.
UDAIPUR C/o Company Secretary Hindustan Zinc Ltd Yashad Bhawan Udaipur -313003 Ph.-0294-2525621. VARANASI (SATELLITE).
AHMEDABAD ICSI Maneklal Mills Complex S-2, B Tower Chinubhai Towers Opp. Handloom House, Ashram Road, Ahmedabad -380009 Ph.-079-6589343 Fax-079-6587965.
CENTRE FOR CORPORATE RESEARCH & TRAINING (CCRT). Plot No. 101, Sector 15, Institutional Area. CBD Belapur, Navi Mumbai-400 614 Tel: 022-2757 7814/15/16 Fax: 2757 4384.
ICSI-WIRC House 13 Jolly Maker chambers No.II (Ist Floor Nariman Point Mumbai -400021 Ph.-022-22021826/22844073/22047569 / 22047580 / 22047604 Fax : 022-2850109.
ICSI-SIRC House Old No. 4, New No. 9 Wheat Crofts Road, Nungambakkan Chennai -600034 Ph.-(044)-28279898,28268685.
Due to the development of the corporate sector, the demand of Company Secretary is quite high. Companies require expert advice from a qualified person who has systematic knowledge of all applicable laws. Public and private limited companies hire, by law, a company secretary and consequently this job can be found in all sectors. Company Secretaries get high salaries as compared to other managerial staff.