Options for Clinical Psychology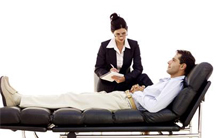 Clinical psychology is a significant and rapidly increasing branch of psychology. The requirement for specialists is exceeding due to great frustration among people worldwide. Clinical psychology is a tremendously different and to gain mastery over its techniques and use of therapies needs depth of knowledge and practical approach to attempt the problems that is sometimes not a simple task. In some cases, the student takes training of formal course in the clinical field without any background of general psychology. To achieve professional excellence, student must complete full graduate program and then allow taking formal training to work as a practitioners.
Clinical psychology is an interesting field and students apply their life experience and problem solving approach to work out client's difficulty whenever they ask for help. It has been observed since last decade that there are major changes took place in the training of clinical psychologists within both the health service and higher education sectors. The period of attaining professional degree is now three years in some academic organizations/ institutions so that students may take full exposure of procedures dealing with psychological problems. There is also heightening in the number of doctoral training programs with all programs being based within universities and contracting by the National Health Services.
Students approach to the subject matter has been significantly influenced by his understanding. He can take two years training in the field of general psychology and then study clinical psychology as a special paper which will equip him to deal with psychological troubles. Students can also work as psychometrician and counselor to arrest the problems of psychological nature. These fields provide rich experience to clinical psychology career and lead him to heighten in the major fields of psychology and the comparison in function of clinical, counseling, and school psychology. During post graduation period, students can understand very well all important concepts, therapies and counseling techniques through training and experience and know that the subject matter of psychology is related to human activities and the definitive rationale of all clinical and counseling procedures is the modification of a person's behavior into more positive way. Techniques of testing and assessment leaned during trainings are ways of diagnosis and accordingly provide therapies.
Clinical psychology deals with the study of abnormalities of behavior pattern and offer appropriate remedy for the problems. Besides clinical orientation, it is very important to know that how experts put their ability to perform a systematic investigation of a client's presenting trouble. Clinicians utilize different methodology to understand the root cause of client's problem which requires therapeutic treatment, which therapy is most suitable, and observe whether involvements are supportive. In fact, clinical psychology is mainly concerned with assessment in clinical practice that is continuing evaluation of client improvement in rehabilitation or formal treatment outcome assessments. These diagnosis and therapies which are well understood during training brings main prediction for the job of clinical psychology to amplify and to effort to meet the necessities for psychological wellbeing of community.