Cartoonist Career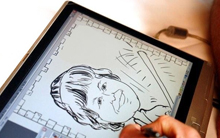 Career of cartoonists is suitable for those candidates who have excellent artistic sense and creative mind. Cartoonists mainly work for the print media. The characteristic feature of cartoonists is the ability to draw well, have strong design skills, detail observation skill, work well under the pressure of impending deadlines and provide employers with a collection of their best work. Cartoonists produce amusing drawings. They draw political, advertising, social, and sports cartoons. The work of some cartoonist is published in magazines and newspapers. Cartoonists draw single cartoons or entire comic strips.
The main purpose of creating typical drawing is that when people look at the cartoon and laugh. There are different kinds of cartoonists. Editorial cartoonists attempt to focus on current issues so that people come to know the reality of events. They try to influence public opinion. Some cartoonists may form comic books and other publications. Other cartoonists engaged in animation, creating moving cartoons that become visible on television and in movies. Basically, cartoonists are artists who converse great ideas through a combination of words and pictures. They create themes to tell stories, instruct and guide, and offer comments on life and civilization. These cartoons can easily be understood by common man and communicate great message to public.
A good cartoonist must have talent to present an idea in just a few words and a drawing. The drawings usually feature overstated actions that tell about human nature. Sometimes cartoonists invent their ideas to create effective theme. Mostly, they often read and study the news to get new perception for their work. Cartoons can be drawn with pencil, charcoal, and pen and ink. Cartoonists at first draw the sketch of their concept with pencil and then finish them with pen and ink. In comic strips and some other types of cartoons, the words appear in balloons or bubbles drawn above or around the characters' heads. In other cartoons, the words appear below the comic picture. Cartoon arts become visible in almost all visual media.
Though the candidates who are good in drawing can create any type of sketch but cartoonists often get mastery over certain type of cartoon. Political cartoonists generally poke fun at people in public life and satirize current events, political issues, and pop culture. These cartoonists create cartoon strips, pictures that amplify or disfigure individual features of person. Cartoonists who are interest to produce comic strip, draw comics that use recurring characters and tell stories. They prepare write up for the plots, or story lines, for their strips before the drawings. These plots are generally planned out in advance.
Educational qualification: There is no specific qualification. Candidate must have background in art, such as a college degree in art history or fine art, or a degree in journalism, law, political science, or sociology is optional. Cartoonists must have excellent drawing skills. They must be conscious about the events all around the world especially if they want to be political cartoonists. High school courses in art, history, political science, government, and literature are particularly important. Some political cartoonists get a bachelor's degree in political science or journalism. Cartoonists may attend the art school as well study drawing, lettering, typography, and computer graphics. They must be trained to produce a variety of cartoon types using diverse tools and media.
Various courses on cartoons offered in colleges in India.

National Institute of Design ( NID, Ahmedabad)
J.J School of Arts.
Zee Institute of Creative Arts ( ZICA)
Industrial Design Center (IDC), IIT - Mumbai & Guwahati
Arena Multimedia
Pentamedia
Anitoons Productions, New Delhi.
Aptech University (at Arena Multimedia Centres) www.arena-multimedia.com www.aptechuniversity.ac.in
C-DAC, National Multimedia Resource Centre, Agricultural College, Near District Industries Centre, Shivajinagar, Pune 411005
C-DAC (www.cdac.in ) multi-location, A-34, Indl Area, Phase-VIII, SAS Nagar, Mohali-160071, www.cedtimohali.org
Centre for Development of Imaging Technology, Chitranjali Studio Complex, Thiruvallom PO, Thiruvananthapuram (Ker), www.c-dit.org
Film & Television Institute of India, Law College Road, Pune-411004 (Mah), www.ftiindia.com
Heart Animation Academy, 7A, Road, #12 Banjara Hills, Hyderabad-500034 (AP) & Mumbai.
IIT-Guwahati North Guwahati, Guwahati-781039 (Ass), www.iitg.ernet.in
IIT-Mumbai, Industrial Design Centre, Powai, Mumbai-400076 (Mah), www.iitb.ac.in
National Institute of Design (NID), Paldi, Ahmedabad-380007 (Guj), www.nid.edu
Kerala Cartoon Academy, Chittor Road, Kochi
Toonz Animation India Private Limited, Nila Technopark Campus, Thiruvananthapuram-695 581. Ph:0471-2416928; E-mail : bill@toonzanimationindia.com
Pentamedia Graphics Limited, Chennai.
The National Institute of Design (NID), Ahmedabad,
ZICA Studios, Mumbai, Ph:022-8684485, 8693957,8696663
AFA-Animation And Fine Arts Academy,No.347, D.S.Complex, 3Rd Floor, Nehru Street Ramnagar, Coimbatore - 641009,Ph- 0422 - 4206227/ 8, 4206337
International Institues:

The Cartoon Institute, Honeycombe House, Bagley, Wedmore, Somerset BS28 4TD, UK. Tel: 0800 781 1715 . Outside the UK, phone +44 1934 713 563 Fax: 01934 713492.
Institute of cartooning, Overbrook Business Centre, Poolbridge Road, Blackford, Wedmore Somerest BS284PA, UK. Tel: 0800 781 1715
Art and Design Admissions Registry, Penn House, 9, Broad Street, Herefore HR 4 9AP
Chartered Society of Designers, 29, Bedford Square, London WC1B 3EG
Design Council, 1,Oxenden Street, London SW1 4EE
National Art Education Association, 1916 Association Drive, Reston, VA 22091-1590
National Cartoonists Society, PO Box 20267, Columbus Circle Station, New York, NY 10023
National Society for Education in Art and Design (NSEAD), The Gatehouse, Corsham Court, Corsham, Wilts, SN 13 OES
Individuals interested in creating cartoons and choose this field as primary source of income must work hard. Since computers have become important to the field, candidate must specialize in advanced skill in computer graphics. While in school, potential cartoonists can get experience by drawing cartoons for the school newspaper and designing posters for events. Those cartoonists who have just started their career can send cartoons directly to magazines and newspapers. Numerous Small or local publications are generally interested to accept a work of fresher. To start career, cartoonists sometimes send samples of their creativity to a organization or an agent. These organizations assist cartoonists to get best job according to their talent and sell their work. Trade magazines offer ideas on how to find publications that are likely to be interested in a given style of cartoon. Top level cartoonists may join organizations that sell their work to magazines and newspapers all over the country. Cartoonists also get employment in advertising agencies, publishers of books and educational materials, greeting card companies, and the government.
The field of cartooning is not a simple one. There are many challenges which candidates have to face in order build successful career. The most victorious cartoonists develop a very diverse style that makes their cartoons exclusive. They get success when their cartoons are published by a national magazine or newspaper syndicate. The job prospects for cartoonists are good. Employment is expected to grow as fast as the average through the year 2014. Majority of cartoonists are freelancers. These cartoonists have to struggle a lot to find jobs until they gain experience and establish a status in a society. The best possibilities are anticipated to be in the field of advertising. Online political Web sites and publications provide another opening for cartoonists.