Carpentry Program and employment prospects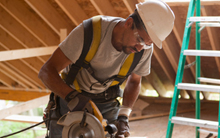 Carpentry is an area where person can generate huge income if he is skilled and know the tactics to run his own business. Carpentry courses are designed to train students how to build and maintain a wide range of structures from wooden materials. If a candidate is graduates, he may work as rough carpenters, building frameworks and forms for bridges and other large structures; as residential carpenters, creating the framework for homes; as finish carpenters, completing detailed work such as stairs and flooring; interior systems carpenters, installing factory-made materials and products; or floor layers, specializing in hardwood flooring and carpeting. This course usually attempt to prepare students for the employment by helping them become experienced in all areas.
This allows students to enter different parts of the field or go on to join in an apprenticeship. Students have been given training about building codes, read blueprints, cut and fit materials, and assemble buildings. Many programs feature a large hands-on component, in which students gain actual building experience. Carpenters work with wood on building projects or in workshops. Most learn through on the job training, gaining skills by working alongside and under the direction of more experienced practitioners. Others learn through formal training programs, vocational education or employer training and apprenticeships.
There is no specific qualification for carpentry work but candidate must be graduate and trained in skill to run his own workshop or work as a sub contractor. Employers often choose diplomas and certification from an accredited institution. Carpentry degrees and certificates specify the possession of some knowledge and professionalism sought after by contractors. Students do not require experience in the field to enter into programs at carpentry schools.
Few carpentry training schools are mentioned below-

M Scott Carpenter School. 1 Par Avenue Old Bridge, NJ 08857. Phone Number: (732) 360-4452.
Carpentry course, National open school, B-31B, Kailash colony, New Delhi, India.
New Weaver Vidyalaya Chenganachery S.S Society, Post Mallapally (West) Distt-Patnanamthitta, Kerela.
Carpentry is a skill that can be extended upon once a person has learned the fundamental concepts. Teenagers who want to learn carpentry must have knowledge of some basic tools and ideas to start the career. they must learn more about Hammers Pincers Pliers Saws Files before directly using these tools to avoid ant accident.
Most carpentry work is related with the construction industry. Carpenters cut, fit, and assemble wood and other materials for the construction of buildings, roads, bridges, docks, industrial plants, boats, and many other structures. Carpenters generally work in the workshop, creating parts such as staircases, doors, roof trusses, etc, and on site, fitting such parts into the building projects. These are known correspondingly as bench joiners and fixers. In addition, there are various areas of specialization such as shop fitters, who specialize in producing and fitting shop fronts and interiors, and formwork joiners, who produce moulds for concrete structures, such as pillars for concrete buildings, suspended floors and staircases. Many carpenters open their own workshop and work as sub-contractors. This means person specialize in areas such restoring old buildings, furniture making or restoration. Carpenters require being skilled with manual tasks, having a high degree of precision, additionally a careful approach to their work, and the aptitude to follow tight specifications.
Carpenters, who join as sub-contractors in workshops, must be skilled enough to complete all aspects of a job. If a candidate spends months or years in training, he will definitely get huge advantage. These works can be seasonal and changeable, particularly in winter. On construction sites, the number of daylight hours affects the length of the working day. Early starts are common, as are essential evening and weekend working. Travel to different sites is an inescapable aspect of the work. There is some health problems associated with this job which every candidate must know. Inhalation of wood dust is a major side-effect of working in enclosed spaces with machinery. The work is tiring and a lot of time is spent standing, kneeling, bending or crouching. Working conditions are quite tough for carpenters. On site, carpenters may need to climb ladders, work in confined spaces, or work on scaffolding. There is a high risk of harm from machinery or on-site hazards.
Carpenter's duties differ according to the type of contractor employing them. Construction companies employ expert trade contractors who then appoint carpenters who specialize in one or two activities. These activities include setting forms for concrete construction, doing finishing work, such as installing interior and exterior trim. a general building contractor may directly employ carpenter he is assigned a smaller projects for variety of activities. These may include: framing walls and partitions, putting in doors and windows, building stairs laying hardwood floors, hanging kitchen cabinets, adding fittings and extensions in existing houses and general building maintenance and repair, etc. Workshop-based carpenters are frequently self-employed. They may be involved in tasks such as making prefabricated parts such as doors, staircases, roof timbers and skirting boards, preparing timber using specialist equipment. Self-employed carpenters on-site may complete tasks of fitting floorboards, staircases and window frames, installing skirting boards, door surrounds, doors and shelving, fitting door handles and locks and repairing broken furniture, etc.