Career in Records management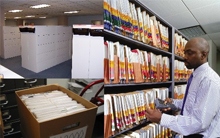 Records management is a relatively new line of work, but due to the increased recognition within most sectors of the value of knowledge and information management, the range of freelance, consultancy and permanent opportunities is increasing. Professionals have careers based on the concept that their field or discipline is something they will be working in most of their adult lives. It is something they select because they are drawn to it, have the educational requirements for it, understand and enjoy the occupational culture of the field, and can successfully perform the work required in the field.
The records management, a career is something of long-range concern and exists externally to any solitary organization. A career is a sequential, organized, and predictable path which is managed by individuals as they pass through various stages of their work life. A career is not merely initial job selection but a way of life and even a social role or identity.
Records management professionals are employed in a wide range of roles. The job increasingly involves advising on records management issues, as well as undertaking practical and strategic activities. Records managers achieve goals in many ways, including; designing systems, analyzing business processes, designing business classification schemes, undertaking records surveys, establishing retention schedules, designing and running record centers and devising business continuity policies. An applicable professional qualification is very useful for long-term career development. There are ample opportunities for consultancy work (usually senior professionals), occasionally involving overseas travel, as employers recognizes the need for expertise they lack in-house, for example in commercial data storage companies or the management consultancy section of large accountancy practices.
Professionals can work also as an individual level through agencies. This is generally only short-term contract work, which involves setting up an information system on behalf of a company. Records managers are employed both to establish a new system and to supervise it in the long term. Companies are also increasingly identifying the significance of employing professional staff to increase awareness of key legislative issues. The only issue of concern is that most organizations have a quite small team of records managers.
Regardless of many individuals entering the archives and records management field with solid educational backgrounds in history and the humanities, few seem inclined to consider the history of records and record keeping, organizational record keeping systems, and archival repositories and the archival discipline.