Career in Retail Sector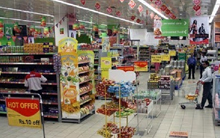 In India, there are bright chances of getting job in retail sector because this is rapidly growing in various cities. Several business schools in India are conducting various retail management courses to cater to the manpower. As the sector is successful in India, a career in retail sector promises good wages and growth potential for the ambitious youth. Retail management is linked with retailing business of departmental stores and shopping malls. Demand for professionals in the retail management is very high to process all merchandise shipments, to achieve store sales and profitability, administration of stores as well as communication with the clients to gratify them.
The candidates who want to make career in this field are trained in supply chain management, finance management, marketing information, electronic retailing, marketing and business communication, customer relationship etc. plentiful jobs are available in music stores, books and publishing industries, shopping malls, multiplex, processed food industry and garment industry. It is predictable that in the retail sector, there will be over 13 million jobs throughout the country by 2012. There will be more demand of these professionals in the rural areas. The vacancies in retail sector are available from the entry to senior management level. Suitable candidates are employed Career in retail sector can be developed as store manager, retail managers, retail buyers, retail design/visual merchandise, merchandise planning and product developers.
Basic educational qualification for Retail Management Courses
Candidates who want to make career in retail management must complete a Bachelors degree program in Retail Management. They can enroll soon after completing 10+2 exam. After completing education till 10+2 level, they can also join Retail Management diploma courses. For studying postgraduate diploma Retail Management courses, graduates or diploma-holders with considerable work experience can apply. Candidates with graduation degree or equivalent diploma are qualified for postgraduate Retail Management Courses.
Institutes which offer various courses in retail management

Birla Institute of Management technology, Birla Vidya Niketan, Pushpa Vihar, Sector-IV, New Delhi-110017.
Asia-Pacific Institute of Management, Opp. Pocket-E, Saritha Vihar, New Delhi-110076 Website : www.asiapacific.edu
Indian Retail School, N-10, South Extension-1, New Delhi-110049 Website : www.indianretailschool.com
K J Somaiya Institute of Management Studies & Research, Vidhyavihar.
SASMIRA, Sasmira Marg, Worli, Mumbai-400030
Garware Institute of Career Education and Development, Vidyanagari, Kalina, Santacruz (E), Mumbai-400098.
RPG Institute of Retail Management, Indian Retail School.
The Australian Salesmasters Training Company, Rosebery, NSW, Level 3, 30-40 Harcourt Pde, Rosebery, NSW, 2018
Many retailers choose a business-focused college degree when employing or promoting to fill professional, supervisory, or managerial positions. The undergraduate Retail Management specialization offers a strong foundation in general business disciplines, including management, marketing, human resources, organizational communications, and finance. The retail-focused course work includes retail management, store operations, merchandising, pricing, competitive analysis and planning, and legal and ethical considerations in managing a retail operation. People who choose this specialization are often pursuing lead, supervisory, or management positions at the retail store level, or specialist/analyst positions within a retail department or corporate headquarters.
Main skills of retail manager are knowledge of guidelines and methods for demonstrating, promoting, and selling products or services, awareness of business and management principles, knowledge of accounting and bookkeeping procedures, familiarity with advertising and merchandising techniques, enthusiasm, good attitudes, and a willingness to be flexible, capability to move often from one task to another using different skills, interest in coordinating data and resources, strong communication, negotiating, and public speaking skills, ability to work well with people, and orientation toward quality customer service and evaluation of customer satisfaction.
Major Companies which employ professionals in the Retail Sector Reliance India, RPG Group, Westside, Titan, Pantaloons, Raymonds, Food World, Barista, Caf? Coffee Day, Bata, Trent, Crossword etc are huge companies which provide numerous jobs in retail store. The multinational companies such as Pizza Hut, Adidas, Nike, Dominos, Kodak, Benetton, Sony, Sharp and Levis also recruit the trained professionals in retail sector.