Career in Modeling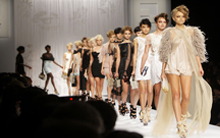 Modeling profession attracts to everyone and it is basically a career options for youth. This line of career is glamorous and highly competitive due to numerous fashion shows and Miss India contests. Modeling is an exciting as well as profitable job especially for women.
If candidate enter in to this profession in right way, he/she can make huge earnings and get instant popularity. Modeling is also considered as a first step for entry to the film industry but the competition in the modeling career is also very high. Modeling professional is continuous in search of smart and new faces and promotes various branded products. This alluring field offers opportunities to travel and meet different type of people.
Today, many youngsters are choosing modeling as a career options. In this career, there is no need of high educational qualifications. Physical attributes are more important. Modeling in India is mainly categorized into print modeling, television modeling, still modeling, showroom modeling, ramp/live modeling, advertising modeling etc. The job opportunities are available in product advertising, live fashion shows, music videos, in garment fairs and acting in television programs or films. Different institutes are offering modeling courses in India in observing craze for modeling career among young generation. They generally provide instructions on make-up, diet and exercise, beauty care, hair styling, how to walk and many more.
Popular Modeling agencies and institutes

Face 1,
Ozone Models Management,
Mayrose Management Services in Mumbai
Catwalk, Platinum Models
Glitz,F-100 Lajpat Nagar II,New Delhi - 110 024,Ph: 683 0921
The Ramp,A 22,Gulmohar Park,New Delhi - 110 049
The Tina Factor,C-31 Defence Colony,New Delhi- 110 024
The Bridge,201, Bhanot Trade Centre, Paschim Vihar, New Delhi,Ph: 91-011-56017119
Aditi Modeling Service in Bangalore
Passion EC 191, Sector I, Salt Lake, Kolkata, Contact no (s): 359 3502, 334 6319.
Profilez Estd. in Hyderabad.
Padmini Kolhapur, School for Acting Modelling and Grooming, 29, Hauz Khas Village, New Delhi- 110016 Ph: 6510150, 6516800 Fax: 6461411
Elite School of Modelling, B-55 Greater Kailash part-I,New Delhi-110-51552222.
Catwalk,K-40, Hauz Khas Enclave,New Delhi
Page Parkes Center Of Modeling, 1535 West Loop S Ste 100, Houston,TX 77027 (713) 807-8200
Mayo Hill Centre For Modeling, 7887 San Felipe St Ste 127 Houston,TX 77063 (713) 789-7340
Barbizon School Of Houston, 5433 Westheimer Rd Ste 300, Houston,TX 77056 (713) 850-9111
Talent International Incorpora, 6060 Richmond Ave Houston,TX 77057 (713) 977-3648
Barbizon Modeling School, Barbizon Mobile, Alabama, U.S.A
It is advised to know all the details about this profession before choosing a career in modeling. This profession needs devotion, hard work and perseverance for being successful. It is a short-term and highly competitive career. Modeling requires a lot of tolerance and stamina. The models have to face a very hectic schedule and physical and mental stress. As a model, candidate may have the opportunity to travel to various locations, attend events with celebrities, and earn huge amount of money a day. Modeling can also lead to many other wonderful opportunities including acting. Main reason behind growth of this whole modeling industry is rapid flourish in consumerism and at the same time impact of media on individual. This whole scenario is further boosted by the altogether expansion of fashion industry.