Career in Game Designing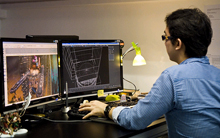 Game designing is a new career alternative and is growing very rapidly in India. It is part of software development. In game designing, professionals design the content and rules of the game. The phrase signifies to game design represented in actual game and documentation describing the design. The principles of game designing are applied to various forms of games such as board games, video games or card games. Some types of game design involve an integration of many other disciplines.
For example, video game design needs the co-ordination of game mechanics, programming, visual arts, production process etc. Mainly games are designed for entertainment, training or education. Some of popular games are shooting, racing, hiding, commanding, escaping, stunts, trading, finding, role playing, solving puzzles and education. Candidates who are qualified can choose this career and enhance their professional life. It is one of the profitable fields.
Video game design occupies a broad variety of fields such as game theory, game mechanics, visual arts, programming, and multimedia. Video game design focuses not only on video consoles, but on the growing popularity of handheld gaming devices, mobile phones, and computers. As such, it is a high-paced industry experiencing rapid growth as video games become increasingly more widespread and high budget. In developing game, the storyline, graphics, animations, sound, music, and programming all have significant role in creating a multimedia gaming experience. If candidates have some artistic ability, ability to learn new skills and technologies and dedicated video gamester, then they must complete a Video Game Design School. If candidate is looking to develop his graphic and animation skills, he should find a program with courses which focus on those aspects.
If he wants to be a programmer then he will require taking courses which provide him the appropriate professional skills in computer hardware and software. This difference is important, because by this candidate can check the courses offered in Video Game Design School program. Main job of Game Design professionals is to coordinate scheduling, budget, and testing video game development, use computers to build characters, background settings, and level design, use higher level skills needed to keep up with changes in technology and examine market research and business concepts related to game production. In training session of Game Design, students learn to apply basic principles of animation to computer characters using 3D animation, discover modeling, rendering, and animation used with practical movement and timing of character form, explore a variety of game genres and software applications that are used in the creation of digital media, gain skills in project management, creative design, and communications.
As a game designer, candidate must be well versed in a broad education. He must have graduation in computers or entertainment. If candidates attend a school that offers a program geared for game design that is fine. For getting good position in game designing, candidate needs to complete some courses. Some of the games designing courses include- Advanced Diploma in Game Design, Diploma in Game Design & Gaming, Video Game Design and Development Certification and Video Game Design and Development. These courses are offered by renowned institutes in India.
Game Designing Training center

Colorchips Animation Training Centre in Hyderabad
National Institute of Design in Ahmedabad
Digital Academy Film School in Mumbai
Image College of Arts, Animation & Technology in Chennai
Asian Academy of Film & Television in Uttar Pradesh
Ex'pression College for Digital Arts, 6601 Shellmound St. Emeryville , CA 94608
Pratt Institute, 144 West 14th St. Room 209, New York, NY 10011-7300. 212 647.7199
Savannah College of Art and Design, 342 Bull St. Savannah, GA 31402
(912) 525-5100 Request a Brochure
Art Center College of Design, 1700 Lida Street, Pasadena, CA 91103
The Art Institute of Pittsburgh - Online Division, 1400 Penn Avenue, Pittsburgh, PA 15222
International Academy of Design and Technology
Collins College, 1140 S. Priest Dr Tempe, AZ 85281
Digital Media Art College, 3785 N Federal Hwy Boca Raton, FL 33431
Game Designing Companies in India: Game designing jobs are flourishing in India and it is considered as good career option. There are various established companies that offer superb job opportunities in game designing. Popular companies are Synapse, Smackall, Ishir Infotech, Csharks etc. They design the games for mobile phones, online games and video games. The mobile games include the board games such as Checkers, Chess etc, betting games (sport betting games, casino games etc), puzzle games and word games. There are broad variety of online games including single and multi player games. Some of the famous online games are word games like anagrams, crosswords etc, card games, board games like Checkers, Chess etc, Casino based games, strategy games, arcade games like racing, shooting and sport games etc and puzzle games.