Career in Digital Marketing Industry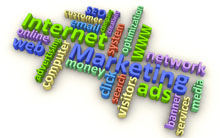 India's digital industry is booming and has shown a cosmic growth since past few years. Digital marketing spending is growing every year with a record $14 billion mark for internet advertising registered in last quarter of the year 2014, unravelling its huge potential.
The Interactive advertising Bureau (IAB) has revealed that mobile advertising grew 76% year-over-year from 2013 to 2014, the biggest growth segment. That was followed by social media advertising, with 57% growth. Search revenues grew only 3%, but search remained the largest overall advertising segment by far with spend of $18.4 billion in 2014 or 38% of the overall share.
In the recent times, all the top Multi National Companies (MNCs) are boosting up their business through digital marketing strategy. They are hiring digital marketing experts who can increase the Return on Investment (ROI) of their businesses. The companies like TCS, Infosys, Wipro, jellyfish, IBM, and many others are working on the models of digital marketing to expand their businesses.
As a result there is a huge demand for manpower in the digital marketing segment. It is estimated that over 8 lacks jobs are waiting for the digital marketers, more than 42 percent of them at the fresher level.
What is Digital Marketing?
Digital marketing is all about sales and business promotion on the internet.The main objective of digital marketing is to create brand awareness among internet users through online advertisements.
In digital marketing, one needs to understand how online people behave while browsing the net. After ascertaining the fact, various marketing strategies are implemented to attract the targeted customers to the given products or services. This is done by using different platforms like social media, SEO, email, advertising and many more such options.
Digital marketers are suppose to measure the Return on Investment (ROI) of the various campaigns launched and analyze which campaign resulted in highest ROI and then follow the success path.
Digital Marketing Job Profiles
The upsurge of digital marketing has formed an enormous career path as it gives full space in diverse profile according to one's interest and inclination.
There is a great opportunity waiting for those having passion in PPC, social media, affiliate marketing, copywriting, content management, analytics, mobile app development and graphic designs. There are various fields of specialization like; content writing, SEO marketing, social media marketing etc.
Content writers are required to write and produce various types of downloadable content and blog regularly, to expand company's digital footprint, awareness, subscribers, and leads. This role requires a high level of creativity, attention to detail, and project management skills.
The SEO marketers are required to translate business goals into successful SEO campaigns, analyze the performance of SEO efforts and help clients' increase search engine rankings for their websites.
Social media marketers manages content on Twitter, create graphics photos for engaging fans over Facebook and Twitter posts, curating videos and photos for visual platforms like Instagram, Vine, and Periscope etc.
Digital Marketing job responsibilities
A digital marketing professional is responsible for creating and implementing the strategy for sales and business promotion. Managing content for Twitter, creating graphics photos for engaging fans over Facebook and Twitter posts, curating videos and photos for visual platforms like Instagram, Vine, and Periscope are some of the responsibilities.
Digital Marketers manager mainly handles content strategy, develop brand awareness, generate inbound traffic and cultivate leads and sales. They have to use online social media, email marketing and search engine optimization (SEO) techniques to promote the business.
Digital marketing managers are required to provide clear direction to other members of the marketing team, including web designer, content writer, sales executives and social media experts. They are required sit with them to create and adapt content for each specific network.
Salary Package
Digital marketing industry is offering a package of up to INR 20 lakhs yearly for the experts. The starting salary for digital marketing professionals is in the range of INR 4-5 lakhs. However this salary package is not a bar for the deserving person and one can get more than that if has ample knowledge in the digital field.
Institutes for Digital Marketing Course
The opportunities are vast but the professionals are limited. Lack of knowledge and training is a huge hindrance in digital industry. In this scenario, institute are coming forward to extend their helping hand for the people interested to make their career in digital marketing.
Some of them are listed below.
Delhi School of Internet Marketing, New Delhi - It provides certification in "Advanced Digital Marketing Training Programme".The eligibility criteria to enrol in the course are 10+2 for the students.

NIIT in association with Digital Marketing Institute (DMI), Ireland - offers a Certificate in Digital Marketing course for students and a Professional Diploma in Digital Marketing for graduates and working professionals.These courses have to be taken at an NIIT Imperia centre.

Digital Vidya, New Delhi - It offers Certified Digital Marketing Master (CDMM) Course. It is available in online mode.

EduKart, New Delhi - It is one of the growing digital marketing training institute in India. EduKart provides Certificate Course in Digital Marketing which is certified by IAMAI which is an online course.

Digital Marketing Academy, Hyderabad - Digital Marketing Academy is a Hyderabad based digital marketing institute that offers: Digital Marketing In-depth, Search Engine Optimization (SEO)

Google Adwords / PPC (SEM) and Social Media Optimization (SMM/SMO) courses IMRI - provides private, one on-one digital media & analytics training program that are customized. IMRI offers Executive Program in Digital Marketing (EPDM) Training Program. Other than this, the institute offers various other courses including online marketing, web & graphics design, web technology, analytics and measurements.