Career in Chartered Accountancy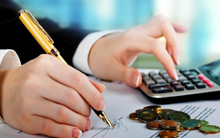 Accountancy in all areas has major responsibility to show the financial efficiency of a business or companies. With the rapid development in economy, careers in finance and accounts have gained remarkable acceptance and the most admired career option in this field is that of Chartered Accountant. Chartered Accountancy is highly rewarding but challenging career. All the nations have their own Accountancy Association which regulates the quality and quantity of the professionals in this field. Chartered Accountancy Course is a professional course in Accounting introduced in India in 1949, with the enactment of the Chartered Accountants Act.
Educational qualification
Candidates looking charted accountancy career must complete Bachelor's degree in a financial field and two years of post-graduate study. Other Requirements is three years of work experience supervised by a CA.
The course involves a combination of theoretical education and practical training which run alongside for a period of three years and equips a student with knowledge, ability, skills and other qualities required for a professional accountant.
A chartered accountant is a person who is accepted as a member of the Institute of Chartered Accountants of India (ICAI) after having passed the Final examination of the Chartered accountancy course conducted by the institute.
It is generally supposed that only students of commerce should pursue CA course. Nonetheless, CA being a very practical course, the students from science and arts fields can equally make a successful career. These students have to make extra efforts in order to understand some complex accounting nuances and have to get basic knowledge of various management topics. But it can be easily determined that students of science and arts streams can be a successful CA, if they are ready to work.
Role of Chartered accountant
A Chartered accountant is an expert in accounting, auditing and taxation. He also serves as a management and corporate caretaker. Presently, accountancy has become prevalent as a profession. The services of a CA is required in financial matters even in a small business. Moreover, according to the Company Act only CA's in professional practice are allowed to be appointed as auditors of companies in India.
Job duties of charted accountant
Charted accountants work in fields of accounting, including public, management and government accounting. While specific job duties differ greatly within specific positions, many duties shared between CAs include preparing financial reports and documents, maintaining records of investments, reviewing potential financial risk as well as providing professional opinions in regards to the fiscal decisions of the firm.
Major duties include:
Preparing accounts and tax returns

Administering payrolls and controlling income and expenditure

Auditing financial information

Compiling and presenting reports, budgets, business plans, commentaries and financial statements

Analysing accounts and business plans

Providing tax planning services with reference to current legislation

Financial forecasting and risk analysis

Dealing with insolvency cases

Negotiating the terms of business deals and moves with clients and associated organisations

Meeting and interviewing clients

Managing colleagues, workloads and deadlines
CA programme is a professional course which has three sections that include, Common Proficiency Test (CPT); Integrated Professional Competence Course (IPCC) and Final Course. The registration for CPT and IPCC is open throughout the year. A pupil may register at any time during the year. Nevertheless, as the examinations are held twice a year in May and November, it is necessary that a student must register at least ten months before the examinations.
After passing the Integrated Professional Competence Course (IPCC) candidates are eligible for registration as articled clerks/ audit clerks for practical training. Computer Training Programme, i.e. 100 hours Information Technology is compulsory for the candidates who wish to register themselves as auditor clerk. Students can undergo this programme while pursuing CPT or IPCC.
Charted accountant is good career choice
This professional degree course offers pupils flexibility to study higher education like MBA, CFA etc. There is no limitation on study hours. Candidates do not have to go to college to study and they can control their study. Article ship is a compulsory part of the curriculum, and as such, it gives students practical experience while doing article ship. Candidates can choose suitable organization of their choice.
Most of the charted accountant finally become entrepreneurs. They are their own boss. CA's can choose to become tax advisers and consultants also.
Skills to become charted accountant
Chartered accountants have to undergo rigorous recruitment and qualification process, and this is reflected in their high professional status. They must have following skills to thrive in career:
Self-motivation
Responsibility
Ability to reflect on one's own work as well as the wider consequences of financial decisions
Business insight and interest
Organisational skills and ability to manage deadlines
Team work
Client-facing (customer service) and interpersonal skills
Proficiency in IT
Analytical ability
A methodical approach and problem solving skills
Numeracy
Top Chartered Accountancy Colleges in India
Institute of Chartered Accountants of India, Bhawan New Delhi , Delhi NCR.

Indian Institute of Business Management & Studies, Hyderabad.

Financial Planning Academy (FPA), Pune, Maharashtra

Indian Institute of Business Management & Studies, Mumbai, Maharashtra.

Financial Planning Academy (FPA), Jaipur, Rajasthan

Piron School of Business & Finance, Noida, Uttar Pradesh

Indian Institute of Business Management & Studies, Surat, Gujrat

Yeshas Academy, Bangalore, Karnataka

Financial Planning Academy (FPA), Bhubaneshwar, Orissa

Indian Institute of Business Management & Studies, Hyderabad, Andhra Pradesh
Chartered accountants can get job in all sectors of industry, including public, private and governmental agencies. While around half of all chartered accountants work in commerce, financial services and banking, common employers of chartered accountants include educational institutions, local government offices and private accounting firms. Many multinational companies have come forward in the Chartered Accountancy field. ICICI Prudential, Om Kotak Mahindra, Birla Sun-Life, Tata AIF Life, Reliance, HDFC Standard Life-Chartered Accountancy Co., Max New York Life, SBI Life Chartered Accountancy, ING Vysya Life etc. are the top companies in the private sector.
Companies that recruit chartered accountant
Banks (Both private and public)
Public Limited Companies (mandatory for the purpose of law)
Auditing Firms (such as KPMG, Price Waterhouse, etc.)
Finance Companies, Mutual Funds, Portfolio Management Companies, Investment Houses, Stock Broking Firms
Legal firms, Legal houses, Patent Firms, attorneys, Trade Mark and Copyright Registers
Scope of chartered accountancy job
The scope for chartered accountancy is productive in India as it is economically developing nation. After becoming a CA, candidates can choose to either be employed with a firm as an employee or they can choose to open their own private practice.
The chartered accountant play vital role in the organization and duties of CA like Auditing & Assurance, Tax Consultancy, Accounting Services, Accountants & Finance Outsourcing and Financial Reporting. Every registered firm or organization under the Company Act, have a CA that manages various tasks like Finance Managers, Financial Controllers, Financial Advisers or Directors and audit their accounts. After becoming a CA, there are various job opportunities.
There is numerous opportunity in overseas for the candidates who pursue career as chartered account, whereas the Institute of Chartered Accountant of India has tied-up with its Canadian, Singapore and Irish counterparts to permit the Indian professionals to work on various assignments in these nations. The multinational firms also recruit Chartered Accountants and give handsome salary or offer jobs abroad. The qualified candidates who have good experience and skills in their field can easily get jobs in international firms.
It can be assessed that career as a chartered accountant has great demand at national as well as global level. Therefore candidates who are serious must obtain good education and go for advance course to make bright career in chartered accountancy.