Yoga Professional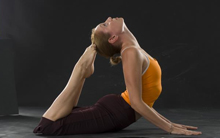 There are numerous courses in yoga which must be completed before practicing it regularly. In many yoga schools, 10 day or 15 day classes / workshops are conducted for students. In this course, students learn Stress Management & Yoga, Pranayama and Meditation,
There are courses for Improving Personality (increasing memory, concentration and enhancement in application of knowledge, alertness, attitude), Selective Yoga Education for Kids (physical and mental fitness, with Relaxation techniques and Yoga Nidra, Omkar), Tantra Meditation Classes. When a person who is desirous to do yoga completes such courses, he can perform yoga exercise daily. Preventive Health Courses include therapy Classes / Workshops to get rid of various diseases. There are selective Yoga Courses for various work-related diseases and special Yoga Training (Yoga Sopan) for old / disabled persons.
Yoga School
In India, Yoga practice is common. There are many schools existed in India to train people for yoga..

Vishwa Yoga Darshan"Talwade, Taluka -Trimbak, District - Nasik, Maharashtra, India Phone - +91-253-2575624 or +91-253-2318090 or +91-9373737339 Email:- yvd@yogapoint.com
Bihar Yoga Bharati, Ganga Darshan 811201 - Bihar - India. Site: www.yogavision.net Tel : 91 + 6344 + 222430 Fax : 91 + 6344 + 220169
Ghosh Yoga College, Kolkata Address 4/2, Ram Mohon Roy Road, Kolkata - 700 009, West Bengal, India. Ph: +91-033-2350 1358 / 2360 8478. Mobile 99030 98678 E-mail info@ghoshsyoga.com Website https://www.ghoshsyoga.com
Akhilesh Brahmchari, Neo Yoga Centre, Bhagsunag Dharamsala H.P. India Email neoyoga@yahoo.com, E-mail yoga@123himachal.com Mobile 0091-9816318674
Himalaya Yoga Valley, Sidharth House, Shivam Marg, Below Yongling School, Jogiwara road, Mcleodganj, Dharamsala(H.P.) INDIA Pin : 176219
Isha yoga center, velliangiri Foothills, semmedu (P.O.), coimbatore-641 114. India. Ph: 091-422 2514352
Bikram's Yoga College of India, World Headquarters, 1862 S. La Cienega Blvd., Los Angeles, CA 90035. Ph: 310.854.5800 Fax: 310.854.6200 E mail: Info@BikramYoga.com
Gordhandas Seksaria College of Yoga & Cultural Synthesis & Scientific and Philosophic-literary Research Department & Kaivalyadhama Ashram Kaivalyadhama, Lonavla (Pune) 410 403.
The Yoga Institute, Shri Yogendra Marg, Prabhat Colony, Santacruz (East) Mumbai 400 055. Maharashtra. India
Aayur Aishwarya Arogya Ashramam, 3rd Main Road, Mehru Nagar, Adyar Chennai-20 India
Academy Of Meditation, World Centre of Spiritual Regeneration Movement Sankaracharya Nagar P.O. Swaraagashram, Rishikesh. India
Adhyatmic Mandal, Vishweshwar Dayal Sharma Shri-ka-Mandir P.O. Bran Kotah, India
Arogya Yogasana Sala, No. 10, Subhananchari Lane, Cotton Pet Cross Bangalore. India
Arya Samaj Yoga Centre, Linking road, Santa Cruz West, 400070 Mumbai India.
Bharatiya Saririk Shiksha Kendra, C/o Shri Ramkrishna Ashram, Jogsar Bhaglpu, India
Brahma Kumario Ishwari Vidyalaya Meditation Centre, Pandav Bhavan Mt. Abu, India. Tel: +91 (2974) 2 38348, 38349, 383
Brahmakumari Ashram, 24/25 Geetanjali, 2nd Floor, Colaba, Mumbai 5 India. Tel: +91 (22) 2 2830494
Brihans Pharma, F/2, Harids Park, Kandar Pada, Dahisar West 400068 Mumbai, India. Tel: +91 (22) 2 8953137
Central Council For Research In Yoga And Naturopathie, Health & Family Ministry Government of india JNBCEHAB, 61-65, Institution area, Janakpuri, 110058 New Delhi India. Tel: +91 (11) 2 5534717. Fax: +91 (11) 2 5613269. www.ccryn.org
Department Of Indian System Of Medicine And Homeopathy, Health & Family Ministry, Government of India, Red Cross Society Building, Red Cross Street 110001 New Delhi. India. Tel: +91 (11) 2 3327660
Institute Of Sri Ramchandra Consciousness, 68-1-4/3, Opp. State Bank of Hyd., Ashok Nagar, 533003 Kakinada, India. Tel: +91 342592 (Res)