Career as a TV Anchor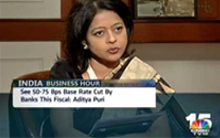 TV is medium of transmitting news and other entertainment program. Jobs in this area always entice to younger generation. Career in TV anchor is highly rewarding. TV anchors, called newscasters, news analysts or news anchors, are smart personality that deliver news stories to the broadcasting station's viewers. TV news anchor or program anchor is a person, who delivers different types of news or programs whether it is a film-based program, comedy show, reality show, or crime-related report. An intermediary between the channel and the audience, a TV anchor is well versed in knowledge and aware of the current political scenario, and possesses thorough knowledge of issues. With the increasing popularity of the telecast media, the job of news reading and presenting a program has become challenging.
Educational qualification
Candidates who want to become a TV anchor must hold Bachelor's degree. Internship or work experience often necessary. On-the-job training is very important. It takes practice to improve a conversational, yet professional vocal delivery and to know how to handle last-minute changes that occur just before air time. But now that many colleges and universities have TV facilities, this training can be found on campus.
Nature of work for a TV Anchor
TV anchors work out of a studio and may also travel to do on-site or live reports. Working hours for TV anchors depends on news or feature story coverage. They may have to work uncommon or unpredictable hours due to breaking news and late-night or 24-hour news broadcasts. Working holidays may also be required and conditions may be hectic as they have to meet deadlines.
Skill needed for TV anchoring
To become a TV anchor, candidates must be at ease with being in front of a camera and have good verbal skills. They must have a clear, pleasing speaking voice and nice appearance. Good grooming and hygiene practices are indispensable. Makeup is often applied to both men and women to neutralize the studio's lighting. The main quality that make a successful TV anchor are enthusiasm, passionate, energetic, dynamic, and vibrant. Candidates who want to pursue career as TV anchor should be aware of his/her duties and responsibilities, and collect information to his/her best knowledge and sources, without overstating the actual facts.
In brief following skills are essential to become a successful TV anchor:
Good voice modulation, articulation
Knowledge
Excellent language & communication skills
Versatility
Exciting attitude
Flexible approach towards the profession
Good, Camera friendly appearance
Smart disposition
Good perception
Good timing
Enthusiasm
Command over pronunciation
Good general knowledge of issues from different fields
Good sense of humour
Impulsiveness
Calm and composed disposition
Unique style
Good mental ability
Leadership quality is an asset
Job Duties for a TV Anchor
The main duty of TV anchors is to deliver newscasts throughout the day, but they are not just spokespeople. Anchors have to collect relevant information and write news stories of their own in addition to reading the stories written by other news reporters. TV anchors are sometimes responsible for editing and rewriting news stories to guarantee they are accurate and fit within the time and space allotments.
Before presenting a story, TV anchors may research current events happening in the local community, as well as state, national, and international regions. After that they determine which stories are the most interesting and organize them so that the most pertinent pieces are presented first. Furthermore, these specialists may introduce news correspondents that are reporting on the scene and ask to them relevant questions that the public may want to know. TV anchors may also involve in commentary about various community issues and conduct interviews of famous personalities.
Requirements for a TV Anchor
Most companies select TV anchors who obtain degree in journalism or mass communications. Coursework for bachelor's degrees in broadcast journalism include reporting, news writing and editing, broadcast reporting and writing, television news production, and media ethics. A mass communications major takes courses like journalism, multimedia communications, electronic media, broadcasting, and media ethics.
Candidates who want to pursue career as TV anchor must gain some practical experience while completing a college degree. It will be useful for broadcasting students. Students can work at their college's broadcasting station, part-time jobs, or internships to learn and apply basic skills, as well as gain work experience in the industry. Many TV anchors first prove themselves as knowledgeable reporters, writers, or correspondents first before advancing their career.
Recruiting Companies
ZEE
Star Plus
Aaj Tak
Sahara News
Sony
Sun
BBC
Fox News
CNN IBN
TV anchors get very high remuneration and Chance to give insights on live television. They also get a chance to travel to special events and interview interesting people. TV anchors are in high demand in today's globalized climate. Many news and entertainment channels are launched to transmit news to world population. This increases the ample job opportunities. Candidates have an opportunity to work with any news channel as a TV news/programme anchor or with any entertainment channel as a host/programme presenter in a reality show, game show, and comedy show.
The career path of TV anchor is one of the most highly-sought after in media. Often, a man and woman are paired as co-anchors to be the faces of the station both on-air and in the community.