Career as a Notary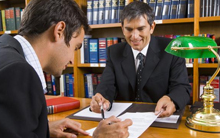 Career as a notary is suitable for candidates who are sincere and devoted. They are also known as a notary public. This position is an official state office. As neutral agents of the state, notaries are authorized to administer oaths, verify and authenticate documents being signed and keep public records, often in the form of official journals. Notary verifies the identity of persons signing an official document or written instrument and apply their signature, notary certification and official seal to the document or written instrument. There is mounting requirement for notary services but it may vary depending on location. Many notaries work full-time at a variety of other positions in banks, schools and law offices.
Educational qualification
As such, no formal degree is required, but a certificate or an associate's degree might be helpful for professional advancement. Qualifications to become a notary public vary from state to state. Candidate who want to choose career as a notary can study in Criminal justice, political science, paralegal studies.
To become a notary through legal profession, candidates must obtain either 5 years or 3 years bachelor's degree (LLB) in Law. Minimum qualification for 5 year LLB program is a pass in Higher Secondary Examination. Most institutes/ universities choose candidates on the basis of an entrance test.
CLAT (Common Law Admission Test) is competitive admission tests in India to get admission to law colleges, conducted annually. CLAT consists of questions from topics such as Legal Aptitude, Logical Reasoning, English including Comprehension, General Knowledge/Current Affairs, and Elementary Mathematics.
Candidates who hold degree of LL.B, may enrol as an advocate in any of the State Bar Council. To apply for the Notary license, good experience by years of practice is required.
Eligibility criteria to become a notary:
Candidates who shape their career as a notary must check the eligibility criteria. Candidates can apply to become a notary through legal profession if: He /she has 10 years (seven years for Schedule Caste/Schedule Tribe or other backward classes and women candidates as well) of practice as an advocate.
If not a legal practitioner, candidates should:
Be a member of the Indian Legal Service or have been 10 years a member of Judicial Service

Held an office under the Central or state Government, requiring special knowledge of law, after enrolment as an advocate or

Held an office in the department of judge, Advocate- General or in the armed forces.
Main skills of notary for successful career:
Self-confidence, responsibility, discipline, attention to detail, truthfulness

Strong organizational skills

Attention to detail

Ability to multitask

Interpersonal skills

Typing ability

Basic Microsoft Office skill

Ability to pass background check with no previous convictions.
Applications for a notary public are generally available from the secretary of state's (SOS) office or website. The application requests information about criminal history, prior notary commissions and basic identifying information. Depending on the state, candidates could be required to include an oath of office, which must be notarized and sworn to under the penalty of perjury. Certain states could also request that a bond be posted with an application. In some states, applicants are required to complete notary training before submitting their applications.
Services offered by notary
A notary public offers services to people and companies where a witness is required for a signature of a document. The objective of the notary service is to certify that the person's signature is not forged and verify the identity of the individual signing. The notary certifies that a signature is original with an official notary seal. There are many profitable career opportunities for a capable notary public.
The major services provided by the Notaries are as under:
Verify, authenticate, certify or attest the execution of any document.

Present any promissory note, a bill of exchange for payment or acceptance.

Protest the dishonour by non-acceptance or non-payment of any promissory note, hundi or bill of exchange.

Protest notes and bills of exchange.

Prepare marine or ship's protests in cases of damage.

Administer oath to, or take affidavit from, any person.

Prepare mercantile documents like bonds and charted parties.

Prepare, attest or authenticate any document intended to take effect in any country or place outside India in such form and language as may conform to the law of the place where such deed is intended to operate.

Translate and verify the translation of any documents from one language into another.

Act as a Commissioner to record evidence in any civil or criminal trial if so directed by any court or authority.

Act as an arbitrator, mediator or conciliator if so required and any other act which may be prescribed.
Notaries act as witnesses to the signing of oaths, affirmations, and official documents like contracts, deeds, affidavits, and depositions. Certificates issued by notary are authentic and the government can be confident that the person signing the document is the correct person, is competent and aware of the proceedings, and is signing under their own free will. A notary must perform their job in the physical presence of the signer to verify all of the above.
Work setting
Notary Public works in different settings such as courthouses, courtrooms and law offices. Notary can practice only in a particular area as specified by the government. They can validate the legal documents held by the clients from that area. Also, they will administer the oaths and affidavits given by them.
Cyber notaries are available to perform the notary jobs required in the cyberspace. It is better to use the service of these notaries to evade legal tailbacks that could happen in the cyberspace.
Many people, such as bank tellers and administrative assistants, become notaries because it is required for their job, but some work individually. Notaries are required in many career fields such as law, real estate, health care, and banking. One can search for administrative assistant or bank teller jobs.
Notaries are experienced advocates or public figures who are appointed by the state or central government on the recommendation of courts under the provisions of the Notaries Act LII of 1952 to authenticate legal procedures. The central government may appoint a notary for the whole or any part of the country. Likewise, the state government may appoint a notary for the entire state or for any part of the state. Notaries are appointed only if the authority is satisfied with their application.
It is the accountability of a notary officer to observe and verify the signatures on specific legal documents which has to be notarized (certified). They can give an oath to a person and declare the documents produced before him as valid, by affixing his signature and notary seal. These seals are issued to the state notary public by the state government with a unique identifying number and date.
Need for notary
As a licensed public official of a state, a notary public works for the common people and this occupation has immense significance. The services of a notary is essential for those people who want to apply for ration card, domestic gas cylinder or power connection, or want to include name in the voters list but not having any proof of residence etc. Such persons can avail their requirements by filing an affidavit authenticated by a notary.
A notary's signature and stamp is required for a person who want to change his/her name, students for their readmission if any break had occurred during their course, for those who want to authenticate a copy of a financial or academic document. The notary request the parties to submit identity proofs such as driving license, birth certificate or passport before verification.
Career Opportunities for notary
There are array of career opportunities for a notary to generate revenue. Notary can work as a freelancer through opening their own office and provide notary services to individuals who need them. People need a notary for any signature that requires a witness, including loan paperwork, selling or buying a vehicle, school permission slips and many other types of documents.
Candidates who are proficient as a notary also may be able to partner with a mortgage company and service their loan closings. Depending on the regulations of each state, they may or may not need special training and certification to serve as a notary for a mortgage loan closing. Some auto dealerships employ their own notaries to deal with the transfer of automobile titles when buying and selling vehicles.
Notary services are always required, and being commissioned should enhance one's prospects on the job market, especially in fields where notary services are needed such as law, real estate, health care, and banking. It is observed that candidates who want to be independent notary may not be prosperous because the fees that notaries are legally allowed to charge for each act are normally very low.
It is appraised that notary is significant for people of any nation. This career is one among the important careers in the field of legal profession. Notary public is a legal consultant who is authorized to help the public with legal documents pertaining to property, deeds, power of attorney or any other business affairs.