Career as a Genetic Engineer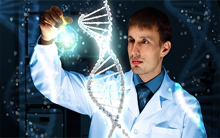 Genetic engineering is newest emerging arena for candidates who are interested in learning biological aspect of human nature. It consists of doctrines of sciences and array of techniques used to study the change in genetic material of the living organism. It is one of the complicated field which deals with the study of biological changes in living organisms. It is basically the branch of biotechnology which involves the study of cells (smallest living unit), structural and functional unit of living organisms.
Concepts and principles of genetic engineering helps the engineers to thoroughly comprehend the behaviour of the DNA in the body and gene using artificial methods. Engineers perform various activities such as extracting DNA out from organism; study its changes in the structure and putting back into it.
Genetic engineering also involves the study of plants, animals and human beings. Genetic Engineering is an advanced branch of science in which various techniques are used in changing the genetic material in the DNA code in a living organism.
'Genetic Engineering' means the deliberate modification of the characters of an organism by the manipulation of its genetic material. Genetic engineering falls under the broad heading of Biotechnology. This field had wide scope as the demand for genetic engineers are increasing in India as well as at global level.
Objective of genetic engineering is to re-arrange the sequence of DNA in gene using artificial methods. The work of a genetic engineer involves extracting the DNA out of one organism, changing it using chemicals or radiation and subsequently putting it back into the same or a different organism.
As a genetic engineer, candidates will alter genes in order to improve the biological capabilities of humans, plants and animals. In this field, your main goal is to help people lead quality lives.
Educational qualification
Candidates who want to become a genetic engineer must complete Bachelor's or master's degree for entry-level careers. They can hold doctoral degree for independent research careers. Candidates can choose Biochemistry, biophysics or related fields.
Main skills to become genetic engineer
Candidates who are interested in pursuing career in genetic engineering must develop following skills to be successful:
Strong understanding of scientific methods and rules.

Complex problem solving, critical thinking.

Ability to use computer aided design (CAD) software.

Graphics or photo imaging software, PERL, Python, analytical software programs and word processing software programs.

Ability to use lasers, spectrometers, light scattering equipment, binocular light compound microscopes, benchtop centrifuges or similar laboratory equipment.

Excellent mathematical, deductive and inductive reasoning skills.

Reading, writing, and oral comprehension skills.
Genetic engineering is considered as a broad arena. Engineers can specialize in agriculture, healthcare and other specialties. They may choose career as a molecular biologists, breast cancer researchers, forensic scientists and genetic counsellors. These careers can be found at universities, healthcare organizations, research and development firms, pharmaceutical companies, hospitals and government agencies.
Candidates keen to chase career as a genetic engineers may consider joining a professional membership organization, such as the Biomedical Engineering Society (BMES), which offers its members access to continuing education, professional training, networking opportunities, industry-related events and other resources for professional growth and career progression.
The progress of genetic engineering is being considered both in India as well as abroad. India has revealed major increase in biotech industry which consists of 325 companies including Biocon, Serum Institute of India. Biotech industry is contributing around 27% of total revenues in India. The demand for genetic engineers is growing in India.
Genetic engineers focuses on study of genetics in all the living organisms and they are well suited in the field of pharmaceutical and medical industries, agricultural and research and development departments of the government and private sectors. These engineers can also make their career in teaching field.
Main institutes in India
All India Institute of Medical Sciences, New Delhi

Amravati University, Amravati

Banasthali Vidyapeeth, Rajasthan

Bharathiar University, Coimbatore, TN

Bose Institute, Calcutta

Calicut University, Kozhikode, Kerala

Centre for Biotechnology, Anna University, Chennai, Tamil Nadu.

Centre for Biotechnology, Pondicherry University, Pondichery

Centre for Plant Molecular Biology, Tamil Nadu Agricultural University, Coimbatore

Department of Biotechnology, Devi Ahilya Vishwavidyalaya, Indore, Madhya Pradesh.

Department of Biotechnology, Guru Nanak Dev University, Amritsar.

Department of Biotechnology, Jadavpur University, Calcutta

Department of Biotechnology, Punjab University.

Department of Microbiology, M.S. University, Vadodara- Gujarat.

Department of Zoology, Poona University, Pune, Maharashtra.

Dr. Babasaheb Ambedkar Marathwada University, Aurangabad

Himachal Pradesh University, Shimla

Indian Council of Agricultural Research, New Delhi

Indian Institute of Science, Bangalore

Indian Institute of Technology, New Delhi

Indian Institute of Technology, Kharagpur

Indian Institute of Technology, Mumbai

Indian Veterinary Research Institute, Uttar Pradesh.

Jawaharlal Nehru Technological University, Hyderabad-Andhra Pradesh.

Jawaharlal Nehru University, New Delhi
Entrance exams to pursue career in genetic engineering
All India Common Entrance Test

All India Engineering Entrance Exams

All India Postgraduate Medical Entrance exams

Assam Joint entrance Test in Genetic Engineering and Biotechnology

Graduate Aptitude Test in Engineering

Indian Institute of Technology – Joint Entrance Exam

International Centre for Genetic Engineering and Biotechnology Entrance Exam

Jawaharlal Nehru University Biochemical Engineering and Biotechnology Entrance Exam (JNU EEE)

SRM University Genetic Engineering Entrance Exam

Tamil Nadu Common Entrance Test (TANCET) Genetic Engineering Entrance Exam
Daily jobs of a genetic engineer
Laboratory work usually with microsyringes, plastic disposable apparatus, controlled sterility/temperature/humidity/lighting environments, DNA separation and transfer systems, DNA analysis etc.

Maintaining organisms used for the genetic engineering: Patients, animals, plants and microorganisms including cells and tissues from the higher organisms. A great deal of care and expense goes in keeping these living beings alive and healthy.

Keeping abreast of the scientific literature in genetic engineering, often in only a very narrow area. This involves searching literature abstracts databases and reading current journals in one's speciality (e.g. the journal 'Bio/technology').

Dreaming up, designing, executing and interpreting experiments.

Publishing one's experimental results by writing papers for scientific journals.

Attending international conferences on one's subject area. These are advertised in the relevant journals.

Communicating with ones colleagues both within and outside one's workplace. Science is nowadays generally a team effort.

Attending to laboratory, dangerous organisms and radiological Health & Safety requirements.

Ordering equipment and organisms.

Teaching both theory and practice to junior colleagues and, if in a university, students.

Inventing new techniques and applications.
Government jobs in the field of genetic engineering
Government organizations in various sectors recruit genetic engineers and they are absorbed in industries like research and development, agriculture and pharmaceutics. The best job prospects are offered by government organizations in the field of biotechnology and pharmacy to genetic engineers. Government sector organizations offer handsome salary to genetic engineers.
Government organizations that recruit genetic engineers are:
National Institute of Immunology, New Delhi

Centre for DNA Fingerprint and Diagnostics, Hyderabad

Biochemical Engineering Research and Process Development Centre, Chandigarh

Institute of Geonomic and Integrative Biology, Delhi
Scope of genetic engineering field in India
With the growing number of biotech firms in India, the requirement for genetic engineers are increasing and they are recruited in firms in other industries such as research and development, agriculture, pharmaceutics and medical. Additionally, there are also requirement of genetic engineer in teaching profession.
It can be said that Genetic Engineering is a progressive branch of science that includes different techniques used in changing the genetic material in the DNA code of a living organism. It is a sub-field coming under the main field of biotechnology. In India, there is great scope of this career since many companies in the field of biotechnology search for genetic engineers.