Career as a Archaeologist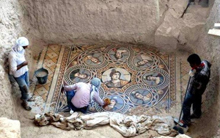 The field of archaeology has in it all the merits that call for broad view of the human race, of its development from the vicious to the civilized, which is realised in all stages of social and religious development.
Archaeology is an interdisciplinary movement that spins around the investigation of material development made by previous human societies. Main aim of this field is to study past human cultures by identification, survey, and excavation of historical locations. These sites yield remains of earlier cultures in the form of remnants for example as pottery, weapons, jewellery, articles of daily use, plant, animal, and human remains and architecture.
Once artefacts and monuments are disinterred, they are appropriately analysed, documented, and preserved by archaeologists for future reference. Even an unimportant looking article like a piece of broken pottery or a human bone communicates a lot of things to a seasoned archaeologist. The finding made during various archaeological examinations often adds new dimensions to previously known facts of the past.
Archaeologists have prime duty of recovery and analysis of remains obtained from excavation sites regardless of their field of specialization. Besides, the traditional process of collecting and managing material evidence of the past, archaeologists also use contemporary investigative methods. The state-of-the-art research procedures utilized by modern day archaeologists are genetic study, radiocarbon dating, thermography, satellite imaging, and magnetic resonance imaging. Archaeologists involved in multidisciplinary activity and cover range of subjects such as anthropology, art history, chemistry, classical literature, ethnology, geology, history, information technology, linguistics, palaeontology, physics, and statistics.
Career of archaeologists is highly challenging, inspiring, and satisfying. Educational qualification: In India, majority of universities have a department of archaeology that offer this subject at the post-graduation level. To become successful archaeologist, aspirants must complete a graduate degree. This could be in any discipline. However, it is preferable to have a bachelor's degree in history, sociology, or anthropology will give better understanding of the concepts of archaeology. Additionally, it is suggested to check with the concerned university to obtain a postgraduate course in archaeology.
University that offer degree in archaeology
Universities like the Maharaj Sayajirao University of Baroda, offers a three years bachelor's degree in Indian History, Culture and Archaeology. The Banaras Hindu University offers two undergraduate courses in this field: A three years honours program in Ancient Indian History, Culture and Archaeology and a three years vocational program in Museology and Archaeology.
The Institute of Archaeology under the aegis of Archaeological Survey of India (ASI), New Delhi, conducts a two year Post Graduate Diploma in Archaeology. The eligibility of entry to this program includes a master's degree in Ancient or Medieval Indian History, Anthropology, or Archaeology form a recognized university. Students holding a master's degree in classical languages or geology can also apply for this program.
This course is divided into four semesters and the curriculum of this course is as follows :
Paper - I Principles and Methods of Archaeology
Paper – II Application of Science in Archaeology
Paper – III Prehistory
Paper – IV Protohistory
Paper - V Historical Archaeology
Paper - VI Art and Iconography
Paper - VII Architecture
Paper - VIII Epigraphy and Numismatics
Paper - IX Museology
Paper - X Structural Conservation of Monuments
Paper - XI Chemical Preservation of Monuments and Antiquities
Paper - XII Antiquarian Laws
Practical Test: The practical tests consist of several sections that are mentioned below :
Surveying,
Drawing,
Photography,
Modelling,
Exploration & Excavation,
Chemical Conservation,
Computer Application,
Viva-voce,
General observations,
Tutorials and a Dissertation.
Candidates who obtained the post-graduation course can opt for higher studies. They can get enrolled in a doctorate degree or take up lectureship in a university after qualifying the norms laid down by the University Grants Commission (UGC) in this regard.
Candidates holding master's level may get suitable career opportunities either in the teaching line or as an archaeologist employed with the ASI at the central or at the state level.
It is advised to candidates who want to pursue career in archaeology that they must plan early in their academic life. They must have spirit of cultural and art appreciation. In young age, people can learn fast and imbibe more information about the splendour of country's history. Candidates may develop interest towards this thrilling occupation. In teenage, students visit to museums, cultural centres, historical monuments, and even excavation sites. This develops vision in this profession. Gathering information from books and periodicals on topics such as history, art history, and ancient civilizations helps to gain more information and succeed in this career. Keeping track of developments and new findings in the area of archaeology also helps to make successful career as an archaeologist.
Candidates who derive self-satisfaction in discerning a part of history and culture long lost in the dust of time are suitable for Archaeology career. It is a profile that is very demanding since archaeologists have to spend numerous hours and days camping and undertaking field work at excavation sites and in laboratories. An archaeologist must have the patience to work on a project that may take long time to compete.
Skills for Archaeology career
Candidates desirous to make career in archaeology must have wide knowledge of history.
They must have great interest in reading and history subject.
Excellent penmanship is important skill for candidates who are applying for archaeology.
An analytical and focussed mind is essential skills that make successful archaeologist.
An investigative mind.
A patient and methodical approach.
Accuracy and attention to detail.
Good planning and organisational skills.
The ability to work to deadlines.
Perseverance in research.
IT skills.
The ability to work well as a team member or leader.
Good communication skills and the ability to write reports.
Work activities
As an archaeologist, work would depend on specialist area. On daily basis an archaeologist must perform following task :
Identify possible sites to study using methods such as aerial photography, field-walking and surveying
Take part in excavations or digs, usually as part of a team.
Record finds and sites using photography, detailed notes and drawings.
Identify and classify finds.
Clean and preserve finds in a laboratory.
Use laboratory analysis, for example carbon dating.
Computers to produce simulations of the way a site or artefact would have looked.
Preserve industrial artefacts and buildings.
Check planning applications and identify the impact of development on archaeological sites.
Make sure that important sites, buildings and monuments are protected.
Classify, display and look after artefacts in a museum.
Job outlook
Students who have earned a post graduate degree in archaeology can apply for lectureship in various universities in India. To get post, candidates have to appear for the National Eligibility Test (NET) or the Junior Research Fellow (JRF)-Lectureship examination conducted by the University Grants Commission (UGC).
Candidates who qualify the JRF examination can enrol in a doctorate degree in the capacity of a paid research fellowship. For taking up a lectureship position within a particular state, candidates need to clear the State Level Eligibility Test (SLET) of that state.
Post graduate students of archaeology who get through the National Eligibility Test (NET) or the Junior Research Fellow (JRF)-Lectureship examination conducted by the University Grants Commission (UGC) are eligible to take doctorate studies in the capacity of a junior research fellow. The monthly remuneration of JRFs is approximately INR 8,000 per month.
Archaeologists can also apply for job in government or privately owned museums for the safe maintenance and management of museum artefacts. Since most of the job openings are in government or government run agencies, therefore the career of an archaeologist is safe. Archaeologists get all the benefits of a normal government employee as per their experience and official designation.
Pay scale of archaeology
Archaeology students earn as soon as they qualify the JRF examination and fulfil all the eligibility criteria thereof. A JRF gets an assistance of Rs. 8,000 per month for a period of two years. Emoluments are increased once their position is higher to that of a Senior Research Fellow (SRF). The basic pay scale of lecturers is very attractive whereas professors earn higher. When candidates join the ASI, the basic pay scale of an assistant archaeologist is attractive. Archaeologists who obtain doctorate degree tend to get better positions in the job hierarchy.
The demand of archaeologist is growing in India as it is a rich cultural heritage that goes back thousands of years. In this respect, there is always a continuous demand for expert archaeologists to work on new archaeological projects. There is also huge demand for experienced lecturers, curators, and conservators. There is also demand of archaeology at global scale. Archaeologists have to travel within the country from one mine site to another. They also get the opportunity to work on international excavation projects when needed.
Different roles in archaeology
Archaeology is a vast area and different roles are based on the area of specialization. The major branches of study in archaeology are as under:
1. Archaeobotany: It is the study of plant remains to determine agricultural practices of that time, food habits of the people, and climatic conditions thereof.
2. Archaeometry: It is the application of analytical engineering principles and processes to archaeology.
3. Archaeozoology: It is branch of archaeology that looks into the remains of animals and related aspects such as their health, domestication, and hunting practices.
4. Battlefield Archaeology: It is an intensive archaeological exploration of well-known battlefields.
5. Environmental Archaeology: It studies the impact of environment on past societies and vice versa.
6. Ethno Archaeology: It is the application of modern day ethnological or anthropological data on past societies to gain an insight into them.
7. Experimental Archaeology: It is the replication of obsolete objects and processes in order to get a better understanding of their working.
8. Geoarchaeology: This is towards the inspection of soil and rock samples to determine changes in geological and environmental conditions.
9. Marine Archaeology: It is also called underwater archaeology. It studies enthusiastic to probe the remains of ships along with the study of cultures that developed along the coastline.
10. Palaeontology: This area studies life forms that existed on earth before the advent of the modern man.
11. Prehistoric Archaeology: Archaeologists whose main interest is to examine human traditions that belong to the pre-recorded or prehistoric period.
12. Urban Archaeology: This field deals with the study of urban centres or cities.
Besides above branches of study, an archaeologist can specialise in the study of a specific historic period (Biblical, Classical, Medieval archaeology) or geographical location such as Egyptology (study of Egyptian civilizations), Sinology (study of Chinese history).
Companies that recruit archaeologists
1. Archaeological Survey of India (ASI): The Archaeological Survey of India (ASI) mainly recruits archaeologists in India at the centre and the state levels. Qualified students can apply for appropriate post in the ASI by clearing examinations conducted by the Union Public Service Commission (UPSC) or by the State Public Service Commissions (SPSC).
2. Indian Council of Historical Research (ICHR).
3. National Museum
4. Universities and colleges
5. Government and private museums and cultural galleries
It is said that archaeologists are basically social scientists who conduct excavations to recuperate, study and preserve such artifacts as ancient ruins, tools and ceramics. Major intent of these scientists is to learn more about the culture and development of extinct civilization.