Career as a Pilot in India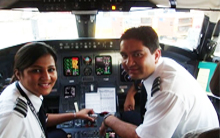 Pilot is one of the prestigious, toughest and promising careers around the world. It is well recognized that Pilots are highly trained and skilful professionals. The main duty of airline pilot is to operate a plane's engines and controls to navigate and fly the vessel. He or she also checks hydraulic and engine systems for pre-flight safety and monitors fuel consumption and aircraft systems in-flight. Potential pilots must satisfy a set number of flying hours and be in good physical and mental health to fly an airline carrier.
Pilots must deal with possible dangers, such as jet lag, fatigue and unfavourable weather conditions. The best part of the career of pilots are that they get an opportunity to travel all over the world. Many candidates have unclear thought about the responsibility and about the various career options as a pilot.
They can fly various aircraft and helicopters. Flying does not require much physical effort but the mental stress of being responsible for a safe flight of an aircraft full of travellers in all kinds of weather can be challenging. Pilots can work as few 8 days in a month, to as many as 20. While pilots at a major airline might work 14 days in a month. Pilots need to be physically and mentally suitable and have good eye sight and colour vision.
A career as pilot entices many candidates because it promises good salaries, the opportunity to travel around the globe, and other perks. Candidates whose age is above 18 years can become pilot.
Educational Qualification
The minimum academic qualification required to follow the procedure of becoming a Commercial Pilot is +2 with Physics, Chemistry and Mathematics. Candidate must hold bachelor's degree in Aircraft operations, aviation, aeronautical engineering or related field to become commercial pilot.
Training : Up to 2 months of ground training and more than 1500 hours of flight experience.
Requirements : Candidates who want to become a pilot must get training license, undergo a medical test. Candidates should meet the requirements set by Institutes. There is no need to be in perfect health to be a commercial pilot, but to get a job as an army pilot and other public sector pilots, perfect health is mandatory. Many airline companies require pilots to take physical, psychological and aptitude tests, as well as drug tests as a prerequisite for employment.
Once hired, pilots are generally required to undergo an additional 6 to 8 weeks of training, including at least 25 hours of flight time. Furthermore, most new hires are brought on as co-pilots. It is also not unusual for some pilots to start their career at small commuter or regional airline companies. This gives them the opportunity to gain more flying experience before being hired by a major airline.
Main skills to become a pilot
Pilots must develop strong communication, problem-solving and observation skills, good depth perception and reaction time, ability to operate aircraft computer and navigation systems. Pilots must also have extraordinary grit, presence of mind, courage, and determination. They should be reliable, calm & level-headed personality and ability to keep clear communication both with the team on board and with air traffic control. Pilots must develop good practical & co-ordination skills, good written English for report writing. Other skills are capability to take charge in an emergency, ability to inspire confidence, technical skills & understanding.
Job responsibilities of pilots : Pilots fly aircrafts on long and short flights. Before take-off check pre-flight plans (route and technical details), attend meteorological briefing. They make calculations for take-off and landing and calculate fuel requirements and ensure refuelling is done as per requirements.
Duty of pilot is to check equipment and instruments, brief the crew, supervise loading conforming to regulations, establish contact with air traffic control for take-off. During flight, pilots interpret the data presented to them on instruments and controls. They use their expertise and experience for take-off and landing. When aircraft is on automatic controls, they keep a check on instruments to ensure smooth functioning.
Pilots maintain contact with air traffic controls and cabin crew throughout the flight and speak to passengers, over the public address system on speed and height, details of ground areas they are flying over, warnings of turbulence and difficult weather conditions. Duties are shared usually with one or two co-pilots. They ensure safety of the aircraft and passengers and crew on board.
After landing, pilots writes a flight report, and details problems or instrument difficulties.
Top Pilot Training Institutes in India
Government Aviation Training Institute

Bhubaneswar Coimbatore Flying Club

Coimbatore Indian Aviation Academy

Mumbai Jamshedpur Co-operative Flying Club Ltd.

Jamshedpur All India Institute of Aeronautics, (AIIA)

Dehradun Rajiv Gandhi Aviation Academy

Secunderabad Ahmedabad Aviation and Aeronautics

Ahmedabad Government Flying Training School

Bangalore Indira Gandhi Rashtriya Uran Akademi

Bareli West Bengal Flying Training Institute, Kolkata
Candidates who are interest to work as a pilot can choose career as a Commercial pilot, Air Force pilot or private jet pilot.
Commercial pilot : The profession of a commercial pilot is highly exciting as they get highest salary. However, it requires intensive training, because the pilot has great responsibility for the lives of passengers as well as the aircraft itself.
Eligibility criteria : To become a pilot, applicants need to join Air flying schools after completion of 10+2. They should pass the 10+2 exam with physics, chemistry, and maths. The minimum marks should be 50%.
Below are flying schools for training in flying from where SPL, PPL, and CPL training can be completed
Indira Gandhi Rashtriya Uran Akademi, Uttar Pradesh

Flying Training Institute, Behala, Calcutta

Government Aviation Training Institute, Civil aerodrome, Bhubaneswar

Karnal Aviation Club, Kunjpura Road, Karnal, Haryana

Government Flying Club, Aerodrome, Lucknow

School of Aviation Science and Technology, Delhi Flying Club Ltd, New Delhi

State Civil Aviation, UP Govt. Flying Training Centre Kanpur and Varanasi

Rajasthan State Flying School, Sanganer Airport, Jaipur

Govt. Flying Training School Jakkur Aerodrome, Bangalore

Andhra Pradesh Flying Club Hyderabad Airport, Hyderabad

Assam Flying Club, Guwahati Airport, Guwahati

Bihar Flying Institute, Civil Aerodrome, Patna, Bihar
Candidates need to clear the entrance test exam of the flying schools in India. They also need to clear the physical fitness (Which is tough one). Only physically fit person can get opportunity to get admission in flying schools.
After getting a Commercial Pilot's Licence, candidate starts off as a trainee pilot. The training period is typically around six months. Then you become a pilot or first officer on board. The first officer refers to the actual designation given to the pilot, and is often referred to as the 'co-pilot'. First officers can upgrade to captain/commander depending on their seniority. This is determined by one's hours of flying experience and successful completion of various programmes. Then candidate becomes a senior commander.
A pilot can get a job of flying passenger and cargo flights for a domestic or international airline, or with organisations that maintain their own aircraft. There is great requirement for pilots, on an average four to 10 pilots are required per aircraft. Private airlines offer good salaries for experienced pilots who have the endorsements required, often poaching on other carriers.
Candidates can also be a helicopter pilot with a public or private sector corporate or work for a security agency. Helicopter pilots get job in Pawan Hans (a Government of India enterprise) and by organisations such as Oil and Natural Gas Corporation that use helicopters.
Essentially, a pilot's job is to fly an airliner, for long or short hauls. But besides this, they also have extra responsibilities as follows :
Preparatory duties, like checking pre-flight plans before take-off.

Checking the route that the aircraft has to fly along with meteorological information.

Plotting flight pattern and filing the flight plan with appropriate officials.

Obtaining and reviewing data, such as load weight, fuel supply, weather conditions, and flight schedule.

Ordering changes in fuel supply, load, route, or schedule to ensure flight safety.

Conducting pre-flight checks and reading gauges to verify that fluids and pressure are at prescribed levels.

Operating radio equipment and contacts control tower for take-off, clearance, arrival instructions, and other information.

Synchronising flight activities with ground crew and air-traffic control, and informing crew members of flight and test procedures.

Conducting in-flight tests and evaluations, at specified altitudes, in all types of weather to determine receptivity and other characteristics of equipment and systems.

Logging information, such as flight time, altitude flown and fuel consumption.

Drawing up flight reports post-flight, which mention any equipment problems or general problems.
Air Force Pilot
Candidates can also opt for a career in the Indian Air Force, where, they not only get their training paid for, but fly some of the most sophisticated aircraft available. As a military pilot, they can work with the IAF and the aviation branches of Indian Army and Indian Navy. Being an Air Force pilot requires extensive training and the readiness to commit to ten years of active duty Air Force service.
Eligibility of Air Force Pilot
Candidates who choose career as an IAF Pilot can avail one of the following Opportunities.
1. Through National Defense Academy (NDA)
Eligibility Criteria : To join the NDA, candidates must fulfil the following requirements :
Educational Qualification : To be eligible for joining NDA, they should be passed/appeared 10+2 with Physics and Mathematics as subjects.

Age: 161/2 years to 19 years

Nationality: Indian

Gender: This is applicable only to men.

Physical Standards
General physical requirements common for all candidates.
Candidates must be in good physical and mental health and they must not suffer from any disease/ disability, which is likely to interfere with efficient performance of duties.

There should be no evidence of weak constitution, bodily defects or overweight.

Chest should be well developed. The minimum range of expansion after full inspiration should be 5 cm.

There should be no disease of bones and joints of the body.

Candidates should be free of any past history of mental breakdown or fits.

Candidate's hearing should be normal without any evidence of present or past disease of the ear, nose and throat.

There should be no sign of functional or organic disease of the heart and blood vessels. Blood pressure of candidate should also be normal.

The muscles of the abdomen should be well developed without any enlargement of the liver or spleen. Any evidence of disease of internal organs of the abdomen can be a cause for rejection.

An un-operated hernia will disqualify candidates. If operated, this should have been done at least six months prior to the present examination and healing should be complete without any potential for recurrence.

There should be no hydrocele, varicocele or piles. If operated for hydromel and/or varicocele, this should have been done at least six months prior to the present examination and healing should be complete without any recurrence.

Urine examination will be done and any abnormality, if detected then candidates are rejected.

Any disease of the skin, which is likely to cause disability or disfigurement, will also be a cause for rejection.

Vision will be tested. Candidates must have good binocular vision.
Candidates should have sufficient number of natural and sound teeth. A minimum of 14 dental points will be acceptable. When 32 teeth are present, the total dental points are 22.
2. Through Combined Defense Services Exam (CDSE)
Eligibility Criteria : To join through CDSE, candidates need to fulfil the following requirements :
Educational Qualification: First Class Graduation (min 60% aggregate marks) in any discipline (Three Years Course) with Physics and Mathematics at 10+2 level. First Class (min 60 % aggregate marks) B.E./B.Tech. (Four years). Final Year students can also apply, provided they do not have any backlog and min 60 % aggregate marks in the previous year/ semester.

Age: 19 years to 23 years

Nationality: Indian

Marital Status: Single.
Main test to become an IAF Pilot
Pilot Aptitude Battery Test (PABT) is a unique test. It is aimed to evaluate a candidate's aptitude to be trained as a pilot. PABT is being used as an independent selection device to induct potential officers into Flying Branch of Indian Air Force.
PABT comprises three tests viz Instrument Battery Test (INSB), Sensory Motor Apparatus Test (SMA) and Control Velocity Test (CVT). Instrument Battery Test (INSB) is a paper pencil test and other two are machine tests. The Instruments Battery Test (INSB) comprises two parts.
Career Options for Air Force Pilot
Once initiated in the IAF as pilot, candidates can get following given position with the ability and experience of services.
Career as a military pilot is much more dangerous than being a commercial pilot, since job is essentially to defend the country from enemy attack. If they are posted in a 'tense' area, they may be called on duty anytime.
A military pilot leads a military life, following orders, risking bodily harm and using deadly weapons. These aren't things to take lightly, so if they are considering the military, then explore it thoroughly and see if this is really what you want. It is an excellent option for many people.
Salary : Fresh military pilots start with handsome package per month specified by government. Get more details on the pay and perks and additional benefits of an IAF officer. Private jet pilot: Candidates can also work as a pilot for a corporate entity or a high net worth individual with their own aircraft. There are generally no fixed travel routes and timings. One has to be ready to adjust to the irregularity in these areas. There is handsome Salary offered by the private aviation corporations.
Career Prospects for pilots
Commercial pilots have array of employment opportunities in government and private domestic and international airlines, cargo planes, charter planes, and private planes. They can be employed in public sector airlines as well as private domestic airlines and international airlines.
Recruiting Companies for pilots:
Indian Airlines

Indian Air Force

Indian Navy

Indigo

Jet Airways

Air Deccan,

IndiGo,

SpiceJet

Kingfisher

Sahara
Even huge corporate with their own line of aircrafts require the services of pilots. With the government planning to widen the air services network, the demand for this occupation is likely to grow very soon. Currently, even corporates are entering this sector, thereby making this profession an exhilarating career option further. With globalization, jobs as commercial pilots in airline companies outside India, like USA, UK, Australia and some European countries have grown.
Salary
Commercial pilots get handsome salary and incentives. Reports indicated that the starting monthly salary of a commercial pilot ranges up to Rs. 150,000 per month, depending on the airline and an individual's experience. The salary package includes special benefits in the form of contributory provident fund, gratuity, and medical facilities. They are also allowed to a range of benefits and allowances in addition to housing, medical and out-station allowances, and free or concessional air passes for their direct family members and dependants. Pay scales of commercial pilots in the public sector organizations depend on the grade level of the positions. Pay packets are even higher in private international airlines.
Career as a pilot is highly flourishing for enthusiastic candidates. The pilot is a technical expert in airline operations concerned mainly with flying of the aircrafts on scheduled routes. The Captain or Chief Pilot is in command of a flight, assisted by a co-pilot. Licence for flying is important to opt as a career of commercial pilot. It is assessed that the role of commercial pilot is the most desirable and exciting job in aviation. It is highly paid and one of the most daring career which requires rigorous training. This job also demands a lot of time, dedication, patience and sacrifice. A career in aviation entices many youths as it provides opportunity to travel internationally.