Job Opportunities for Musicians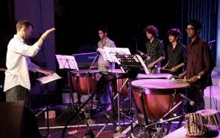 Music is exciting field and it is a human achievements. The music industry is growing at great pace and candidates have array of opportunities to make successful and lucrative career in India.
1. Career as a musician in India
Good musician also has recognition all over the world. With the great need of entertainment of television and radio audiences, there are numerous Jobs and Career Opportunities in the Radio Industry, India. There has also been a noticeable improvement in the demand for specialists in this field. It creates emotions and express feelings. Music also calms the mind. There is hardly anybody who is not touched by music in some way at some time in their lives. Candidates who have great talent, sincere interest, earnestness and willingness to work hard can guarantee a huge success in the field of music.
It is said that music talent is an inborn and singing is a wonderful gift of God. But candidates who choose this career must have to practice regularly to succeed. Joining an institution and getting trained is one of the first steps towards making a career in Music but the main emphasis should be real devotion and commitment. A person who choose a career in music should have a genuine love for music, a musical sense, which means a sense of time and rhythm, besides versatility, creative ability and also stage confidence. Simultaneously, candidates needs to have publicity contacts with the right people, money for training and for making demo cassettes for commercialization. Candidates, who have flair in playing a musical instrument, can opt for career as instrumentalists. In this career, they can launch their own Private Instrumental Music Album, perform at Concerts & Live Shows, and play in Orchestras Recordings.
In music area, there are many forms in music like classical, folk, jazz, pop, fusion. Musicians usually attain success or professional position in a certain genre of music or performance. However, some musicians may be competent to play more than one instrument, such as the flute and clarinet, and are equally talented at playing both; will have range of employment opportunities. For example, person who plays instruments may perform in a symphony orchestra, rock group, or jazz combo or work in a studio band over the course of a few days. Some play a variety of instruments including string, brass, woodwind, or percussion.
They may also play electronic synthesizers
Today, with the initiation of satellite television, the growing acceptance of the music channels and corporate sponsorship of musical events, have all made music commercial. Although recognition and money in this field depends a lot on luck and getting a good break, but once you are established there is ample scope for making good money in this field. To follow a career in music, candidates must have the drive and devotion to create a space in this highly competitive industry. It is imperative to practice, rehearse and prepare well. Confidence, determination and persistence will certainly help.
Eligibility to become musician
There is no specific qualification needed to become musician. Basic educational requirement is 10+2.
Important Skills for Musicians
Dedication. Auditioning for jobs can be unsatisfying process because it may take many different auditions to get hired. Musicians and singers need determination and dedication to continue to audition after receiving many rejections.

Discipline . Flair is not enough for most musicians and singers to find employment in this field. They must constantly practice and rehearse to improve their technique, style, and performances.

Interpersonal skills. Musicians and singers need to work well with a variety of people, such as agents, music producers, conductors, and other musicians. Good people skills are supportive in building good working relationships.

Musical talent. Expert musicians must have superior musical abilities.

Physical stamina. Musicians and singers who play in concerts or in nightclubs and those who tour must be able to endure frequent travel and irregular performance schedules.

Promotional skills. Musicians need to promote their performances through local communities, word of mouth, and social media platforms. Good self-promotional skills are helpful in building a fan base.
Work Experience
Candidates who want to pursue career as musician must gain as much experience in different musical genres as possible. Listening to live music and performing allows them to assess musical ability, interact with audiences and be exposed to new musical ideas. Some university courses include work placements in areas such as music education and instrumental teaching, recording and studio work, composition and events management. It may also be helpful to pursue opportunities with music-related employers.
If candidates are looking for a career in a different area, it is useful to gain experience. They can do this through university involvement, paid opportunities or volunteer work. These experiences can often be combined with current study by working in the evenings, on weekends or during the summer holidays.
Job responsibilities of musicians
Musicians typically have following duties:
Perform music for live audiences and recordings.

Audition for positions in orchestras, choruses, bands, and other types of music groups.

Practice playing instruments or singing to improve their technique.

Rehearse to prepare for performances.

Find locations for performances or concerts.

Travel, sometimes great distances, to performance venues.

Enhance their careers by maintaining a website or social media presence or doing photo shoots and interviews.
Basically, Musicians play one or more instruments. To make themselves more marketable, many musicians become capable in multiple musical instruments or styles. Musicians play in bands, orchestras, or small groups. Those in bands may play at weddings, private parties, clubs, or bars while they try to build enough fans to get a recording contract or representation by an agent. Some musicians work as a part of a large group of musicians who must work and practice together, such as an orchestra. A few musicians become section leaders, who may be responsible for assigning parts to other musicians or leading rehearsals. Other musicians are "session" musicians, who specialize in playing backup for a singer or band leader during recording sessions and live performances.
2. Vocalists / Singers (Classical & Non Classical)
Candidates who choose career as a classical or light singer with good music training and a good voice, can succeed. Singers normally read and interpret musical compositions and apply their voice and style to create a song. Singers use one or more vocal ranges, such as alto, baritone, or bass in certain music styles, including folk, rock, country, gospel, jazz, or rap. Majority of singers are self-employed or freelance artists who work on contract basis with recording labels, nightclubs, or concert tour venues. Singers work in recording studios creating albums.
Educational qualification for singers
Candidates who chose career as singer must complete bachelor's degree in music with a specialization in vocal performance which is offered at many colleges, universities, and performing and visual arts colleges. Core courses might include music theory, music composition, and music history. Some singers may choose to continue their education and seek a master's degree in music. If no formal degree is pursued, those interested in becoming singers might take private singing lessons from professional vocal coaches.
Core Skills needed for Singers
Singers need more than a great singing voice and a distinct style to succeed in singing professions. Singers must develop traits like determination, perseverance, self-discipline, self-confidence, and the ability to face rejection. Communication and interpersonal skills are also important, as singers work with many different people, including managers, agents, recording label executives, and recording studio personnel.
In this profession, candidates can launch their own Private Music Albums, become Playback Singers, sing songs for films and movies, host Music Shows on Television, lend their voice for Jingles & Advertisements and professional Singers can host Live Shows & perform on stage.
3. Vocal & Instrumental music teacher/ professor
Candidates who are interested to make career as music professors/ teachers must obtain significant amount of formal education. Music teachers educate in the areas of music theory, music arranging, and/or music history. Additionally, they may teach vocal or instrumental performance. These music experts are also recruited to coach chamber music groups or to conduct orchestras or choruses. As in any position that requires performance skills, candidates might have to go through auditions. This role includes instrumental instruction, coaching, and/or conducting.
Candidates pursuing career as a music teacher must attain higher education institutions. The duty of educators is to teach students who are seriously considering professional careers in music. The Teacher is responsible for being knowledgeable and informed about his or her subject matter enough so that they can teach it professionally. Most Educators also involve in research areas of special interest to them, and write papers for publication based on their research. These published works help educators to advance their careers and increase the demand for their services.
Music professors instruct college students in music-related topics and teach instrumental or vocal performance classes.Most universities employ music professors with a Ph.D. in Music or a similar degree, while some 2-year institutions may consider candidates with a master's degree.
Job Responsibility of Teacher
The duties of a music teacher will vary depending on the chosen specialty and employment setting. Private music teachers train students in instrumental, vocal and music area for children and adults of all ages. They may work at a variety of levels teaching different musical skills to either individuals or groups. Independent music educators who provide lessons from their homes or private studios may also work with adult pupils.
Music teachers must show considerable skill, knowledge, patience and creativity; they encourage music appreciation as well as instruct students in the technical aspects of music and performance. A successful music teacher requires dedication and experience beyond the requirements of many other education careers. Teaching can take place in a school, college or a community-based setting.
Skills and Experience
Deep knowledge or experience working with music or the ability to play instruments can assist prospective music teachers stand out. A master's degree in music or a portfolio of work may also advance career of music teacher. Music teachers should have good organizational skills, excellent communication and presentation skills, and sound decision-making skills. Music teachers who will be working with children should have patience, and be able to remain calm and fair. Candidates who are interested in teaching must have feeling of love of children and a kind nature.
To gain success in teaching, the Teacher must prepare for each class beforehand which takes a great deal of time. As expected, it takes even longer for the beginning educator or for the individual who is teaching for the first time. Those educators that exclusively teach voice or instrumental performance sometimes require less preparation time. Employment opportunities are numerous for the Music Educator. He or she can be employed at a conservatory, college, or university. Aspiring Music Educators should be willing to relocate to areas that have openings, and should be willing to teach in more than one area of specialization.
4. Music Composer / Song Writer
Candidates who are proficient in writing and composing music can opt this career. Songwriters, or composers, create original music and lyrics performed by singers, musical groups and bands. Many composers create music for a particular genre such as country, rock or jazz. Some may write music for theatre productions or produce jingles for commercials. Competition for jobs can be keen, and work may not be available on a full-time basis.
Education qualification
To become a song writer / composer, candidates do not need higher education. But bachelor's degree in Music composition, music theory is needed to become successful in this career. Many Songwriters also create and perform their own materials. Skill of song writer: Candidates choosing career must be proficient in various skills such as Musical talent, creativity, strong communication skills, discipline, knowledge of music composition software, ability to use mixers and synthesizers
Recruitment companies for song writer
Songwriters are recruited by music publishers, record companies, producers, and other production or recording groups. Many song writers are Freelancers. Freelance writers may work on their own or under a part-time contract with various companies, securing single-song agreements either under a "work-for-hire" contract or a songwriter agreement.
Composers produce instrumental pieces, either to stand alone or to be combined with lyrics. They may compose for a specific situation such as film/TV composers who score/compose music to enhance videos or films, or they may compose for live performance and/or recording situations. They can become a music director and give music for songs in movies, films & individual artist albums. Join a media house or advertising agency & compose music and catchy tunes for jingles, TV ads.
5. Lyricist
Candidates can also choose career as lyricist. Aspirants who are talented in expressing themselves with words can develop careers in writing words to songs. A pure lyricist would create only the words, and may work as a team with a music composer or may create lyrics for a previously written piece of music.
6. Music Therapist
Many candidates are interested in pursuing career as music therapist. It is an established fact that music heals when used intelligently. Music therapy is offered to remedy illnesses of the mind, body, and spirit. Therapy might encompass singing, creating songs, or listening, dancing to, and discussing music with the patient, not to mention teaching him or her how to play instruments. A music therapist has positive impact on a person's entire health holistically by reducing stress. Depending on the patient's illness or disability, therapy might be used to ameliorate his or her cognitive skills heal physical pain, or reduce emotional trauma by getting him or her to express feelings.
Educational criteria
Candidates choosing career in music therapist must hold bachelor's degree should comprise studies in music and music therapy. A therapist should be highly talented in music. The undergraduate curriculum includes coursework in music therapy, psychology, and music, biological, social and behavioural sciences, disabilities and general studies.
Entry level study includes practical application of music therapy procedures and techniques learned in the classroom through required fieldwork in facilities serving individuals with disabilities in the community and/or on-campus clinics. Students learn to assess the needs of clients, develop and implement treatment plans, and evaluate and document clinical changes.
Music Therapist must have a genuine interest in people and a desire to support others empower themselves. Music therapy practice involves establishing caring and professional relationships with people of all ages and abilities. Important skills of music therapists are empathy, patience, creativity, imagination, openness to new ideas, and understanding of oneself. Because music therapists are musicians as well as therapists, a background in and love of music are also essential. Individuals considering a career in music therapy are advised to gain experience through volunteer opportunities or summer work in nursing homes, camps for children with disabilities, and other settings which serve the needs of people with disabilities.
Job duty
Generally, Music Therapists work with children to elderly Alzheimer's patients, as well as clients with substance abuse problems, brain injuries, physical disabilities, mental health problems and developmental disabilities. They use musical performance, lessons, song writing and music listening as part of an integrative course of therapy to improve the individual client's social, emotional, physical, and/or cognitive abilities.
Music Therapists can work in array of settings, from addiction recovery centres to hospices to adult schools to special education programs. They partner with Nurses, Doctors, Counsellors, Physical Therapists, Speech Therapists, and Client Service Directors to help the client reach their goals.
Candidates who develop ability as music therapist can join Hospitals, Clinics and rehabilitation centres as a Music Therapist. This is a developing field that promises to offer a lot of opportunities to those who love music and have a genuine concern for others. A music therapist get employment in a patient care facility, rehab clinic, day care centre, foster care facility, prison, or, most famously, camps for children with special needs.
Institutes
Some of the colleges and universities in India that offer degree and/or diploma programmes in music are as under:
Bangalore University

Bengal Music College

University of Calcutta

Bharatiya Sangit Mahavidyalaya (Gwalior) Government Music College (Indore)

Ramjas College (University of Delhi)

Annamalai University and Institute of Correspondence Education (University of Madras) offer a Bachelor's degree in music in the correspondence mode.
Main employers in music area
Music graduates work in several professions inside and outside music. If candidates choose to follow a music career, they may have to take on several roles with different employers.
Music graduates can be found working for a variety of employers on both as freelance and contract basis. Employers include:
It is well identified that music career is very exhilarating and candidates have a chance to flourish in this arena.