Career as a Gemologist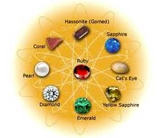 A Gemologist is an individual who has deep knowledge of gemstones. Become a gemologist, candidate study a gem and he require to go through various steps. f these steps are taking courses that enable him to differentiate different types of gems, appraise them, and weigh them. A professional gemologist verifies whether a gem is natural or synthetic and if it is a colored stone, whether it is color treated or not.
Educational qualification for Gemologist Choosing as a career of gemologist, candidates have to complete various courses such as Diamonds, Diamond Grading, Colored Stones, Colored Stone Grading, and Gem Identification. After completing these courses, they become professional and known as Graduate Gemologist. After getting title of Graduate Gemologist, or Gemologists, people expect that candidates have the ability to do things, such as recognize a gem with ease. The education needed for this job can be obtained at Gemological Institute in India or abroad. In these institutes, they can obtain the groundwork training to become a gemologist. To become a gemologist, math and science background, liberal arts education, and the knowledge of foreign languages is desired. these are not essential but they help a lot to enhance career.
Working conditions for a Gemologist: The working conditions of a Gemologist vary. Some gemologist work in a jewelry store, others work in their labs. Many professionals share labs. Most work separately.
Job position for a Gemologist The field of Gemology is not expected to change much over the next 7 years. Whether a Gemologist has good business depends largley on the economics of the where they live. If the demand for jewlrey is down, a gemologist will not have good business. However, if the demand is high, they will have good business.
Schools:

Indian Institute of Gemology, 10980 East Park Road, Karol Bagh, New Delhi-110005 Phone : 011-23520974, 23521581, 98101-24752 (M) Fax: 011-23520974 Email : Contact I, Contact II, Contact III Website : www.iigdelhi.com
Arch Institute of fashion & Design / Arch Gemology & Jewellery Institute Plot No.9, Govind Marg, Opp. Block A, Malviya Nagar Institutional Area,Jaipur-302017 Phone : 0141-2521074, 3296203 Web Site : www.archedu.org
Gemstones Artisans Training School, (sponsored by GOI), Jhalana Mahal, Jaipur - 302 017.Courses: Cutting and polishing of diamonds and coloured stones.
Gem and Jewellery Export Promotion Council, Rajasthan Bhawan, Jaipur- 302003 (Rajasthan)
The Gemmological Institute of India, 29, Gurukul Chambers, 187-189 Mumbadevi Road, Mumbai- 400 002. Courses are in grading, cutting, polishing of gems and diamonds. Duration : 6 weeks to 5 months