Career as a Bookkeeping Clerk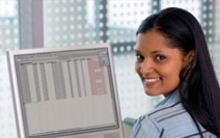 The individual who engaged in the task of recording of financial transactions made by an individual or an organization is termed as a bookkeeping clerk. Main duties for a bookkeeping job include individual accounts maintenance, handling payroll, recording accounts payable and incoming checks, and managing general ledger and account reconciliations.
Candidate who choose Bookkeeping jobs can work full-time, part-time, freelance basis, or with a work-from-home option. To opt for this career, candidate must have good mathematical skills, and proficiency with the use of QuickBooks. If he has prior experience in a similar field, it is an added advantage. Excellent typing speed and use of Microsoft Word, and Excel is essential. Day to day task of bookkeeping clerks is to add, subtract, multiply, and divide many numbers each day. They must be proficient to use computers to calculate and record data. There is a wide variety of bookkeeping clerks. Certain clerks handle only specific accounts. Some bookkeepers maintain books for an entire company.
In small businesses, bookkeeping clerks deal all financial recordkeeping. They post debits and credits. They produce financial statements. They prepare reports and summaries for managers. Bookkeepers also prepare bank deposits. They verify and balance receipts. Then they send cash and checks to the bank. They also may handle payroll and make purchases. They might prepare invoices and keep track of overdue accounts. In big organization, accounting clerks perform more professional tasks. Accounting clerks who have just started career do post transactions, total accounts, and compute interest charges. They also may monitor loans and accounts. They make sure that payments are up to date. More experienced accounting clerks may total, balance, and reconcile billing vouchers. They might ensure completeness and accuracy of account data. Many bookkeeping clerks use special software. They might write letters, make phone calls to clients, and interact with other workers. To perform these tasks, candidates must have good communication skills. Bookkeeping clerks in hotels, restaurants, and stores may work overtime during peak holiday and vacation seasons. Bookkeeping clerks work in offices.
Educational Qualification: To become book keeping clerks, candidate must have at least a high school diploma. Bookkeepers are often required to have an associate degree. They can get business or accounting degrees for the post of book keeping clerk. If candidate have a certification in bookkeeping, it is also a good for career advancement.
A diploma in bookkeeping will make good career as a bookkeeping clerk. With a bookkeeping diploma, candidate can pursue occupations that deal with keeping financial records, in which he record transactions and produce financial statements. These positions include bookkeeping clerks, accounting clerks, auditing clerks, and similar positions. In a typical bookkeeping program, student will have to complete numerous courses. There are Intro to Accounting, Payroll Accounting, Computerize Accounting Applications, Business English and Computer Keyboarding. Coursework includes the study of accounting, computerized accounting applications, business English, and business mathematics.
When candidate study bookkeeping diploma course, he will gain an understanding of the basic principles of accounting, as well as computerized accounting skills, which are of the greatest importance in this field. He acquires personal communication, math and typing skills to make his career bright.
Clerks must gain experience to work in an office. It is beneficial for career growth. He can also involve in customer service work. It will pay in long run. Most employers prefer workers with good speaking and writing skills. They also like people who are orderly and detail-oriented. Knowledge of word-processing and spreadsheet software is very helpful. Many employers prefer to train bookkeepers themselves. An aptitude for mathematics and the ability to concentrate on detail are basic requirements.
Millions of people work as bookkeeping clerks. They work in all industries and in local, State, and Federal Government. Many work in the accounting, tax preparation, bookkeeping, and payroll services industry. Clerks who are working for employment services firms are increasing rapidly. The jobs of bookkeeping clerks are expected to grow about as fast as average through 2016. An economy growth provides great opportunities because there are more financial records that must be handled by clerical workers. But office computerization, which improves worker productivity, reduces employment growth. Numerous jobs will become available as these workers transfer to other occupations or leave the labor force. There will be many opportunities for temporary and part-time work.