Career in call centers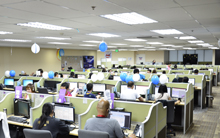 Career in call centers is a new job opening in India. These are introduced as a career option in India as numerous multinational companies are established. A call center is a service center having adequate telecom facilities, wide database and access to Internet. It provides web-based or voice based information and support to the customers in India or abroad through trained employees. It is a good industry that provides a range of services such as telemarketing, customer service, survey, collection needs and technical support in the business world.
Jobs in call centers can be found in all the sectors of business such as banking, manufacturing, utilities, market research, catalogue sales, security, pharmaceuticals, customer service, emergency dispatch, order desk, technical queries, food service, credit collections, hotel/airline reservations etc. The domestic call centers deal with the customers within the country. The international call centers deal with the clients from abroad. The importance of call centers job in India is due to the large number of English speaking population. Candidates are now choosing this new area as a career option because there is high salary for the minimum qualification and offers excellent facilities like subsidized meals, transport and medical facilities. The career opportunities in call centers are excellent. Fresher can choose this career and start earning which encourages candidate to do job, enhance self confidence and life is better. Due to globalization more and more companies from abroad are outsourcing their call centre services to India. This trend was started by GE when it established a call centre near New Delhi in 1998.
Educational Qualification for Call Center Jobs
Career in call center is suitable for fresher, college students, retired persons and housewives. The call center industry has offered various career opportunities for graduates as well as technology, HR and marketing professionals. There are no precise educational qualifications required in most of the call centers. For some categories, special certifications in needed. To get success in career at call centers, the candidate should have good communication skill with basic computer skills, good presence of mind, ability to speak well in different situations and English fluency. Call centers train fresher in listening skills, accent training, accent neutralization, slang training, interaction skill, call center terminology; telephone etiquette etc. Call centers provide wide area of services that makes it a profitable career with a range of opportunities.
Usually, people think that call centers only provide voice-based customer support. But it is an old concept. Today, in scarcity of employment, call centers job is ideal for graduates. Most call centers are more of a contact centre, offering e-CRM services that include voice based customer support as well as e-mail response, web-based text-chat services and other customer interaction channels. The nature of job is not very complicated. In call centre services, calls are received from customers enquiring about a service or product that an organization provides. The call centre services can be outbound where in calls are made to customers to sell products or collect information/money etc. Call centre services can also 'specialized' say in business processing where in calls are made from one company to another company.
Call centers provides information and supports services to its customers using voices, emails or chats. The data can be moved across the association to all its internal and external customers quickly and smoothly. The large quantities of telephones receiving and transmitting in call centre office everyday. For inquiries and supports to customers about the products, letters, faxes, and e-mails etc. Operator has to connect computer through Internet, telephone, headphone. It is separately operated and link to the other centers network by computer telephony integration. It is burdensome when employee has to work in irregular shifts. The people in call center jobs may not take food at proper time and develop irregular sleeping habits. But it can be compensated with attractive salary package. The only drawback in working call center is that there is no job security. Especially for women who work in night shifts are insecure. For this reason they hesitate to choose jobs in call center.
Institutes

Akiko Sherman Infotech India, Head Office 13/9, Padam sigh Chowk Ajmal Khan Road New Delhi - 110005 http://www.shermanindia.com/
North Star Call Centre College, B-109, Sector - 5, NOIDA ? 201301 (U.P.), India. Phone : (91)-118-4421848, (91)-118-4421849, Fax: (91)-118-4519484
Ian Stern A-62 DDA Complex (Ring Road), Defence Colony New Delhi -110 024 Ph: (011) 460 2690 http://www.holistic-enterprise.com/
ProEdge Solutions (P) Limited, Above UTI Bank, Srinagar Colony Main Road, Srinagar Colony, Hyderabad 500 073 Ph: +91-40-6347799, 3747389
Trans-India Management Systems, 305, University Plaza, Vijay Cross Roads, Navrangpura, Ahmedabad-380009 Phone-+91-79-7913147, 7912940 http://www.trans-india.biz/
Edu Tech India, 7/2 Brunton Road, Bangalore-560025 Ph: +91 80 505007 https://www.edutechindia.com
Edu Tech India, No.8 (old no.30), Khader Nawaz Khan Road, Nungambakkam Chennai 600006. Ph: +91 44 28207999, +91 44 8311777
Edu Tech India, 402, Fourth Floor, Shri Kant Chambers (Near RK Studios) SION-TROMBAY Road, Chembur, Mumbai-400071 Ph: 022-55993745/46
JTS Institutes, :#35, Infantry Road, Bangalore 560001, Karnataka Phone: 51130573/574 Website: www.jtsinstitute.com
Accent World Services Call Center Training & Recruitment
Alive & Kicking Solutions Australian based international training company specialising in call centre communication skills.
American Way, Ltd. Authentic American training by native speaker for Call Center/Medical Transcription. Language Specialist.
ariston provides training and placement in call centres
Arouba Technologies Train on the latest concepts of CRM and Call Centers.
As new companies are established in India and the number is increasing rapidly, the job opportunities are flooding in call centers. Candidates who are unemployed with graduate degree can chose this career in order to enter in professional career field. Numerous jobs are available for various positions such as Call Center Operators, Customer Care Executives, Call Center Supervisors and Managers. There are many international call centers in India that hire the qualified candidates.