Become a Meteorologist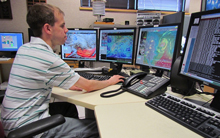 The main task of meteorologist is to collect and analyze information on atmospheric conditions. Meteorology is the study of the earth's atmosphere and the weather which occur in it. They attempt to spot and interpret trends, understand the weather of yesterday, illustrate the weather of today, and forecast the weather of tomorrow.
Weather has great impact on human lives. If people become aware of any calamity, they can prepare themselves better to fight with adverse atmospheric conditions. These requirements led to the best-known application for meteorology that is weather forecasting. This essential information has great application in agriculture, air-pollution, air and sea transportation, and in the study of trends in the earth's climate such as global warming or ozone depletion.
Educational Qualification: Meteorology is a thrilling career. Meteorology courses are challenging but dedication and hard work will advantageous and students can pick up very fast. Candidate, who chooses this career, must be good at math and science. To become a meteorologist, a 4-year Bachelor of Science degree in Meteorology or Atmospheric Sciences is necessary. Some teaching, research or management positions require a Masters of Science degree or a Ph.D. Most meteorologists have postgraduate degrees in meteorology, physical sciences or mathematics. They require soft skills also. It is important for scientists to show high levels of skill in disciplines such as communication and team working.
Meteorological Training Centers at global level
Hydrometeorological Institute for Training and Research
Regional Meteorological Training Centre, Mulemba
Regional Meteorological Training Centre, Cairo, Egypt
Institute for Meteorological Training and Research, and Department of Meteorology, University of Nairobi, Nairobi, Kenya
Ecole sup?rieure polytechnique d'Antananarivo, Universit? de Antananarivo, Antananarivo, Madagascar
African School of Meteorology and Civil Aviation (EAMAC), Niamey, Niger
Meteorological Research and Training Institute, Lagos, and Department of Meteorology, Federal University of Technology, Akure, Nigeria
Nanjing Institute of Meteorology, Nanjing and China Meteorological Administration Training Centre, China
Telecommunication and Radiometeorological Training Centre, New Delhi, and Training Directorate, Pune, India
Advanced Meteorological Sciences Training Centre, Tehran, Iran
Regional Meteorological Training Centre, Baghdad, Iraq
Hydrometeorological Technical School, Tashkent, Uzbekistan
Department of Atmospheric Science, University of Buenos Aires, Buenos Aires and Department of Education and Training of the National Meteorological Service, Buenos Aires, Argentina
Department of Meteorology, Federal University of Par?, Bel?m , Brazil
Department of Meteorology and Hydrology, Central University of Venezuela, Caracas, Venezuela
Caribbean Institute for Meteorology and Hydrology, (CIMH) Bridgetown and the University of the West Indies, Bridgetown, Barbados
Section of Atmospheric Physics, School of Physics, University of Costa Rica, San Jos?, Costa Rica
Department of Meteorology and Oceanography, University of the Philippines, and Training Centre of the Philippine Atmospheric, Geophysical and Aeronautical Service Administration (PAGASA), Quezon City, Philippines
Postgraduate Training Centre for Applied Meteorology, Bet Dagan, Israel
International School of Meteorology of the Mediterranean, Erice, Sicily And Institute of Agrometeorology and Environment Analysis for Agriculture, Florence, Italy
Advanced Training Institute and Moscow Hydrometeorological College, Moscow, and Russian State Hydrometeorological Institute, St. Petersburg, Russian Federation.
Meteorologists usually concentrate on one type of work. Candidates who study this subject usually the specialists such as forecasters (Operational Meteorologists) who analyze current and expected weather conditions and predict short and long range weather changes based on data received from satellites and worldwide weather stations. General Forecasters provide weather outlines for limited geographic areas. Specialized forecasters develop forecasts for use in agriculture, aviation, forestry, and marine operations. Other specialists such as research Meteorologists study atmospheric physics to advance meteorological theory and to improve mathematical models of atmospheric activity. They may study the dispersal of air pollutants over urban areas, severe storm mechanics, weather modification, and new weather prediction techniques. Climatologists learn climatic variations spanning hundreds or even millions of years. Environmental problems, such as pollution, and shortage of food, fuel, and water, created the numerous jobs for the meteorological profession. Environmental Meteorologists study these problems and prepare and evaluate the "Air Quality" sections of Environmental Impact Reports.
Meteorologists also involved in teaching their subject in institutes.
Consulting meteorologists give specialized information to both the private and public sectors. They scrutinize the interactions of atmospheric gases and the dynamics of the earth's environment. Experts in applied Research collect the information of the theoretical Researchers and use it in the design of aircraft, control of air pollution, improved communication, city planning, and safer transportation.
Meteorologists usually get employment in government agencies, private consulting and Research services, industrial enterprises, utilities, radio and television stations, and in education. They mostly work in weather stations at night and rotating shifts. Most stations are located at airports or in large cities, although some are located in isolated areas. They have to do Fieldwork and frequent travel is a part of work in Research and consulting jobs. Employment opportunity for meteorologists increases at great pace. The National Weather Service, the largest employer of meteorologists, expects to increase employment to improve short-term and local-area weather forecasts. Candidates who have advanced degrees may get benefit but experience is required for most employers.