Beautician: A Home Based Job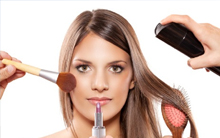 The career of beautician is best for candidates who are hard working and get pleasure from interacting with people. They can develop ability to perform the job of beauty care. In today's world, fashion is changing very fast but the fundamental job of beautician remains the same that is to direct people look their best. Both boys and girl candidate can take it as a career.
It looks very simple but the job demand high level skill if a candidate wants to be professional and generate huge income. To become a beautician, candidate must have some personal qualities which include a pleasing, well-groomed personality, kindness, handiness, and an eye for fashion, readiness to work with hands, loads of stamina and a strong back because they have to stand for long hours at a stretch, conversational ease and the ability of making clients feel special and relaxed. On the job, beautician must have to create a comforting and peaceful atmosphere to maintain high standards of efficiency, cleanliness and hygiene. It is also necessary that beautician must be fit and fine. He/she does not suffer from an allergic or asthmatic condition.
For beautician training course, there is no specific qualification. Candidates must be able to read and write and have passion about beauty care. There are many reputed courses conducted in India. Candidate must have to successfully complete that course to become unbeaten beautician. The financial package of the courses varies from institute to institute. Skin care is more scientific while hair care is more creative. There are a number of courses that are offered where a candidate is taught to take care of basically, the skin, which would include facials, epilation processes, bleaching, manicure, pedicure, make-up, massage and diet. On the other hand, hairdressing includes treatment of the hair, as well as styling and cuttings. After completing a course, she can and should serve in a reputed beauty parlor in order to sharpen her skills and gain sufficient experience. When she gets mastery over beauty courses and successfully perform the task at individual level then she can start a beauty parlor. To open a parlor, it is essential to know the basics of beauty therapy. Beautician can advance their career through developing herself as a beauty expert /consultant for superior hotels. She can become a beauty columnist for newspapers and magazines.
Beautician Training Institutes :
VLCC Institute of Beauty, Health & Management, A-18, Lajpat Nagar-II, New Delhi - 110024. Tel: 29840631/32/33. Website: www.vlccnet.com
Shahnaz Hussain's Women's World International, B-40, Greater Kailash-1, New Delhi.
Habib's Hair Academy, M-3, South Extension, Part-2, New Delhi.
Eves Beauty and Hair Academy 194, B-Block ,Lajpat Nagar,New Delhi, Phone: (0) 9811536559. E-mail: info@evesbeauty.com
Smiles A-160, Azad Nagar, MIG Colony, Veera Desai Road, Andheri (West), Mumbai.
Polytechnic for women A-3, South Extension, Part-1 New Delhi,Web site: http://www.womenpolytechnic.com
Akbar Peerbhoy Girl's Polytechnic 92, D N Road, Fort, Mumbai
International Polytechnic for Women, 1860, Sector 34-D, Chandigarh
Schnell Hans Beauty School 111, Mistry Chambers, Colaba, Mumbai-400 005
B. Blunt Academy St John Baptist Road, Bandra West, Mumbai-400 050 Phone: (0) 9819725868.
Spratt-The Hair Studio Ground floor, Marielle Apartments, 3, Magrath Road, Bangalore-560 025 Phone: (080) 5091110 / 12 It has branch in Mumbai. www.sprattstudio.com
Pivot Point 32, De'Monte Colony, T T K Road, Alwarpet ,Chennai-600 018 Phone: (044) 467 1752 / 53 www.pivot-point.com
Harish Big Boss Hair & Beauty Institute, Borivali (W), Maharashtra
YWCA of Delhi, Women's training Institute, Bangla Sahib Lane, New delhi- 11 0001
Loyola Institute of Vocational Education, Loyola College, Chennai-34.
Various beautician courses trained a candidate on different subjects as it includes the gradations of beauty and the body. Candidate can either opt for being a beautician, professionalizing in its diverse attributes or just specializing in any one field. For example as a beautician, candidate can offer beauty therapy, hair styling and cutting, facials, manicure, pedicure, massage etc. or you can opt to be a cosmetologist, a herbal specialist, etc. This is very rewarding career. Some times student does not score well in exam but he/she has great skills in beauty care or related field. Such students do not get disappointed. This exciting career is waiting for them. They can utilize their talent in this area and earn enormous amount. To become a beautician, the only thing is needed that is keenness in grooming their customer to their fulfillment. But as a beautician, candidates must understand very well that the job demands a lot of tolerance and energy. As far as salary is concerned, a trained fresher can get a monthly salary of Rs 5,000 to 7,000. If candidate join an international training brand, she can start at Rs 15,000. Earnings increases with experience and if beautician perform well then customers get satisfaction and recommend others.