Outline of career as an Architect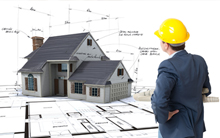 People are extremely career conscious these days. The preparation for professional course starts from 9th grade onwards. Students have many options but they prefer to choose the professional courses of Medicine or Engineering. The career in Architectural Engineering is now booming and it is one of the best ways to earn money by developing oneself as a good architect. This job is prestigious as well as creative. There are healthier chances of building student's future bright through designing attractive houses, office buildings etc.
Nature of job:
The basic job of architects is to design various types of buildings and other structures according to the requirement of client. These designs must be purposeful, secure, and cost-effective and go with the needs of the people who use them. Architects also assist in re-establishment of old buildings. They participate actively in projects from beginning to the end, from site selection and design to completion, working directly with clients, with a range of professionals including surveyors, engineers, builders and interior designers, and with officials from local planning and building control departments. Many architects are expert in a special area such as conservation or city design.
Educational Requirements for Architects:
Student must have graduation degree in architecture to become an architect. Following certified degrees in architecture offered in colleges and universities: -5-year Bachelor of Architecture programs. 2-year Master of Architecture programs for students with a professional undergraduate degree in architecture.
List of colleges of Architecture in India
Delhi- colleges of architecture, School of Planning and architecture - I P estate, New Delhi - 110002
Vastu Kala academy School of architecture and interior designing - A. Asaf Ali marg, New Delhi-110067
School of Planning and architecture - Jawaharlal Nehru technological university, Mahavir marg, Hyderabad-500028.
Chandigarh architecture colleges, Chandigarh College of architecture - Sector 12, Chandigarh-160012.
D C Patel school of architecture - Gujarat.
School of Architecture centre for environment planning and tecnology - Nevrangpura, Ahmedabad 380009.
Shri Siddheshwar Shikshan Mandals coll of architecture - Siddeshwar peth, Solapur 413 001.
Kamla Raheja Vidyanidhi institute for architecture and environmental studies - Juhu scheme, Mumbai -400032.
Vivekanand Institute of technology - Sadashiv Peth, Pune -411 030
Visveshwaraya Regional college of engineering - Nagpur.
Sushant School of Arts and architecture - Sushant lok, Gurgaon - 122001.
B M S College of engineering - Banglore -560 019.
Regional engineering college - Calicut - 673 601.
Maulana Azad college of technology - Bhopal 462007.
Guru Nanak Dev university - Amritsar 143005.
Malviya Regional engineering college - Jaipur 302 017.
Zakir Hussain college of engineering and technology - Aligarh 202 002.
Mohamed Sathak engineering college - Kilakarai -623806.
Jadavpur University - Kolkata- 700032
Job Outlook for Architects:
Demand of architects is quite high in present situation as people want beautiful and unique building for personal or official purposes. There are plenty of jobs for an expert architect which is projected to grow speedily in near future. Potential architects may have tough competition at entry-level. To fight with such problem, candidate must make efforts from school period through formal training in an architectural firm. This experience will be added experience and competition will be easy for him.
The basic activities of an architect:
When architect meets with client for his project, he discusses the objectives, requirements, and budget of a project. When all these factors are settled down, architect provides various earlier design services which may include conducting practicability and environmental impact studies, choosing a site, or identifying the requirements the design must meet. Then he prepares sketches and gives exploding ideas for the client to evaluate for his project. When client approves the drawings, he makes a final construction plan that demonstrates what type of the building is, its look and all minute particulars for its construction. Architect also pursues building codes, zoning rules, fire regulations, and other regulations. He keeps on making required changes all through the planning procedures.
In opting architect careers, candidate must have specific skill and impressive personal profile to enhance his professional level. He requires a wide range of talents to get more clients. Employers evaluate particular characteristics in professional architect which are as follows:
Architect must have outstanding communication skills - both written and verbal. To make draft or sketch appealing, architect must be proficient in writing and capable of explaining accurate and minute details. He must have good presentation skills. Proper time management and strong organizational skills are required to run project smoothly and manage other projects also. Sometimes specific problem arises during project therefore architect must handle these efficiently without affecting the project work. He must be inventive and creative while developing project. To work fast, strong computer skills with experience of AutoCAD is required. It is assumed that architect is computer literate to meet these demands. To design project architect must have excellent sketch skills, with the capability to work in three dimensions. He must be good in mathematical ability and also knowledge of financial facts. The most important skill of an architect is that he should be able to manage the project and have an ability to inspire others to take more business for company. He should be able to adjust in team and consider as a part of team while working on projects. He must be enthusiastic for his project and the ability to express that fervor to others. These are some qualities necessary for architect. If a student visualizes such talent in his own personality, he can choose his career as an architect.
Regarding employment, architects may join public sector or private sectors. Many architects set up their own office and do practice. It is advised for graduate and post graduate architect to gain some experience in working reputed company or with some established Architect before setting up their own office because in established set up they meet with different kinds of clients, work on various projects ranging from simple to complex. They get rich experience and when they start their own practice, they can overcome hurdles faced in their own company. This profession is profitable and expanding.