How to join a Defence service after graduation?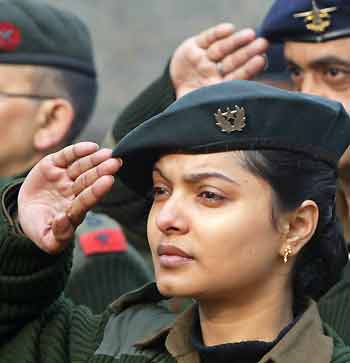 A career in defence forces promises not just promising pay, but also a prestigious position in the society. For graduates who aspire to choose a career in serving the nation, defense service is the right place to join. Let us steps that are required by get into the Indian Armed Forces.
Any graduate in the age group of 19-24 years can apply Combined Defense Service Examination (UPSC). While females can apply for Officers Training Academy (OTA), males can apply for Indian Military Academy (IMA) or Officers Training Academy (OTA). Admission is based on written examination, which is conducted September/October and February/March.
But if you are BE or BTech degree, you have two options, you can either opt for the Technical Graduate Course (only for males) you choose either Permanent Commission or Short Service Commission (for male and female). The training for the former is given at Indian Medical Academy (IMA), while for the latter , it's provided at Officers Training Academy (OTA), Chennai. Admissions are held in April and October in Technical Graduate Course, while for Short Service Commission it is held in the month of June/July.
Besides, NCC candidates who possess 2 years service in NCC Senior Division Army with B or C grade are called for a direct interview without examination. But they must be in the age group of 19-25 years. Training is imparted at the OTA. Apart from this, law graduates are also eligible to apply. Candidates in the age group of 21-27 year must apply. Aspirants must be registered in Bar Council India or of the state. Besides initial screening, the interview will conducted before recruitment. Notification for the above will be made during June and July
For More Articles: Click Here