Letter Writing
Letter writing is an art. It requires appropriate style, language and format. A student has to plan, organize and present ideas logically and coherently.
Look at the picture below: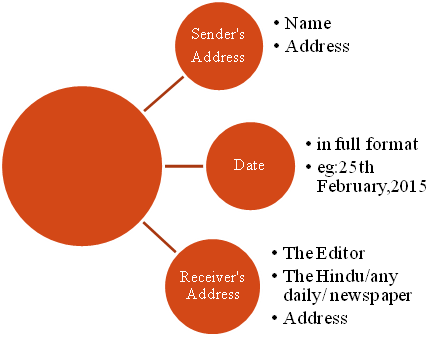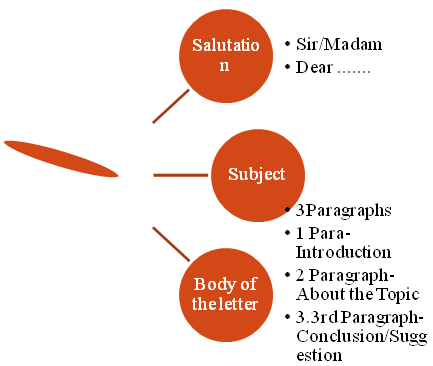 SUBSCRIPTION
The formal letter should be precise and formal. Please ensure clarity and effective communication
Always ensure the following three points:
Proper Format

Well-organised content

Appropriate Language
A Sample Format:
Sender's Address
---
---
---
Date
Receiver's Address
---
---
---
Sir,
Subject:
---
1st Paragraph--Introductory Paragraph
---
---
2nd Paragraph-About the topic
---
---
3rd Paragraph-Concluding Paragraph
---
---
Yours Faithfully
Name
Designation–(if needed)
---
Generally these letters are commercial letters or business letter. Hence these letters must be simple, brief and specific in content.
List of formal letters :
Business Letters-Letters of enquiry, asking information, replying to enquires and giving information, placing orders and sending replies and cancelling orders

Official Letters–making enquires, registering complaints, asking and giving information, placing orders and sending replies

Letters to the Editor- on Social Issues

Letters of Application-- For jobs–Curriculum Vitae/ Resume
Follow the format and supply specific business issues only.
Glance through samples of these letters.
---
Formal letter - 2
Formal Letters are written in a prescribed format. Letter to the Editor falls into this category.
These letters are written to express and share one's ideas, observations and views on a particular topic in a public forum such as newspapers, magazines and other editorials.
Now you can understand through the letter to the Editor column, can express your ideas, point of views, observations on any issue or social problem through newspaper, which is a very powerful medium to reach the public or concerned authorities or organizations to look into the matter.
Issues may vary from complaints on bad roads or poor street lights to human rights, to education, to animal protection, economy, health issues, medical ethics and even philosophy.
These letters are concise and precise in presentation.
Have a look at the format below
1. Sender's address (Complete address)
2. Date (Full Format-e.g. - 29thApril, 2015)
3. Receiver's address (Complete address)
4. Salutation-Sir/Madam
5. Subject-the central theme of the letter (Social issues/complaints)
6. 1st Paragraph: Introduction- pertains to the issue /state the issue
7.2nd Paragraph-The issue is discussed with relevant details to support with examples
8. Conclusion-Suggestions or solutions to overcome the problem mentioned in the letter.
9. Subscription-Yours faithfully, yours truly) the writer's name and designation
Sample Format
Sender's Address

---
---
---
Date
Receiver's Address
---
---
---
Sir, /Madam,
Subject : The subject line
1st Paragraph
Introduction
2nd Paragraph
The issue is discussed with examples
3rd Paragraph
Conclusion-Suggestion/Solution
Yours Faithfully /Yours truly,
Name of the writer
Signature/Designation
The word limit for the letter is 150 words. Find time to have a look at samples of these letters on various issues. Then you will be able to write or address any social issue with confidence.

Writing Tasks for practice: from the text
1. Athletes have come under the cloud of suspicion for using banned drugs to enhance their performance. This trend is on the increase globally and requires urgent and practical solutions. Raise the following issue raised in one of the leading dailies of your region (Page no 127)
2, You are Rakesh Sharma of 12,Happy Town, Cox City, Bangalore, who is troubled by reports of dwindling tiger population in the wild and in zoo. Write a letter to the Editor of The New Deccan Times, MG Road, Bangalore, presenting this problem and offering a few suggestions to overcome this problem.
3. You are Akshita/Akshay staying in 15, Agra Road, Kanpur. Write a letter to the Editor of a newspaper highlighting the necessity of having better facilities for pedestrians by improving the conditions of the footpaths in your city. You may use the following notes.
Narrow footpaths

Pedestrians prone to accidents

Unauthorized hawkers on pavements

Pools of stagnant water.
Some suggested topics:
Increasing stress

Dowry deaths

Unhealthy lifestyle

Responsibility towards aged parents

Neglect of historical monuments

Education for all

Health hazards due to pesticides

Rash and reckless driving

Chain snatching

Misuse of media
Try to work out some more writing tasks on Formal Letter 2.
---
Business Letter
Business letters or official letters demand certain set format and presentation. Brevity is the most essential feature of Business letters. These letters should be confined to specific business issues. There is no room for unnecessary details and so students must do away with such practice.
We have already mentioned the types of letters in the unit 'Letter Writing'. Let's have a detailed study of these letters.
A business letter is different from a personal letter in form, content, tone and style. As these letters are written to convey business matters or written to commercial or business firms, a formal, simple and systematic approach of the subject is expected. The content must be set in logical order. Students must follow this guidance to exemplify.
As per CBSE guidance this is the revised format and the commas, the full stops at the end of the lines are omitted. Sender's Address must be written at the top left hand corner of the paper.
Here is the format
Sender's Address

-----------------
----------------
-------------
Generally business letters are written on the letter -heads with the company's name or logo, address, telephone numbers, fax numbers or telegrams printed at the top.


Date
Example
29th April.2015
2nd May, 2015
Students can write the same date on which the exam is conducted.




Receiver's Address
Name and designation of the Addressee is written on the left hand margin.
The Manager/The Sales Manager,
Name of the company,
-----------------
-----------------





Salutation
Sir, / Dear Sir (to officials such as Manager, Director etc.)
Messers for firms or companies




Subject- subject line

The Body of the letter
Only specific issues must be mentioned. An informal tone and style must be avoided.




Complimentary close
Yours Faithfully
Yours Truly
If the receiver is addressed by name then the complimentary close is


Yours sincerely


Signature
Business letters require signature, name and designation of the sender.
Yours Faithfully
(Signature)
M.N Agarwal
General Manager
Students are advised to follow the same format for Business &Official letters
Here is a sample format.
Q. As Librarian, ABC School, Madurai, write a letter to M/s Saraswathi Booksellers, Coimbatore, placing order for books(Mention at least 4 titles of the books) to be supplied immediately.
Answer
_____
ABC School,
Madurai
29th April, 2015
M/s Saraswathi Bookseller
29, crosscut Road
Coimbatore
Sir,
Sub : Supply of books for the school library.

We wish to place a bulk order to you for the supply of books to our school library for the year 2015-16.We have selected a few leading publishers and book sellers for the books. We have included your firm in the list with goodwill that you would give us 25% discount on the purchase of books.
Besides, we look for 5% special discount that is generally granted to the Institutional buyers. Hope you will bear all the expenses involved in the dispatch and delivery of books.

The following is the list of books with their particulars :
List of Books
| | | | |
| --- | --- | --- | --- |
| S. No | Name of the book | Publisher's Name | No. of books required |
| 1. | English Literature | NCERT | 250 |
| 2. | English Workbook | NCERT | 250 |
| 3. | Modern Algebra | Bansi Lal | 180 |
| 5. | The New Atlas Book | Frank Brothers | 200 |
---
Kindly send us your quotation and catalogue in a sealed envelope. We shall accept the tenders quoting the lowest rate.

The list of rates and the terms of supply received after 20th May will not be entertained and stands cancelled.

Hope you agree to our terms and conditions. We look forward for more business deals in future.

Yours Faithfully
Rathore
Librarian

---
Letter of complaint
We often come across these words 'Customer is the king' which states the importance of customers. If the customer is dissatisfied with the business or purchase, the business prospects of the dealer is sure to have a downfall.
As a customer have we faced any dissatisfaction with the customer service? If so, how to draft a complaint letter. Here it comes. Letters of Complaint fall under 'Business Letter'. It's needless to explain the format again since it has already been discussed in detail.
Let us look into the steps involved in it. Letters of Complaint usually include 4-5 stages.
1. Background or situation
2. Problem-Cause and Effect
3. Solution
4. Warning (Optional)
5. Closing

1. Background
Some suggestive phrases and sentences for your reference :
I am writing this letter to inform you of my dissatisfaction of Books supplied to our school Library….

I am a regular customer of your restaurant. I am writing this to let you know the poor service rendered by your ----------/Mismanagement in the counter/ Substandard Dishes

I attended your knowledge park exhibition. But I was stunned at the problems I faced at the registration counter----------
2. Problem
Cause
The books that you delivered were badly damaged.

The food at your restaurant was stale and soggy---

The registration forms were soiled or shortage of forms at the counter
Effect
Poor quality of books supplied to us caused a lot of inconvenience and we had to make an emergency purchase to meet the demand.

We have decided not to visit your restaurant.

Now we are hesitant to attend your exhibition.
3. Solution
I am writing this letter to you in good will to ensure such errors do not happen again.

I suggest as an owner of the restaurant, you need to look into the matter to retain your customers.

Could you please look into this matter?
4. Warning
If this issue is not addressed properly we may have to approach other dealers in future.

If you don't look into this matter you may lose your customers & the rating for your restaurant as well.

We may have to register complaints against your organization.
5. Closing
I look forward to receiving genuine explanation from your side.

I wish to hear positive feedback from you shortly.

I look forward to hearing from you the amendments made from your side.
Points to Note
Make sure the tone of complaint isn't harsh, aggressive or insulting.

Such aggressive tone in writing does not encourage the receiver to solve the issue rather it may aggravate the situation.

The content must be conveyed clearly with all details so that the receiver need not ask for more details on the issue.
Suggested topics for your reference:
Defective Television

Defective Furniture

Defective Washing Machine

Damaged glass articles

Damaged books and note books
Find time to practice writing tasks as much as possible. This would help you build your vocabulary, spelling, syntax and good command over language. Ensure Format and presentation before you close or conclude writing.
Look for more writing!!!!!!!!!!!!!!!!!!
---
Letters of Application for job
The application for a job written with Bio-Data is called a Resume or curriculum vitae. Such letters contain complete details of the applicant with all relevant details pertaining to the job requirement. Letter of application include covering letter and Bio-Data as an enclosure.
The covering letter is a formal letter with proper format, style and language. The Bio-Data must have the following details :
1. Name in full
2. Father's name
3. Date of Birth
4. Age
5. Permanent Address
Telephone Number (If any)
6. Educational Qualifications
School, course attended, exam, grades obtained
College/University, exam, Division
Professional /Technical Degree
7. Languages known (If any)
8. Extra-curricular activities /Achievements : (Sports, Oratorical/singing etc)
9. Experience (Name of the institution/company, Position held, Duration of service)
10. Marital Status:--
11. Present Employment (Name of the organization, Position held, Last drawn salary)
12. References : (Name, Designation, Official Address)
13. Testimonials : (Certificates/Service certificate)
Note: Marking Scheme for the letter
Format - 2 marks
Content - 4 Marks
Expression - 4 Marks

Format includes Sender's Address, Date, Receiver's Address, Salutation, Subject, and Body of the letter & Subscription
Content: It must be well organized to ensure that all relevant details are presented clearly .It is divided into three parts:
Introduction
Main Part-the real content of the letter
Conclusion
Here is a sample letter :
Haricharan of 15 Sea view Road, Cochin sees this advertisement in 'The Hindu 'and decides to apply for the job of Sales Executive. Write an application to the Personal Manager, New World Publication, Monika, Mumbai.
Answer :
Haricharan
15, Sea View Road,
Cochin
7th May, 2015
The Personal Manager
New World Publication
Munirka,
Mumbai.
Sir,
Subject : Application for the post of Sales Executive
With reference to your advertisement in The Hindu dated 2nd May, 2015.I wishes to apply for the post of Sales Executive. I am a well experienced candidate with seven years of experience in the field.
Trust you will consider my application favourably.I assure you that I will certainly win the confidence of my superiors.
Please find my Bio-Data enclosed.
Yours Faithfully,
Haricharan

Bio-Data
Name
Haricharan
Father's Name
Sri.Krishna Das
Date of Birth
16.5.1985
Age
30
Permanent Address
45, Kairali Road, Cochin
Educational Qualification
1. ISC from St.Patrick school, Bandra, 2002-85% marks
2. B.Sc (Hons) Chemistry -2005-St.Infant Jesus College, Mumbai

Professional Qualification
1. Computer courses-APTECH
2. Diploma in Journalism-IGNOU
Experience
Working in Vidhya Publication, Mumbai
Marital Status
Un married
Achievements
Good at customer dealing and spoken English & Hindi.
---
Letter writing sections are over but look for other writing tasks in the next article. More to go!!!!!!!!!!!!!!!