Career in Real Estate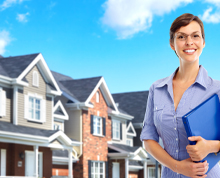 Real Estate is a blossoming sector that has the potential to generate huge money and enhance the financial status of country as well as the career of candidates. Although this sector offer several challenges but it is highly satisfying.
Candidates who choose career in real estate can generate huge wealth and have the pleasure for contributing for the nation. A career in real estate industry needs all the skills that are needed to lift a sovereign business. Candidates who wants to achieve good position in this industry must have several connections and contacts and develop healthy relationships to get business.
In this industry, candidates have to deal with customers who wants to purchase or sell lands, plots, flats, houses and villas. Candidates must have to develop skill in reselling the properties. In India, due to global economic breakdown, the real estate industry was in downward trend during the year 2009.
Consequently, several real estate consultants went unemployed. However, presently, the situation is stable and construction work has again in upward trend. The major earnings in both these industries come by selling the products such as flats, commercial spaces. The Indian real estate market plays major role for employment generation. The real estate sector stands second to agriculture and has a major contribution towards the gross domestic product (GDP).
Educational qualification: For making career in real estate, there are numerous real estate courses that aim to train their students with some requisite knowledge and shape their career. However, along with academic learning, candidates must have hands-on, practical experience in order to get success in real estate industries. Students must specialize in a program that leads to a bachelor's degree in real estate. Some universities offer graduate level courses.
Professional Requirements for a Career in Real Estate
1. For entry into the real estate profession, licensing is required. Licensing requirements vary from state to state, but all require potential sales people and brokers to pass a written exam.
2. Some states allow students to take pre-licensing educational courses ascribed by the state licensing agency before they qualify to sit for the exam. In other states, students can take these educational courses within a specified time after being licensed.
3. In order to obtain a broker's or sales agent associated license, more than half the states specify special education and/or experience or their equivalents. However, states are advancing their license laws and prerequisites for both brokers and sales associates at speedy rate.
Candidates require knowledge in the following areas to make bright future in real estate
1. Technical features of building and construction.
2.Up-to-date news on market prices per square feet of home/land/plots in different areas.
3.Stocks and shares status of various companies.
4.Various marketing, selling, and pricing policies to entice customers.
5.Huge network of shareholders or buyers.
If candidates have deep knowledge of these aspects, they may succeed in career of the real estate industry.
Skills required for jobs in real estate
To work in real estate industry, candidates must be proficient in numerous skills such as :
1. A great passion for the job.
2. Assertiveness.
3. A strong marketing/sales mind-set, customer orientation.
4. Organisation abilities.
5. Good understanding of the dynamics of the real estate sector.
Opportunities of Indian Real Estate Market: In India, there is progressive growth of real estate sector as compared to other sectors die to support from private banks. These banks are providing houses loans towards Indians and NRIs for fulfilling their self or business purpose. In our India, most of the city like New Delhi, Bangalore, Chennai, and Mumbai. These are main centres for the business and these cities are providing more employment opportunities for jobseeker.
Government initiatives in Indian Real Estate Market:The government of India has made many advancement to reveal the potential of the Indian real estate sector. The sector has a lot of available potential, which can be bridged. There is an incentive package that has been announced by the government, along with it the Central bank's move to allow banks for giving special treatment to the real estate sector. This will certainly impact the Indian real estate market in a positive manner and candidates can get good financial status through choosing this industry as a career.
Various career options available in the real estate sector
1. Residential real estate broker: A broker dealing in residential properties may characterize either the buyer or the seller.
2. Commercial real estate broker: These brokers sell hotels, office space and similar commercial real estate properties. He/she may concentrate exclusively on retail office space, mall space, industrial space or hospitality space. He/she is involved in broad market analysis, since commercial real estate is a chosen investment sector.
3. Real estate appraiser: Candidates who want to be real estate appraiser must determine the fair market value of a home for sale. Real estate appraisers play vital role in the process of valuing, selling and buying of homes. Their task is to assess the value of properties on behalf of an appraisal firm, a bank or even major private investors. They are involved in refinancing, too. Their general duties include appraising homes, commercial real estate and other properties, preparing appraisal reports, keeping up-to-date on the local real estate market and handling additional responsibilities as needed. Real estate appraisers often specialize in commercial or residential properties. The daily duties of a real estate appraiser may include preparing reports on a property's value, inspecting and photographing a property and working on legal descriptions and data regarding multiple real estate properties.
Real estate appraisers can work in real estate companies, though they may also work for banks, mortgage companies or related firms. To become a real estate appraiser, an associate's or bachelor's degree is required. In preparation for a career in real estate appraisal, common courses in a 2-year associate's or 4-year bachelor's degree program include basic appraisal principles, basic appraisal procedures, the appraisal sales comparison approach, market analysis, economics, computer science and business.
For success of career, real estate appraisers must possess following qualities
i.A thorough understanding of appraisal methodology
ii.Solid math and business skills
iii.A precise attention to detail
iv.A strong analytical skill set
v.Customer service skills
vi.Organizational and time-management skills
vii.Problem-solving skills
4. Property manager: Candidates can also choose career as a property manager. Their job usually is part of a professional property management firm and looks after the investment of the property owners. Property managers are middle man or liaison between actual property owner and the onsite manager. They maintain close contact with site manager and oversee day to day operations of the site managers and other employees doing work contracted by the property management firm. Property managers must manage customers and manage lease and rent deals. Candidates must possess good negotiation and people skills to get success as a property manager.
5. Facilities manager: The field of facilities management has just begun emerging as the best possible way to maximize profitability and reduce overhears in large real estate projects such as residential townships, office buildings and malls. There is still a severe shortage of trained facilities management. To gain successes as a facility manager, candidates must have inside knowledge of the real estate market and advises property investors on the best investment options. His main focus is to locate properties that will appreciate in value.
7. Project development experts: Candidates who want to choose this post must develop nexus of the property market, and help create saleable properties. Their job is to advise developers on all aspects of the project, from the blueprint stage to final deployment.
8. Real estate lawyer: Real estate lawyers are qualified to advise and represent customers in land and property transactions. These specialists might work for various firms and companies and might specialize in particular functions of law. Aspirant of real estate lawyers must have to complete an undergraduate degree and then complete a Juris Doctor with a focus in real estate law. Law students typically take lower-level courses in torts, civil procedure, contracts and property. Upper-level coursework normally consists of electives and might include antitrust law, real estate transactions, legal accounting and commercial law. Real estate lawyers might supervise land transactions to make them as stress-free as possible for all involved parties. They often handle title transfers, zoning issues and mortgage factors. Real estate lawyers to stay well-informed of current trends and laws that could help their clients legally maintain their land. Many times, real estate lawyers are responsible for handling issues related to infringing and intrusion violations.
9. Real estate accountant: Candidates who are inclined to work in real estate can make their career as real estate accountant. Accountant helps to ensure that business are running efficiently, records kept accurately, and taxed paid properly. Their job is to prepare financial report of company. They have frequent contact with lenders, investors, residential property managers, independent auditors, and various government agencies. To become a real estate accountant, candidates must hold four year degree in accounting, finance or related field. Accountants must have strong organizational skills, commanding knowledge of spreadsheet accounting software.
10. Real estate agent: It is also a career option in real estate industry.
Top Companies of real estate that offer job to eligible candidates:
The below mentioned are the top real estate companies of India
1.Ambuja Realty Group
2.DLF Building
3.Sun City Projects
4.Merlin Groups
5.Jaypee Infratech Ltd
6.Ghar4u
7.NK Realtors
8.Oberoi Realty
9.Mittal Builders
10.K Raheja Constructions
11.Godrej Properties
12.Omaxe Lltd
13.Unitech
14.Parsvnath developers Ltd.
15.Ansal Properties & Infrastructure Ltd
16.Sobha Limited, Bangalore
17.Prestige Group - Real Estate Property Developers in Bangalore
18.The Appaswamy Group of Companies Chennai
19.Akshaya Group of Companies
It is observed in present scenario that real estate industry offer array of career options but there are challenges due to economic meltdown or governed by market demand. Candidates who complete graduation can have a choice among many posts. The norms and strategies by the Government are getting all the more relaxed only to give a boost to this sector. The real estate sector in India expected greater importance with the liberalization of the economy, as the consequent increase in business opportunities and labour migration led to rising demand for marketable and housing space.