Air Hostess is a Bright Career for Female Aspirant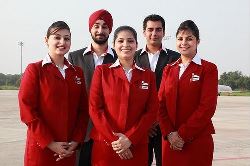 The Air hostesses are recognized as distinctive personality in air travel which is more concerned for relaxed and safe journey of the travelers. Passengers of Air travel are welcomed by these air hostesses at the beginning of journey. Their friendly smile and greeting pleases every passenger and create an atmosphere of caring and security during flight.
Air hostesses takes many rounds, look after and guide every passenger to his or her seat, assisting a passenger to get settled, giving directions whenever required and doing innumerable things to give comfort to passengers.
She is available every time to meet the requirement of passengers. She is responsible for multiple jobs for serving passengers from the minute they board the plane, make certain that all hand luggage is safely stored and that seat belts are fixed firmly. It is the duty of Air hostesses to voice safety announcements before take-off, indicate the emergency exits, show the use of life jackets and oxygen masks and confirm that all the doors are properly closed and sealed. The air hostesses constantly serve drinks, snacks and heating and serving meals after the plane takes off. They are trained to recommend first aid and tackle with emergencies at their level best. Overall air hostesses provide protection of passenger during air travel.
Girl aspirants who are ambitious, a smart, capable of influencing others can move the career path of Air hostess. Many young girls are curious to experience of flying, visiting different places, communicating with different people on board and desirous of getting the attractive salary. Such ambitious girls are required to apply for this exciting career. In recent years, air policies are liberal that's why there is huge flow of job opportunities in this field. Many candidates think that they have an ability to influence others and they can conduct the job very well in Aviation. They choose this area randomly and apply for the job. When they are rejected, they get highly disappointed. Though, the career of Air hostess demand appealing personality, but it is not as effortless as it appears. This is a highly challenging job which involves tolerance and candidate must have to make up her mind that she has to work in odd duty hours. To become an Air hostess, candidate must have high confidence, commitment and tendency to do hard work for learning the technical aspects of aircraft operation and skills to deal with intricate situation.
Airlines companies select balanced, diplomatic and practical candidates who can communicate with strangers without any difficulty and remain cool under pressure.
If candidates are planning to apply for an air hostess job, they have to make sure that they are social and have positive attitude for different people no matter from which background they are. All the airlines have some particular requirement which varies. There is a myth prevalent in society that an air hostess must be extraordinarily good-looking or attractive. Today Airlines authorities take great interest in hiring air hostesses who efficiently perform the job and adjust in adverse conditions. Candidates interested in Airline industry can join air hostess training schools which give special training and also promise to offer jobs in the top airline companies.
Eligibility:
For an Air hostess job, applicants must be at least 18 to 21 years old. Some Airlines may hire more matured candidates. Besides age, candidate must have sound health and great communication skill. Candidate must be knowledgeable to handle typical situation or problems of passengers. This is good job for young girls and does not require any specific academic qualification. But most companies expect graduates to do this job. Some airlines choose candidates who have completed a diploma in hotel management or the tourism and hospitality industry. The basic qualification of air hostesses is good knowledge of English, Math and a foreign language. Exact requirement for an airhostess training program is 10+2 or a graduate degree with a diploma/degree in Hotel Management or Tourism Management. Candidates must be fluent in speaking English. If applicant knows common foreign language like German, French or Spanish, this is an extra benefit for applying for an international airline. One must hold a valid Indian passport. Other qualities to become an Air hostess include good distant eyesight, must be at least of 157 cm tall, and must know how to swim.
Institutes for Training Airhostess

Institute Name: Global Institute, Address: B-!/637,Janakpuri,Main Najafgarh Road, New Delhi-58, Phone: 9818971221, 25541341.
Institute Name: Indian Aviation Academy, Address: 7/8 Rushabh Complex, Opposite Fun Republic Cinema, Oshivara, Andheri (West), Phone: 009122 - 26749058, 26740041.
Institute Name: Sristys Aviation, Address : Sristy's School of Air Hostess, 307, Swarnajayanthi Complex, Ameerpet, Hyderabad. Phone: 04065886588, 04065888858.
Air Hostess Academy (AHA), 48, Ring Road, Lajpat Nagar III, New Delhi, 110024 Ph : 011-29832771-75, 29837481-89, Course: Training for Airhostess/ Flight Steward Eligibility: 10+2, Height:5.2" (F), 5.7" (M).
Aptima Air Hostess Academy, J1/164, Rajouri Garden, New Delhi 110027 Ph: 011-5176407, 5176471, 5176432, Fax: 011-5432729. Course: Training for Airhostess/ Flight Steward, Hotel Executive. Eligibility: 10+2. Duration: 6 months, 1 year.
Frankfinn Institute of Air Hostess Training, Door No 39/6795,1st Floor,Vallamattom Estate,Ravipuram,Cochin -682 015, Ph : 91-484- 4014400. Course : BTEC [HNC] in Aviation, Hospitality and Travel Management. Eligibility -12th pass and above, having a pleasing personality and good communication skills. Age between 17 and 24. Duration - 1 year. Selection Procedure - The selection will be on the basis of personal interviews.
Flyers Inc,33, Jangpura Road, new Delhi 110014, Ph: 4313411, 4323412; Fax: 4313411. Eligibility: 10+2 (Phy & Maths).
Pacific Airways, Pocket GH-6/35,PaschimVihar,New Delhi 110087 Ph: 5576463, 5577190. Course: (1)Training for Airhostess/ Flight Steward, Eligibility: 10+2.
Free bird Aviation & Management Services, TC-41/2454 Mancaud, Trivandrum-9, Kerala.Course: Training for Airhostess/ Flight Steward. Eligibility: 10+2.
When the decision is made to become Air hostess, applicants must look for advertisements for recruitment which is usually published in all leading newspapers. The financial package depends upon the airlines, candidates join. Normally they get total remuneration with other allowance between Rs.16,000 to Rs.35,000(approx) or more per month. It is a common belief that Air Hostess job is for short duration and after that they may have difficulty to switch over to new field. This is a great confusion. If candidates decide carefully to become Air Hostess by analyzing themselves and make sure that they possess all relevant qualities that are required to fulfill the criteria, they may get huge success in this career and appreciated by senior professionals. These Air Hostesses may get an opportunity to be upgraded to the post of Senior Flight Attendant and then Head Attendant. Career graph will be in upward trend and they can lead successful professional life. So, one has to be careful in deciding a career of Air Hostess. This does not end with in 5-10 years and candidates may make their future bright.